Negative SFT-005
---

03 December 2021
I got negative entry of Rs. -33596/- in Form 26AS with Remark as "O".

Please guide what to do with that? Do i need to file it in ITR?
---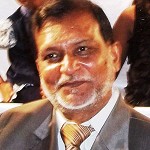 04 December 2021
SFT 005 is for booking of Time deposit above Rs. 10 lakhs.
In your case it is overbooked by the reporting Bank, which is liable for revision, so need not worry for such reporting till it is finalized.
You need to file ITR based on your actual income base, provided it has exceeded the basic exemption limit; or have any specified transaction as mention in sec. 139 of IT act.
---
---