Last week 7th of Nov 22 was the due date for payment of TDS deducted during the month of October 2022, whereas most of them would have noticed that in tin-nsdl portal (https://onlineservices.tin.egov-nsdl.com/etaxnew/tdsnontds.jsp) only few banks were allowed for making tax payments be it Income tax payment vide Challan ITNS 280 or TDS Payment vide Challan ITNS 281 or others.
There was also this message on scrolling bar that few banks have been migrated from OLTAS e-Payment of Taxes facility to e-Pay Tax facility of E-Filing portal and advised to navigate to e-Pay Tax on https://www.incometax.gov.in/ to make direct tax payments.
Direct tax payments in 9 banks are accepted on NSDL portal and 11 Banks are migrated to Income tax portal as below:
Banks for payment of Direct tax

NSDL Portal

Income Tax Portal

Bank of Baroda

Axis Bank

HDFC Bank

Bank of India

IDBI Bank

Bank of Maharashtra

Jammu & Kashmir Bank

Canara Bank

Punjab & Sind Bank

Central Bank of India

Punjab National Bank

Federal Bank

State Bank of India

ICICI Bank

UCO Bank

Indian Overseas Bank

Union Bank of India

Indian Bank

Karur Vysya Bank

Kotak Mahindra Bank
As usual few taxpayers only make payments on last day of due date and they have faced challenges on remitting the Direct tax payments as the banks were migrated to income tax portal and had to either remit the amount through the bank which are displayed on tin-nsdl or remit through some other means due to non-availability of the many banks in tax portal.
Let's go through to see how to remit the Direct taxes through Income Tax portal.
Although we can login to tax portal by PAN Linked bank account it is advisable to directly login to Income tax website to create challan and make payment.
Login to your account on https://www.incometax.gov.in/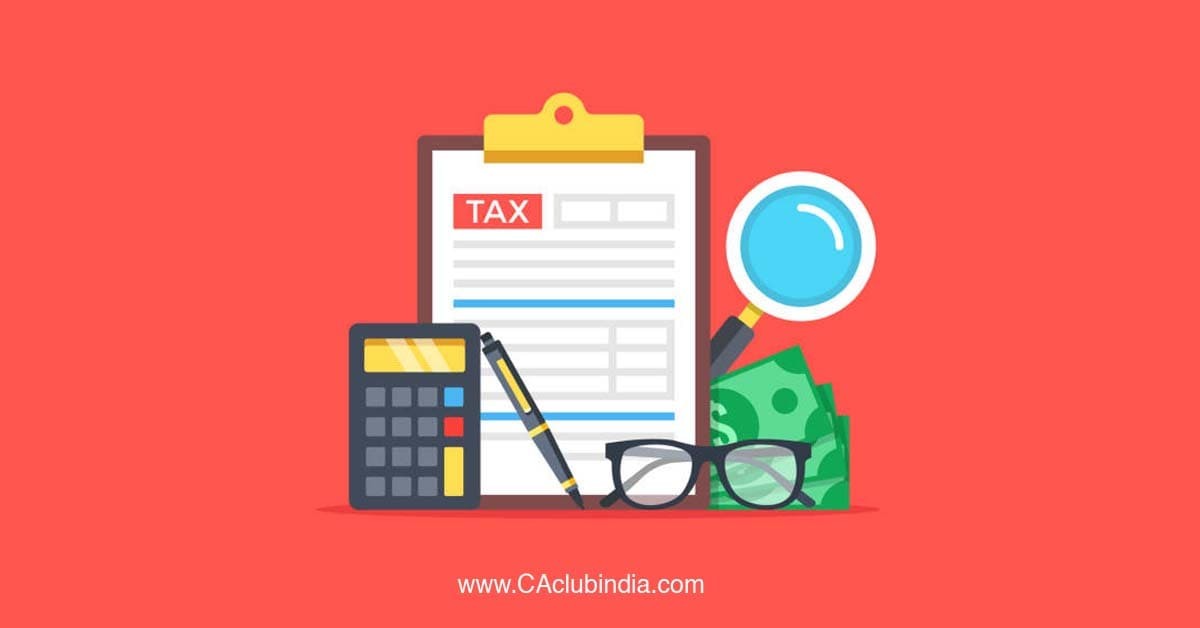 Under Menu Bar select e-file and below that scroll to e-Pay Tax
You will be directed to the following screen: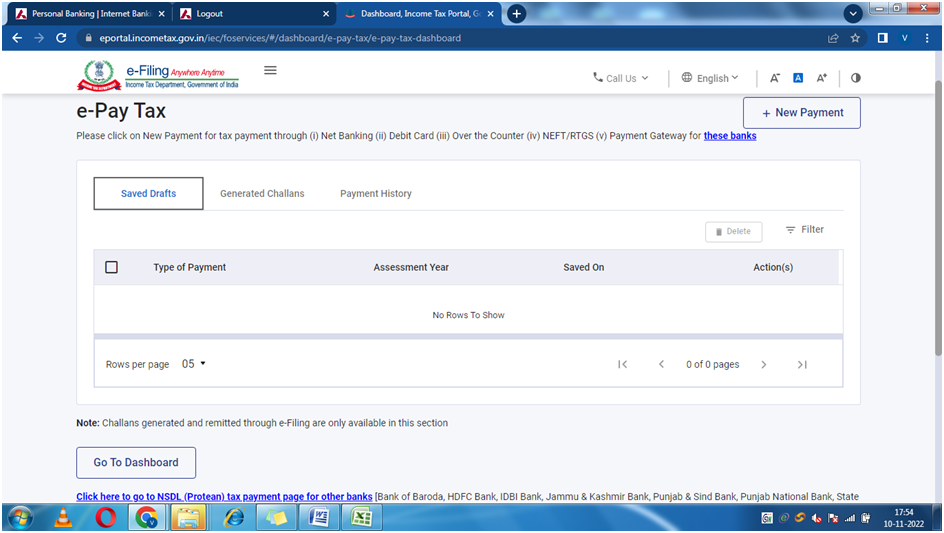 Then click on New Payment, following tiles are displayed in the Income tax portal.
Select the tile relevant for your tax payment and click on proceed: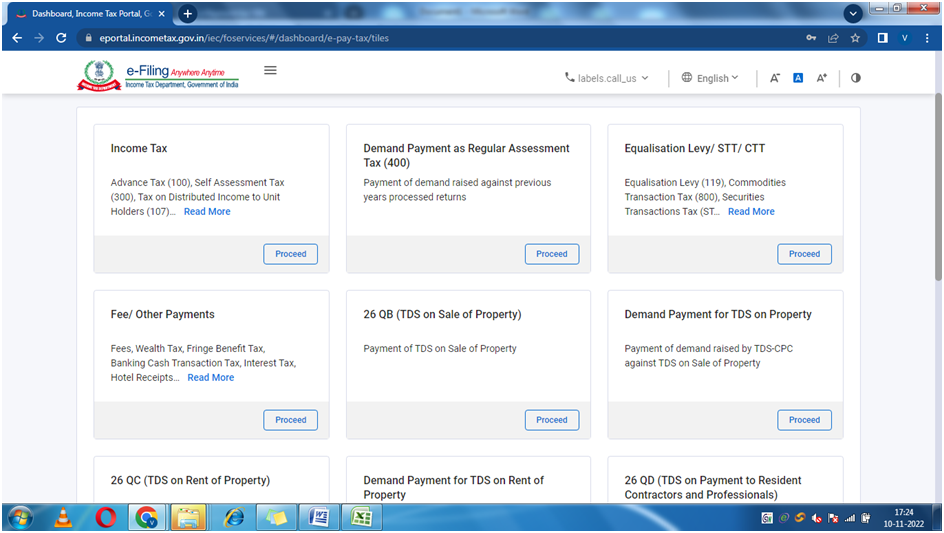 Let us take here the example of Income Tax, and select the relevant Assessment year and type of payment and click continue.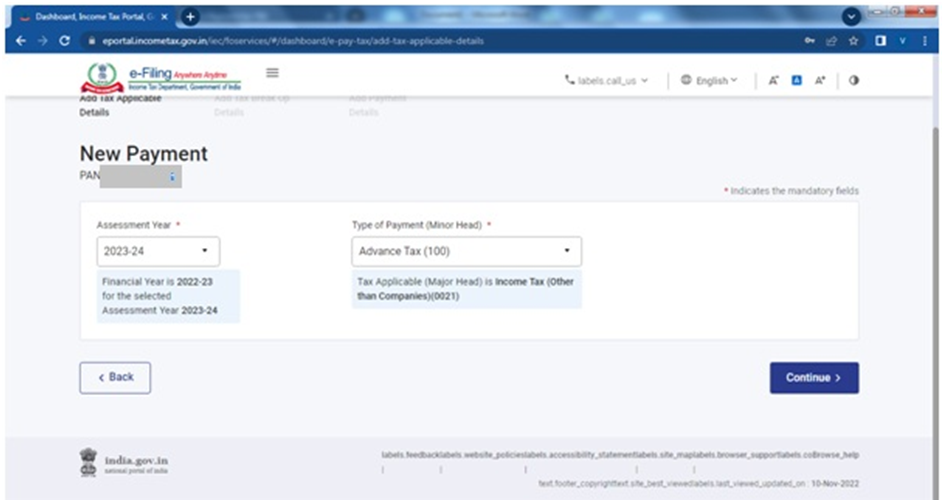 Enter amount of tax, surcharge, Cess etc and you can save draft or click on continue.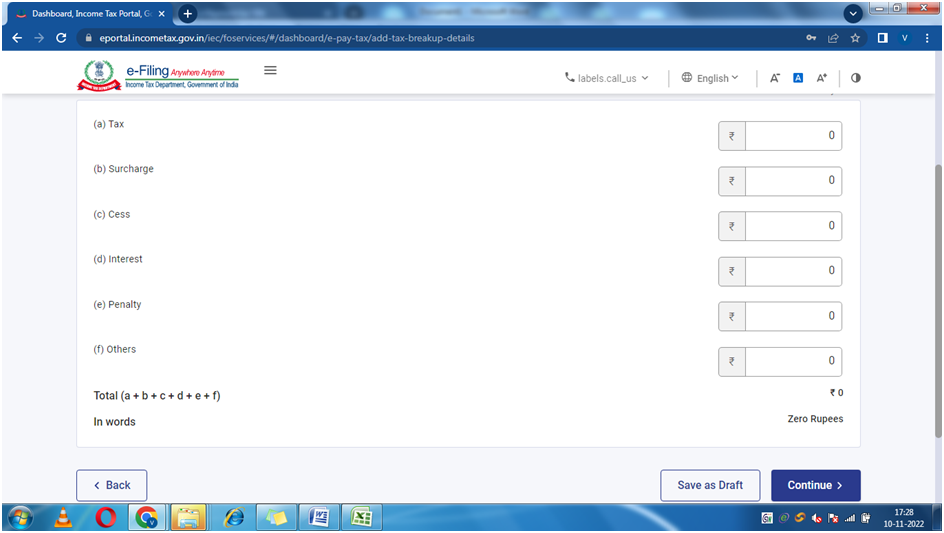 Following screen allows to make payments in any of the modes as below:
(i) Net Banking (ii) Debit Card (iii) Over the Counter (iv) NEFT/RTGS (v) Payment Gateway for banks.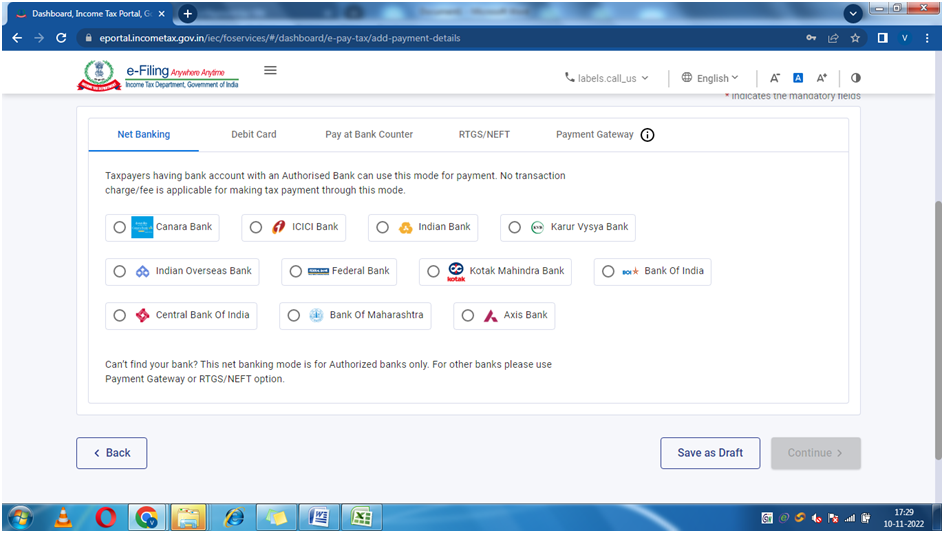 Next, you can pay instantly by logging to bank or clicking on pay later.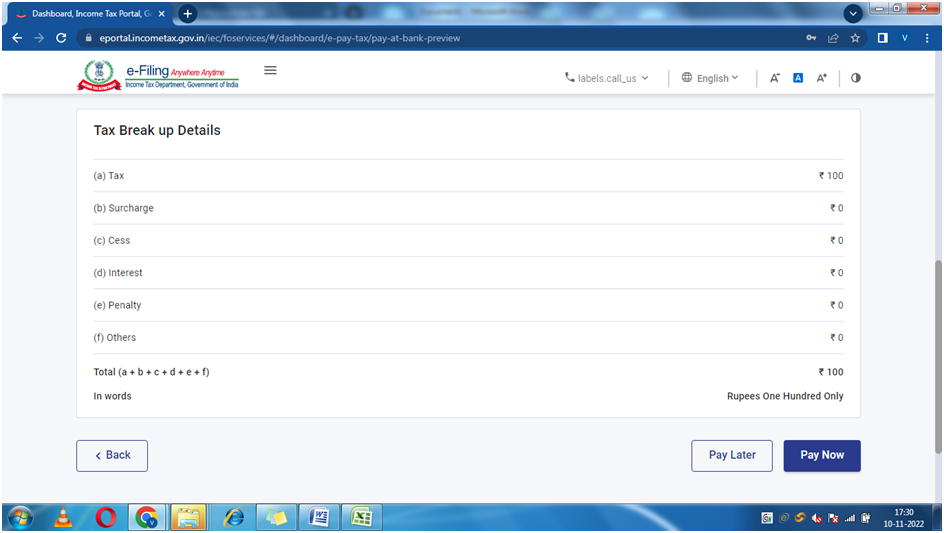 If you have selected Pay later challan will be available in Generated Challans Tab with a CRN Number, (this is similar to GST Payment Challan number which is used by banks to accept your payment at bank counters and give credit to particular challan generated on income tax portal)
Challan with CRN Number only will be accepted at Bank counters.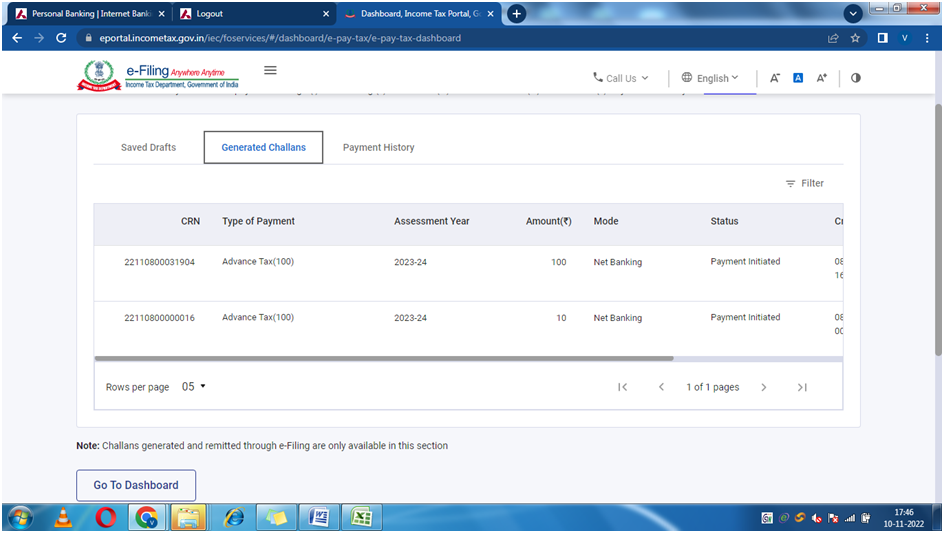 Further on clicking on three dots further actions as below are displayed.
Pay, Copy, View details.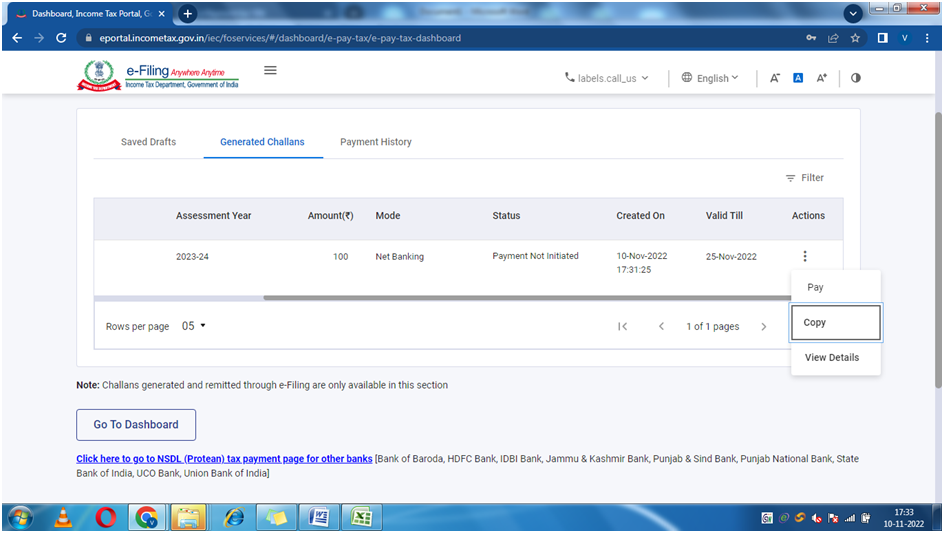 You can click on Pay and proceed to make payment through bank portal after accepting terms and conditions.
After Payment is made challan is available for download or print under Payment History.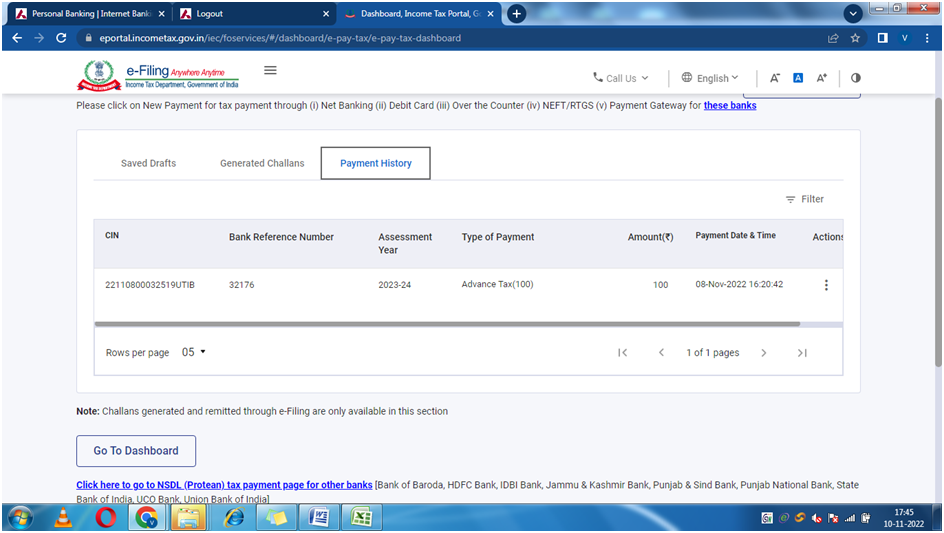 Note: You need to login with Income Tax credentials for payment of Income tax, Equalisation Levy, TDS on sale of property, TDS on Rent of property and others.
For TDS Payments under section 194C, 194J, 194H, 194I etc, you will need to login to income tax website with your TAN Portal login credentials.
The above are few steps to give you some understanding for making Direct Tax Payments.
Tags
income tax
tds