In India NGOs are of three types, which is as follows:
1) Trust
2) Society
3) Section 8 Company under Companies Act, 2013.
Now, lets understand these types in briefs with compliances.
1) Trust: A trust is can be created by every person who is competent to contract. These includes an individuals such as AOP, Company, HUF etc. It can be created on by or on behalf of minor only permission of Principal civil court is required.
These includes two types of trust,
1) Private Trust- it is governed by Indian Trust Act, 1882
2) Public Trust - It is governed by state-specific-legislation such as in Maharashtra, Maharashtra Public Trust Act,1950 is there.
Things to note that Indian Trust Act,1882 is not applicable to the Waqf, religion or charitable endowments.
What is Trust?
It is essence of trust. A trust is a structure where a trustee carries out the business on behalf of trustee members. It is set up through a trust deed.
Objectives for creation of trust
It shall be created for lawful purpose.
As per Section 4 of the Indian Trust Act, 1882, all purposes are said to be lawful unless it is:
1) forbidden by law.
2) Defeats provisions of law.
3) fraudulent
4)Involves injury to another person
5) Immoral or against to public policy.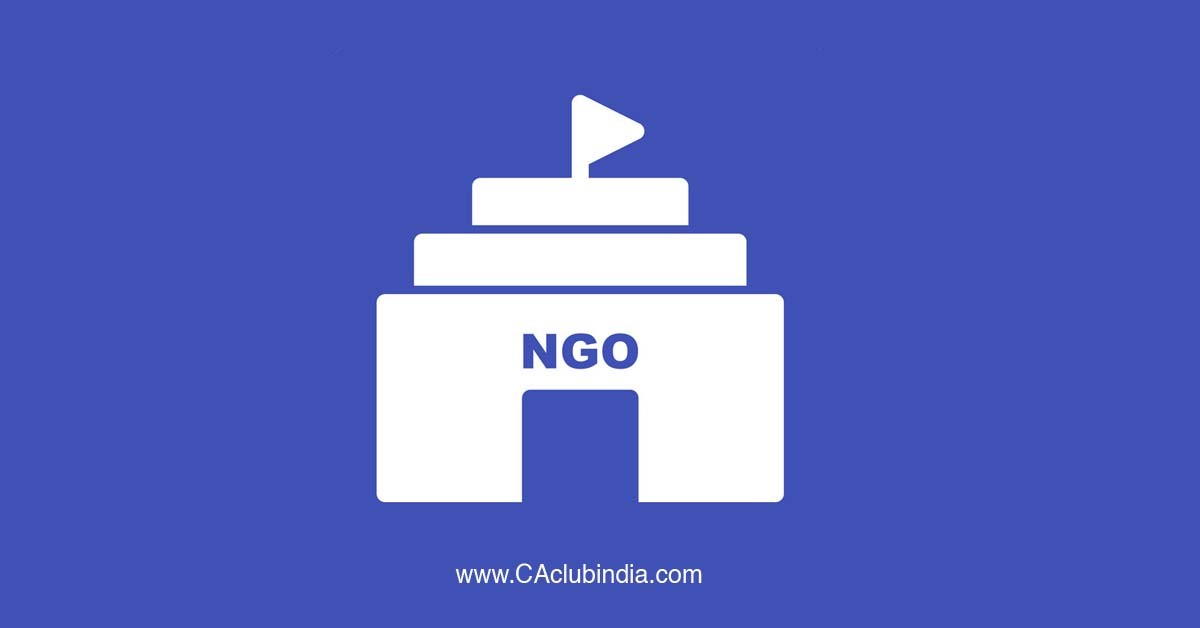 Types of trust
1) Private Trust: A Private Trust is for closed people. Eg. A trust created for relatives and friends of the author. Here beneficiaries can be identified.
2) Public Trust: A Public trust is created for a large group i.e.the public in large. Eg. Non-profit Organisation Charitable institution for General Public.
Annual Compliances of Trust
1. Auditing of Accounts
2. Filing of Annual Returns
3. Foreign Contribution Report, if Trust received any Foreign Contribution.
4. Furnishing Certificates of TDS, if any required.
5. Publication of Accounts.
6. GST filing.
2) NGOs Registered under Society Registration Act, 1860: Like Trust and Section 8 Company, Society is also a legal form that NGO generally takes.
A Society is an Association of 7 individuals combined for the promotion of a common cause without any monetary gain. if society formulation is at national level then minimum 8 individuals are required from different states working states as promoter of the Society.
It is registered for advancement charitable activities such as sports, music, culture, religion, art, education.
Following are the activities for which Society shall be registered:
1) Grant of charitable assistance
2) Diffusion of useful knowledge.
3) Promotion of science, literature.
4) Collection of natural history.
5) Creation of military orphan funds.
6) Public museums, galleries of paintings and other art works etc,
7) Foundation or maintains of libraries.
8) Foundation or maintains reading-rooms for general use among the members or open to public.
9) Promotion of fine arts
10)Social welfare
11) Social development
ELIGIBILITY AND REQUIREMENT TO FORM A SOCIETY
1. Minimum 7 members are required as subscriber to AoA.
2. AoA and MoA to be filed with Registrar of Joint-Stock Companies.
PROCEDURE IN SHORT
1. NAME SELECTION AND ITS APPROVAL FROM REGISTRAR
2. PREPARATION OF MOA AND AOA
3. PREPARATION OF RULES AND REGULATION( BY-LAWS)
4. OTHER DOCUMENTS:
Copy of resolution for registration of society.
Copy of resolution for authorising a person to make an application for registration.
List of Members of Society along with their addresses.
Rent agreement or Registered Paper (If owned) where Society's registered office is situated.
NOC from Landlord (If rented).
5. SUBMISSION OF DOCUMENTS FOR REGISTRATION.
Annual Compliances of Society
Post Compliances of the Society vary from State to state. However, following are the list of some general compliance to be done:
1. Hold Board Meetings of society every year.
2. Hold Annual General meeting of society every year.
3. Once in every year, within 14 days from the date of Annual General Meeting(Tenure of General Meeting prescribed by Rules) a list of members shall be filed with the Registrar of Society.
4. Maintain proper accounts of society.
5. Maintain minutes of Board Meetings and General Meetings.
6. Filing of ITR.
Section 8 Company Under Companies Act, 2013: A Company is referred to as Section 8 Company when it is registered as a Non-Profit Organisation i.e. when it has motive of promoting arts, commerce, education, charity, protection of environment, sports, science, research, social welfare, religion and intends to use this profit (if any) or other income for promoting these activities.
The Income of NGO can not be used for paying out dividends' to the company's members and has to be for the promotion of charitable objectives. Such Companies obtain an incorporation certificate from the central government and are liable to adhere to the rules specified by the government.
Failure to comply with the responsibilities stated by the Central Government may lead to the winding up of the Company and restrict legal action will be taken against all members of the Company.
Steps and Requirements for Registration
1. Decide name
2. Object of the Company.
3. DSC of Proposed Directors.
4. Approved DIN of Proposed Directors.
5. Preparation of MoA and AoA.
Benefits of NGOs
1. Tax Saving
2. Stamp Duty Exemption
3. Title Usage.
4. Lower Share Capital.
Annual Compliances
1. MGT-15 For Annual General Meeting before 30th September.
2. AOC-4 For Filing Financial Statements within 30 days of AGM.
3. MGT-7 for filling Annual Returns within 30 days of AGM.
4. ITR-6 Income Tax Returns before 30th September.
This article is for the purpose of information and shall not be treated as solicitation in any manner and for any other purpose whatsoever. It shall not be used as legal opinion and not to be used for rendering any professional advice. This article is written on the basis of author's person experience and provision applicable as on date of writing of this article. Adequate attention has been given to avoid any clerical/arithmetical error, however; if it still persist kindly intimate us to avoid such error for the benefits of others readers.
The author can also be reached at email-csdeepikabhoodhar@gmail.com
Tags :
corporate law