I have a lot of messages from taxpayers and professionals seeking the solution to the error
Failed to establish a connection to the server. Kindly restart the Emsigner Click here to troubleshoot.
A lot of professionals reported this issue which they are getting while registering a new DSC (Digital Signature Certificate) on the GST Portal and they also tried troubleshooting the issue, which didn't help at all.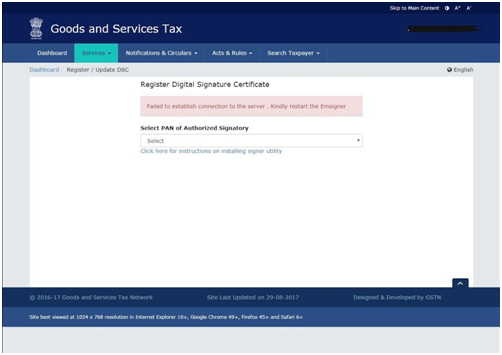 Here are some of the possible ways that will help you find a way out to the error "Failed to establish connection to the server. Kindly restart the Emsigner Click here to troubleshoot."
But before we start talking about the GST DSC Registration Error, please keep following important points in mind:
Try restarting your PC / Laptop after you try each and every solution
Try restarting the browser or try some different browser Chrome, Mozila, Safari etc.
Try changing your Internet Connection from Wifi to Mobile Hotspot to LAN wired connection. Trust me this helps :)
Install the latest version of Emsigner from the GST Portal
Install the latest version of Java
Solution 1:
1. Firstly, Go to Control Panel > Programs > Programs and Features >Uninstall Program and uninstall all DSC token software from your PC / Laptop like Trustkey, ePass, WD Proxkey, etc.
2. Secondly, uninstall the emsigner software.
3 Update 'Chrome' Browser with the latest version from their website
4. Go to Chrome Settings menu by
(There may some slight variations in Chrome Menus in different versions)
In Chrome : Settings>Advances Settings /Show Advanced Settings(menu seen at the bottom) > Content / Content Settings > Java / Java Script/Java Settings > Exception / Manage exceptions > Then in the web site entry column / Host name Pattern entry column (example.com) > Click Add Button ( if shows - in some Chrome versions don't have this 'Add' button) Then......
replace the 'example.com' with the following address
http://127.0.0.1:1645
and don't change the status as 'Allow' ( If it shows status as ' Block / Blocked' change to 'Allow' / 'Allowed' )
press "Enter' key. Then 'OK'
5. Now you're required to Install latest version of emsigner from GST website by logging with user id and password from the link provided at Update / DSC menu on Dash Board . - IMPORTANT
6. After installation 'Right click' on the desktop icon of the emSignor and select 'Run As Administrator'.
7. Then insert the DSC USB Tokens and install the concerned software related to the DSC issuing Authority.
Solution 2:
1. Install the latest Java and Emsigner.
2. Quit the Emsigner from system tray icon.
3. Run CMD (as admin) and copy paste the following command:
netsh interface port proxy add v4tov4 listenport=1645 listenaddress=127.0.0.1 connectport=1585 connectaddress=127.0.0.1
4. Open Chrome - settings - advanced - content settings - javascript - under allow tab click "add" on right side - and add these two addresses-
https://127.0.0.1:1585 and also https://120.0.0.1:1585
5. Run Chrome and open link https://127.0.0.1:1585 on advanced link click proceed
6. Run Emsigner as administrator.
Please share what other issues you're facing with the GST Portal and we will try to find the most appropriate solutions to the same.
Also read:
Tags
gst
gst portal