NASBA have commenced 2021 in good spirits by announcing the US CPA exam results. As with students and professionals around the world who have studied for the CPA exams with Becker Professional Education (Becker), candidates from Simandhar Education have achieved tremendous success and passed the exam with flying colors. Simandhar Education- The leading training provider for the CPA course in India, has continued to keep up their high standards and in partnership with Becker impart knowledge and training even during this uncertain pandemic times.
Simandhar education has managed to achieve industry leading results. Approx. 90% of students has fully passed CPA exam and 95% of students has passed individual sections of US CPA. The top scorers from Simandhar includes Akshay Jaiswal, Nitin, Bhuvneshwari, Sweta Jaiswal, highest scores achieved by Simandhar Education are 98 in FAR, 95 in BEC, 93 in REG and 92 in Audit. These echo, Becker's pedigree in consistently achieving top ranked CPA students year on year. All professionals touched by the unrivalled training and support provided by Simandhar continue to show their heartfelt satisfaction and feedback through various social media platforms, including the likes of LinkedIn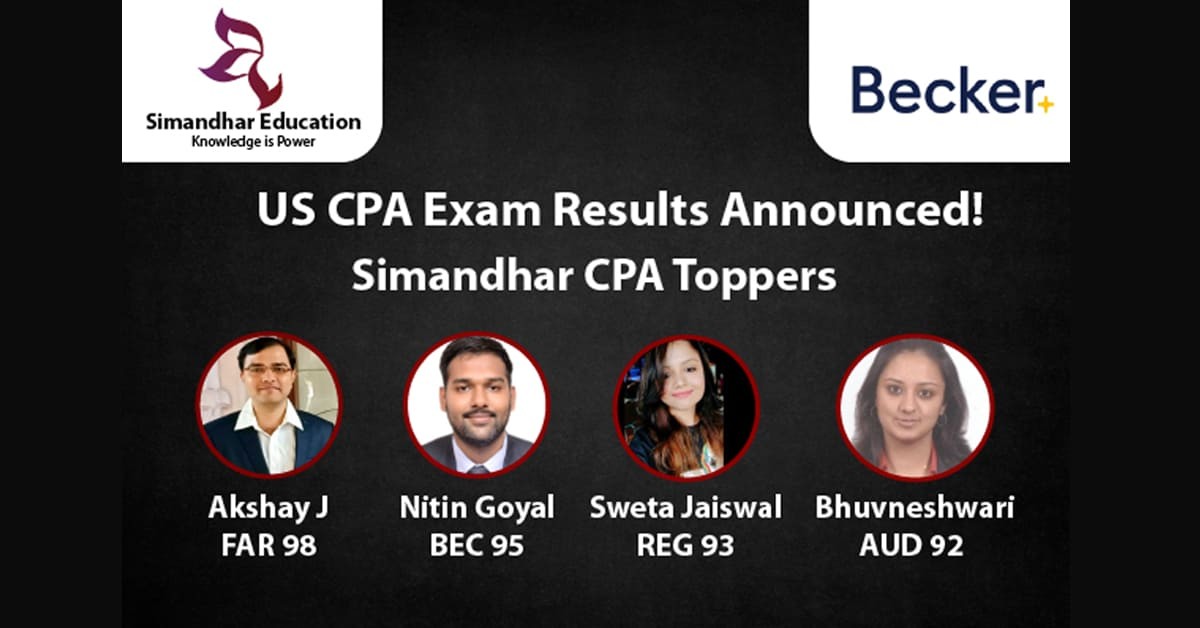 Whilst Becker dominates the CPA education space at the home of the CPA in the US, Simandhar has supported mix of CPA aspirants which includes students and working professional from India, UK, Ireland, Nepal, Sri lanka etc. Interestingly, Some of the CPA aspirants are aged 40 and above and they have achieved great success in CPA and notable mention to some of our Non accounting background students who have pursued CPA from Simandhar and have passed CPA successfully.
Please follow Simandhar Education on:
Facebook | Instagram | LinkedIn | Youtube
Learn how to clear your CPA exams with extremely satisfying results by getting proper guidance and knowledge through Simandhar' s online courses and video tutorials taught by Qualified industry experts. Simandhar education is the official partner of Becker and channel partner of AICPA; its main objective is to help professional students to achieve their goals and ensure quality education to prepare aspirants for success in the professional exam. Simandhar Education has its own CPA exam review, taught by India's best CPA instructors and this Learning Management System (LMS) with Becker CPA review makes sure that you get all the nourishment required to tackle your CPA exams. Along with the regular classes, Simandhar extends support to aspirants through revision classes that have been a hit for a long time among the Indian CPA fraternity, they ran a 4 AM Brahmamuharata revision classes which was done by first finance institute in India and the one week 4 AM revision classes was attended by 150 students.
Tags :
students