And a Bumper Lucky Draw with Costing O.R.
A straight forward paper, without much twist in the tail.
Almost, full paper was covered by ICAI Practice Manual and hardly any over the top difficult question which would check the students concepts.
Division of paper in terms of Marks Weightage was smartly done, covering questions from small unexpected chapters, but those questions also were pretty manageable, unlike group 1 papers where the students were tested at every level.
AMA papers, traditionally are considered very lengthy as compared to other papers. So, assuming that students would keep a fast pace from the inception, paper completion will not be a daunting task.
But the Reviews clearly reveal that the paper was too lengthy and that led to students making some silly mistakes in haste.
All in all, manageable paper and complete reliability on ICAI Material will ensure students an exemption.
Chapter wise Weightage
Paper Analysis with PM Reference
Below is a Statistical review of the above :
| | | |
| --- | --- | --- |
| | AMA (Costing - O.R. Weightage) | |
| | | |
| PARTICULRS | Weight % | TOTAL Marks |
| Costing | 71% | 85 |
| O.R. | 29% | 35 |
| | | 120 |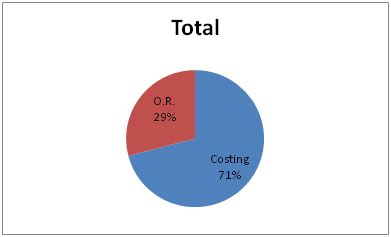 Chapter wise Weightage :
| | |
| --- | --- |
| Chapters as per PM | Weightage |
| Developments in Business Environment | 20 |
| Decision Making using Cost Concepts | 18 |
| Pricing Decision | 8 |
| Budget & Budgetary Control | 12 |
| Standard Costing | 8 |
| Sevice Sector Costing | 10 |
| Transfer Pricing | 0 |
| Uniform Costing | 4 |
| Profitability Analysis | 5 |
| Linear Programming | 6 |
| Transportation | 8 |
| Assignment | 0 |
| CPM PERT | 8 |
| Simulation | 8 |
| Learning Curve | 5 |
| | |
| TOTAL | 120 |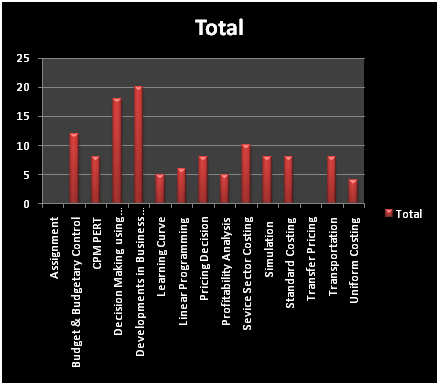 Paper Analysis with PM Reference

Chapter name

Pg no.

Q. no.

PM ref

Cost or OR

Marks

Q1

a

Profitability Analysis

9.21

7

Same

Cost

5

b

Decision Making using Cost Concepts

2.12

10

Same

Cost

5

c

Decision Making using Cost Concepts

2.178

69

Same

Cost

5

d

Learning Curve

16.5

1

Same

OR

5

Q2

a

Activity Based Costing

1.92

17

Similar

Cost

10

b

LPP

10.15

1

Similar

OR

6

Q3

a

Standard Costing (Module )

5.32

10

Similar

Cost

8

b

CPM PERT

14.42

14

Similar

OR

8

Q4

a

Decision Making using Cost Concepts

2.115

48

Similar

Cost

8

b

Simulation

15.31

14

Same

OR

8

Q5

a

Service Costing

6.24

10

Similar

Cost

10

b

Theory of Constraints

1.115

26

Same

Cost

6

Q6

a

Budgetary Control

4.17

5

Same

Cost

8

b

Transportation

11.54

16

Same

OR

8

Q7

a

Budgetary Control

4.74

25

Same

Cost

4

b

Uniform Costing

8.2

3

Same

Cost

4

c

Synchronous Manufacturing

1.49

62

Same

Cost

4

d

Pricing Policy

3.1

9

Same

Cost

4

e

Pricing Policy

3.7

3

Same

Cost

4
To view the question paper : Click here
To enrol Cost Management subject of the author: Click here
Tags
Students