Industrial training is a scheme by which a student can undergo practical training with an industrial undertaking having specified amount of fixed assets or turnover or paid up share capital. It basically is an articleship in any Industry like FMCG or banking where you can complete your last year of articleship. Companies lookout for articles themselves and you have to apply for them online. You will get a call for an interview and if selected you can join them.
This inclusion of industrial training in the CA curriculum is meant to provide industries with candidates who are adaptable to the industrial setups and are compatible with their peculiar working structure. This subsequently also helps those candidates who wish to pursue their careers in industrial backgrounds
Industrial training is not compulsory for the curriculum of CA. However, as per the ever-growing and changing nature of the industrial economy, industrial knowledge provides an edge to the overall knowledge of financial planning and its application.
In this article, we have discussed the pros and cons of industrial training.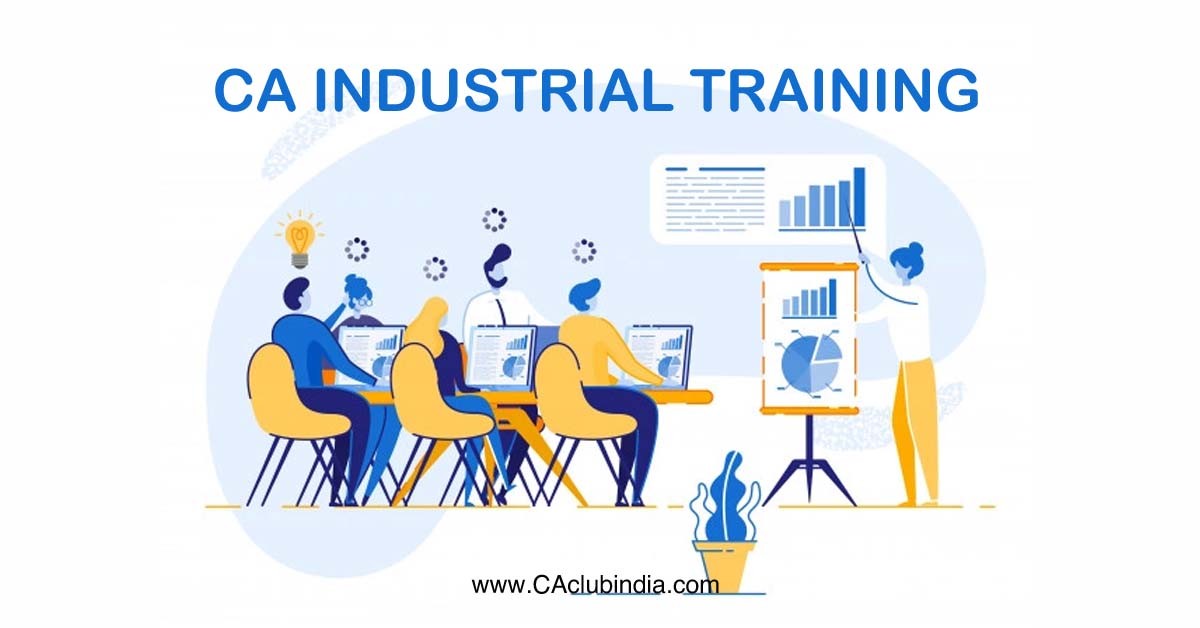 Pros of Industrial Training for CA Students
1. Industry Exposure
The first and foremost reason and benefit of Industrial Training for CA Students is the industry exposure. You get to work in the corporate environment where your role is not much sketch out as it was in your articleship. It opens the doors for more opportunities. So while you are working in the Industry you will get superb industry exposure. And you will be assigned such tasks which will give you proper exposure to corporate finance.
2. Better Career in the industry
If a CA student plans to work in an industry after completing your CA, then industrial training will be the right choice for you. Industry exposure will be a great advantage for you. It acts as an easy route to enter corporates in the future.
3. Helps you grow in your field of Specialization
Nowadays everyone is moving towards Specialization so having the perfect skill for a particular field will give you a fair chance to develop in your career better than anyone else. And if you opt for industrial training then you can gain this Specialization in your field.
4. New working culture
Many students go for industrial training so that they can get to experience a new working environment and culture. This helps to experience different working environments during their training period itself.
Cons of Industrial Training for CA Students
1. Hectic schedule
Articleship is comparatively less hectic as compared to industrial training. In industrial training, your employer will try to make the most of you and will provide you with a lot of work. You may have to miss a lot of other things just to complete your work assignments.
2. Risk Factor
Industrial training will require your time and dedication. This may lead to a shift in focus from your CA Final studies to your work. Your study routine may get disturbed due to the new environment as you would have to adjust to it. You may even not get time for your coaching. So there will be a higher risk to clear your CA exams.
3. Hit on study leave
The employer in your industrial training will try to get the maximum work out of you. So he will not give you much study leaves as you would get in your articleship. Many CA firms offer you 5 to 6 months leave for exams but Companies offer only 3 months of Exam leave.
"Loved reading this piece by
Ritik Chopra
?
Join CAclubindia's network for Daily Articles, News Updates, Forum Threads, Judgments, Courses for CA/CS/CMA, Professional Courses and MUCH MORE!"
Tags :
students
ca students