INTRODUCTION
A Merger or Amalgamation is an arrangement whereby the assets of two or more companies become vested in one company (which may or may not be one of the original two companies). It is a legal process by which two or more companies are joined together to form a new entity or one or more companies are absorbed by another company and as a consequence the amalgamating company loses its existence and its shareholders become the shareholders of the new or amalgamated company.
De-merger is an arrangement whereby some part /undertaking of one company is transferred to another company which operates completely separate from the original company. Shareholders of the original company are usually given an equivalent stake of ownership in the new company.
De-merger is undertaken basically for two reasons. The first as an exercise in corporate restructuring and the second is to give effect to kind of family partitions in case of family owned enterprises. A de-merger is also done to help each of the segments operate more smoothly, as they can now focus on a more specific task.
Merger and Amalgamations plays an important role in Indian economy. It enables Indian companies to merge, demerge, amalgamate, and undertake compromise or enter into arrangements with other companies. It is one of the ways of achieving inorganic growth.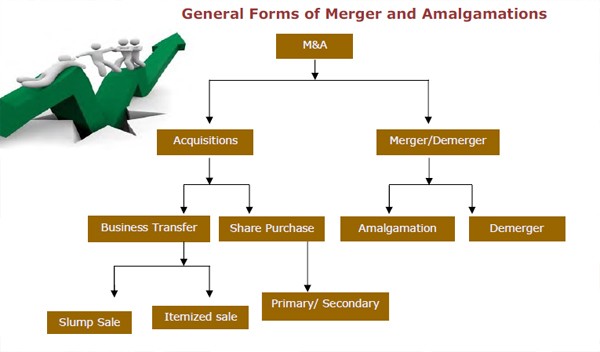 TYPES OF MERGERS/DEMERGERS
Mergers and demergers can take various forms depending on the purpose for which they are contemplated and the resultant benefit arising from them. Given below is an illustrative list of some common types of mergers and demergers with a brief explanation.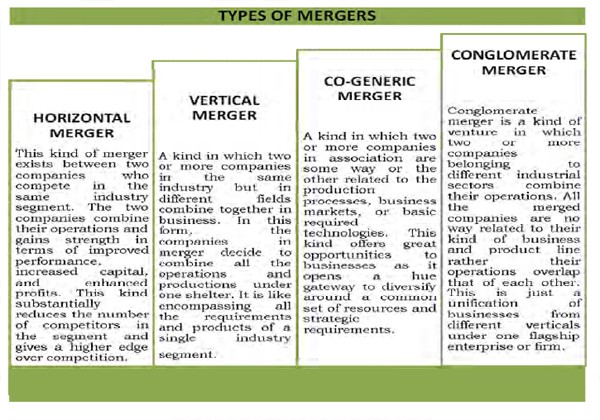 ​​​​​​​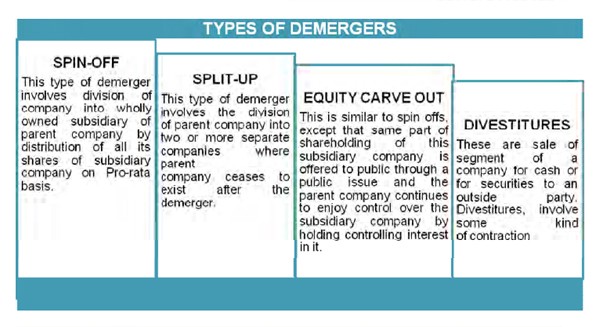 ​​​​​​​
REASONS AND BENEFITS OF MERGERS/DEMERGERS
RATIONALE AND BENEFITS OF DEMERGER
• To focus on core business - Companies which have more than one business and the smaller business is not recognized in valuations of these companies, demerger helps to separate this investment out of the core business. They can focus on core business and exploit the benefits of core competencies and utilize surplus cash in a productive way.
• To attract investors - Demerger of a company can attract specific institutional investors having interest in particular sectors.
• To improve valuation - The benefits of a greater focus to each of the businesses does get reflected in the market and it is possible to realize the actual value of each business.
• Family Settlement - Split among family members can be reason for demerger.
• Corporate attempt to adjust to changing economic and political environment of the country through demergers.
• Strategy to enable others to exploit opportunity effectively to optimize returns when the parent company is unable to do so.
• To help finance an acquisition.
• To realize capital gains from the assets acquired at the time when they were under performing and on no better performance, capital gain can be realized.
• To make financial and managerial resources available for developing other more profitable opportunities.
• Selling unwanted and surplus or unconnected parts in the business as a restructuring strategy to get rid of sick part of the company.
RATIONALE AND BENEFITS OF MERGER

• A merger may be accomplished tax-free for both parties.

• A merger lets the target (in effect, the seller) realize the appreciation potential of the merged entity, instead of being limited to sales proceeds.
• A merger allows the shareholders of smaller entities to own a smaller piece of a larger pie, increasing their overall net worth.

• A merger of a privately held company into a publicly held company allows the target company shareholders to receive a public company's stock, despite the liquidity restrictions.

• A merger allows the acquirer to avoid many of the costly and time-consuming aspects of asset purchases, such as the assignment of leases and bulk-sales notifications.

• Of considerable importance when there are minority stockholders is the fact that upon obtaining the required number of votes in support of the merger, the transaction becomes effective and dissenting shareholders are obliged to go along.
To read the full article: Click here
Tags
Corporate Law