Introduction
If you are seeking a new kick start to your business by globalising it, the first step to proceed will be applying for the Import Export Code, also called IEC Code. The IEC is a key business identification number which is mandatory for Exports or Imports. A numeric figure which can reflect the legal status of any export or import transactions done by the IEC holder, sounds magical right!?
What is the IEC Code?
IEC Stands for IMPORT EXPORT CODE which contains a 10 digit number issued by the Director General of Foreign Trade, Department of Commerce and Government of India. Consequent upon introduction of GST, IEC number is the same as the PAN of the firm. The IEC would be separately issued by DGFT.
What is the Applicability of IEC Code?
An IEC is necessary for import/export of goods. In case the import/export is of services or technology, IEC is required in only limited circumstances.
When import/export is in 'specified services' or 'specified technologies', i.e. services or technologies in which international trade is restricted by the GoI as they pertain to national security. For instance, it can be any trade related to nuclear weapons, etc.
When is IEC not required?
• Import/export of goods which is not connected with trade, manufacture or agriculture and is for the sole purpose of personal use.
• Import/export by government ministries and departments, and certain notified charitable organizations.
• In case of services or technology, the IEC shall be required only when the provider is taking benefits under the Foreign Trade Policy or is dealing with specified services or technologies
How to apply for the New IEC Code?
The nature of the firm obtaining an IEC may be a Proprietorship, Partnership, LLP, Limited Company, Trust, HUF or a Society. An interested person can apply for IEC online or offline, both ways. The easiest and swift way to obtain an IEC is by applying online with the Director General of Foreign Trade @ www.dgft.gov.in .
What are Prerequisites for Applying for IEC?
Firm must have a PAN, bank account in the name of the firm and a valid address before applying. Address may be physically verified by the DGFT on issuance of the IEC. Please keep your PAN, bank details and firm details ready before applying.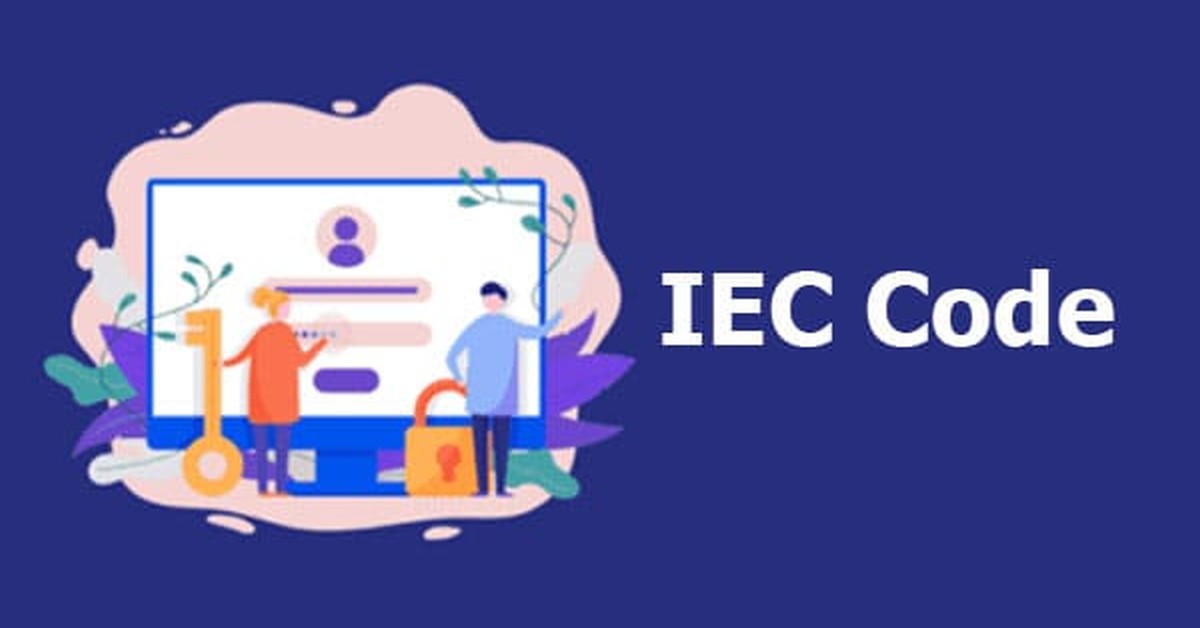 What is the procedure to obtain an IEC?
With the following steps, you can self apply for IEC:
Step 1: Browse and open www.dgft.gov.in. A website with below interface will appear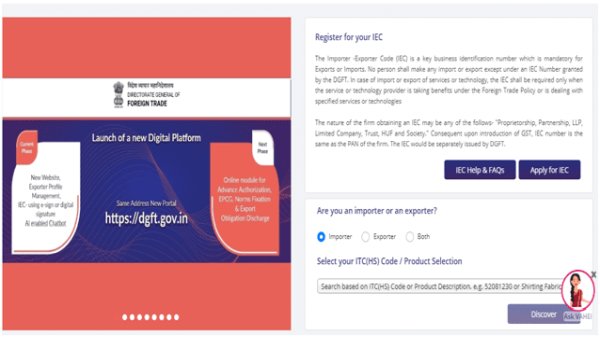 Step 2: Click on 'Apply for IEC'
Step 3: By clicking apply the page will pop an application form, as shown below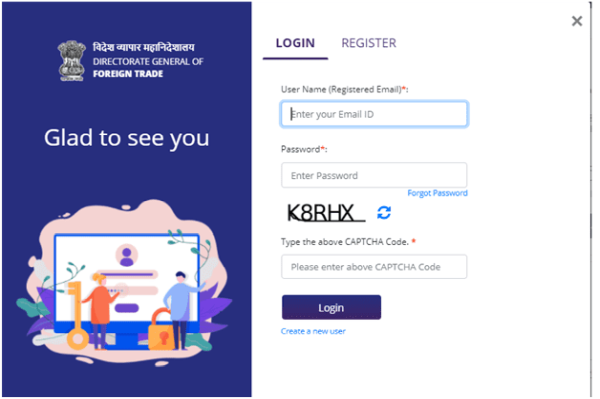 Step 4: If already registered, one can insert their credentials, enter Captcha and login. If not, click on 'create a new user' or you can also click on 'Register' corresponding tab with Login.
Step 5: When you click on 'register' to apply for IEC, following form will be shown to you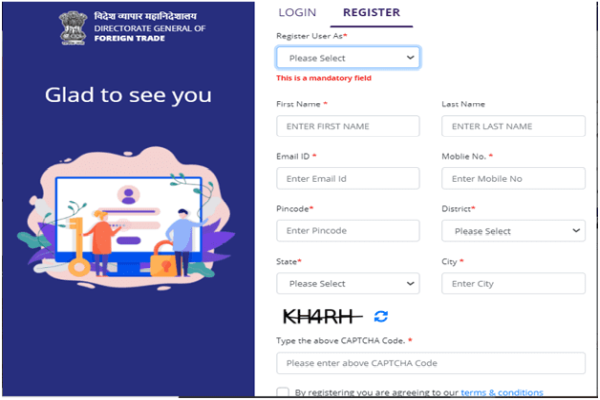 Step 6: Fill all the required details and click on 'Send OTP'
Step 7: An OTP will be received on E-mail ID and Mobile number entered in the application. A window will open as follows, and you need to enter the OTP received within 15 mins of its generation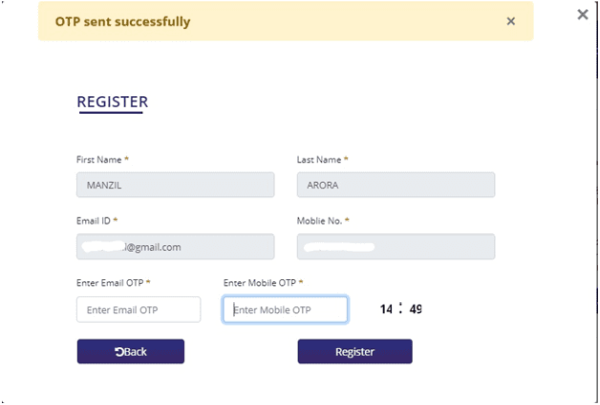 Step 8: After verifying OTP, an email will be sent to you with respective Login ID and initial password. Using that you can Login at DGFT website (Step 3).

Step 9: With first initial login, the page will automatically ask you to change the password.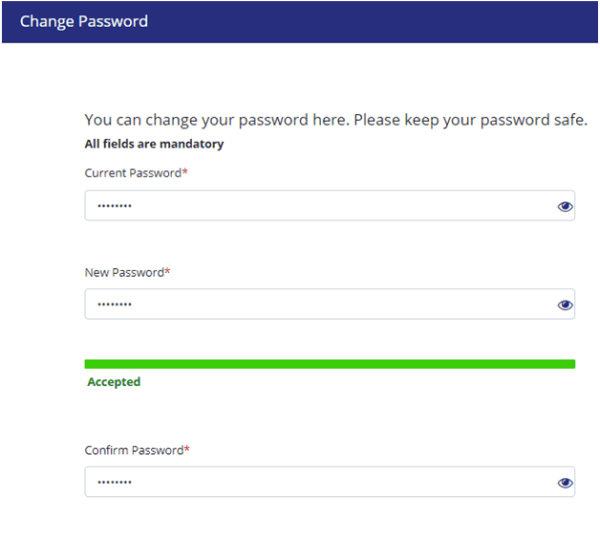 Step 10: Now finally, after changing password, you can see the homepage of your profile.
Step 11: To apply for IEC, click on 'Apply IEC'. The following page will appear; with a hyperlink on the left side of page select 'Start Fresh Application'.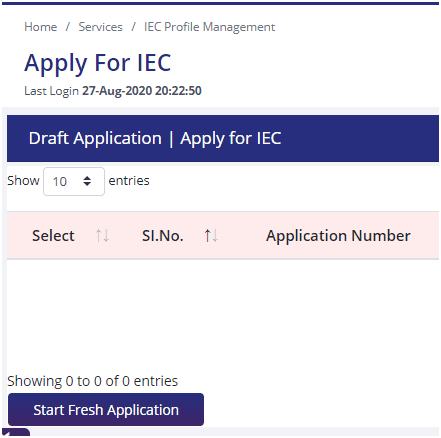 Step 12: The application will have 6 Parts:

1. General Information
2. Details of Proprietor
3. Bank Information
4. Other details
5. Declarations
6. Application Summary
Step 13: General information will have these below tabs: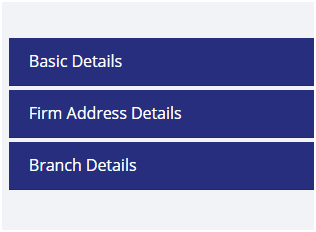 Basic and firm details are mandatory however branch details are optional. Demo of Basic details required: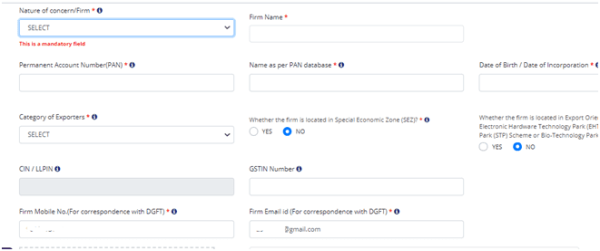 Step 14: After filling the mandatory details in all parts, you need to file declarations with DGFT. Documents like Memorandum of association (if a company), Extract of Board Resolution, other relevant documents, if required.
PAN Card, Photograph and Bank Certificate is mandatory for all the applicants for which format is provided at the website itself.
Step 15: After uploading all documents, preview application summary. After finalising, the portal will ask you to submit and make payment.
What is the validity of an IEC?
An IEC allotted to an applicant shall be valid for all its branches and all its division. IEC is valid forever and no need to renew the same.
Whether more than one IEC can be issued against one PAN?
Only one IEC would be issued against a single PAN number. Any proprietor can have only one IEC number and in case there are more than one IECs allotted to a proprietor, the same may be surrendered to the Regional Office for cancellation. However, in case of more than one proprietorship firm belonging to one proprietor, they will be indicated as branch offices of the first firm.
Conclusively, we can say that it is very simple to apply and obtain an IEC (also misworded as IEC code). With our article, we have tried to answer some frequently asked queries on this subject. Hope you find your time productive after reading this.
Tags
income tax