Latest Updates on GSTR-1:
Companies that are GST taxpayers have been given permission to authenticate returns using EVC instead of digital signature up to 31st August 2021.
Vide Notification No. 20/2021 – Central Tax, the Central Board of Indirect Taxes and Customs has waived the late fee for delay in furnishing of the statement of outward supplies in FORM GSTR-1 from June 2021 onwards or the quarter ending June 2021 onwards.
If a taxpayer, with an annual aggregate turnover of Rs.5 crore does not opt into the QRMP scheme, he will be considered as a monthly filer of GSTR-1 and GSTR-3B from January 2021 onwards.
GSTR-1 is a monthly or quarterly return that is to be filed by the supplier of goods, services, or both which include the details of all the outward supplies of goods and or/ services. This article includes the following.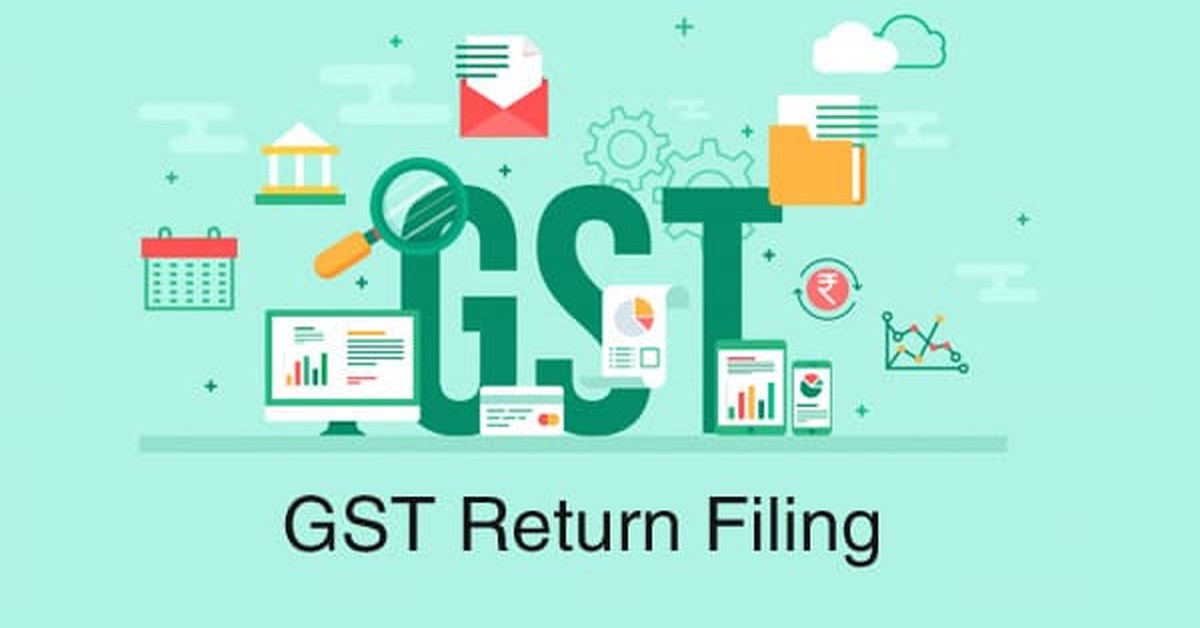 What is GSTR-1?
GSTR - 1 is a monthly/quarterly sales return that is to be filed by every GST registered dealer, supplying goods, services, or both. It contains the details of the sales & outward supplies of a dealer. In other words, any individual that is involved in the supply of goods and or/services has to specify the details of that supply along with the recipient of those goods in GSTR - 1.
Who is liable to file GSTR-1?
Every GST registered dealer, irrespective of the sales amount has to file the return either monthly or quarterly depending on their annual turnover. It is mandatory to file the return even if there were no sales a Nil return has to be filed. The following are exempted from filing the return:
1. An Input Service Distributor (ISD): An Input Service Distributor is a business that receives invoices for services used by their branches. An ISD file GSTR 6.
2. Composition Dealer: Dealers who have registered their business under the Composition Scheme of GST. The Composition Scheme is aimed at businesses whose annual turnover is up to 1.5 crore INR. Composition Dealer file GSTR 4.
3. Suppliers of online information and database access or retrieval services (OIDAR): As according to Section 14 of the IGST Act, they are required to pay tax themselves. OIDAR file GSTR 5A
4. Non-resident taxable person: These are the people who either import goods or services from outside India or are in charge of managing a business owned by a Non-resident Indian (NRI). They have to file GSTR 5.
5. E-commerce operator liable for collecting tax at source (TCS): E-commerce operator are liable to file GSTR-8.
6. A tax payer liable for deducting tax at source (TDS): Such a person is required to file GSTR-7.
What is the due date to file GSTR-1?
It can be filed monthly as well as quarterly. Quarterly return is to be filed if the turnover during the preceding financial year is upto Rs. 1.5 Crore. If the person has taken registration in the present Financial Year he/she can opt for quarterly filing of the return if he/she expects that the aggregate turnover during FY to be upto Rs. 1.5 Crores. The due dates to file monthly/quarterly GST return is as follows:
1. For businesses having annual turnover equal to or less than 1.5 crores INR:
These businesses have to file the return on a quarterly basis:
| | |
| --- | --- |
| Quarter | Due Date |
| April - June | 31st July |
| July - September | 31st October |
| October - December | 31st January |
| January - March | 30th April |
2. For businesses having annual turnover more than 1.5 crores INR:
These businesses have to file the GSTR - 1 on a monthly basis. The return for the current month can
be filed till the 10th of the subsequent month. For example, the due date for GSTR - 1 of January will be 10th February.
Due date for the month of March, April, and May:
Due to the outbreak of COVID-19 the government has announced that no interest or late fee will be charged if the return is filed by the 30th of June 2020.
What are the different heads under GSTR-1?
There are 13 sections under GSTR - 1. However, all of these need not be filled and some of these will be pre-filed.
Basic Details in Table 1, Table 2, and Table 3
Table 1: GSTIN
Goods and Services Tax Identification Number, also known as GSTIN is a 15-digit unique number allotted on the basis of PAN card number of the taxpayer. This is a pre-filled field.
Table 2: Name of the Taxpayer
The name of the taxpayer is also a pre-filled field
Table 3: The Gross Turnover of the taxpayer in the earlier Financial Year
The gross turnover for the previous financial year will have to fill the first-time return is being filed. Post that, this will be pre-filled.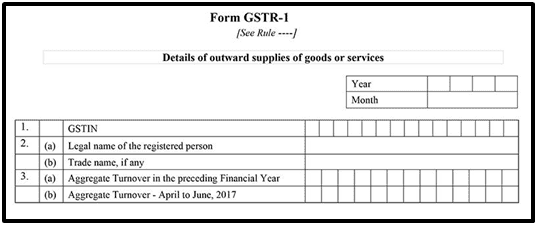 Details of Outward Supplies :
The taxpayer is liable to give the details of export of goods and services including deemed exports (SEZ), Summarised state level details of supplies to unregistered persons (consumers), Invoice level details of supplies to registered persons including those having UIN, Invoice level details of Inter-State supplies of invoice value greater than Rs. 2,50,000 to unregistered persons (The details of outward supplies are given in Tables 4, 5, and 6
Table 4: Taxable outward supplies made to registered persons other than supplies covered by Table 6
In this table, users have to fill details of all taxable supplies done by them in the current quarter/month. This includes:
a. 4(A) - Normal taxable supplies except included in 4(B) and 4 (C)
b. 4(B) - Supplies under reverse charge mechanism should be included rate-wise
c. 4(C) - Supplies done by e-commerce operators should be filed operator-wise and rate-wise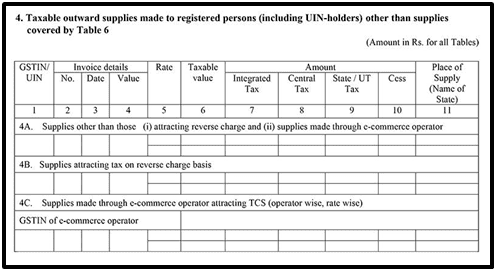 Table 5: Taxable outward inter-State supplies to un-registered persons where the invoice value is more than Rs 2.5 lakh
a. 5(A) - All inter-State supplies of more than 2.5 lakh INR invoice value are to be filed invoice-wise and rate-wise here
b. 5(B) - All supplies made by an e-commerce operator to an unregistered person wherein tax is collected at source (TCS) is to be filed invoice-wise and rate-wise here

Table 6: Zero rated supplies and Deemed Exports
a. 6(A) - Exports
Herein, you can claim a refund on taxes paid on exports
b. 6(B) - Supplies made to SEZ unit or SEZ Developer
c. 6(C) - Deemed Exports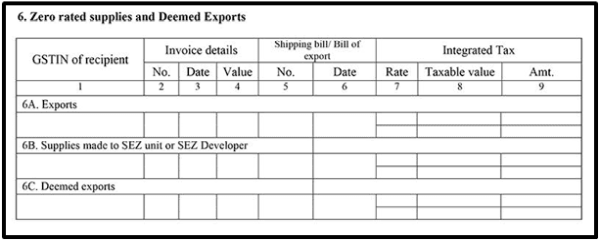 Details of Debit or Credit Notes issued by the supplier against Invoices:
What is a Debit Note?
A Debit Note is a document issued against an invoice in cases if the original invoice is issued at a value lower than the actual value of goods and/or services provided.
What is a credit note?
Credit Note is a document issued against an invoice in cases where the invoice was issued at a value higher than the actual value of goods and/or services.
Table 7: Under this table, all details related to the debit and credit note issued to unregistered persons has to be filed except for those already filled in Table 5. The details should be net in nature.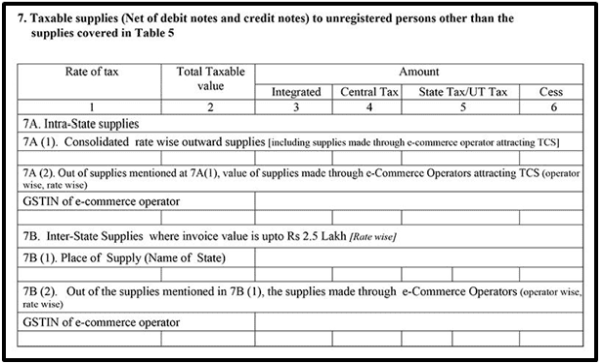 Details of Nil rated/Exempted Goods
Part 8: Nil rated, exempted and non-GST outward supplies

How to amend details of GSTR-1 of the previous period?
It cannot be revised if any mistakes are made. It can be amended in the return of the next month in table 9, 10, and 11.
Table 9: Herein, all details related to the amendments made in Tables 4, 5 and 6 for the current tax period and amendments thereof, are to be filed.
Table 10: All amendments relating to the taxable outward supplies to an unregistered person in the previous tax period are to be filed in this table.
Table 11: This is a consolidated statement of advance received. The details of all advance received without the issue of invoice, rate-wise intra-state and inter-state supplies, an adjustment in advance amount has to be filed in this table.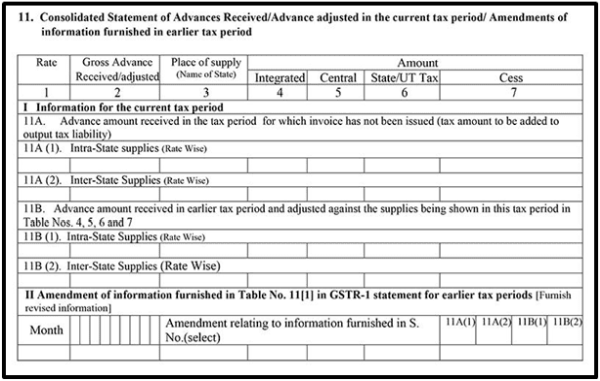 Details of HSN wise Summary
12: Outwards Supplies HSN Wise Summary

Part 13: This table requires all the details related to the invoices, debit and credit notes and revised invoices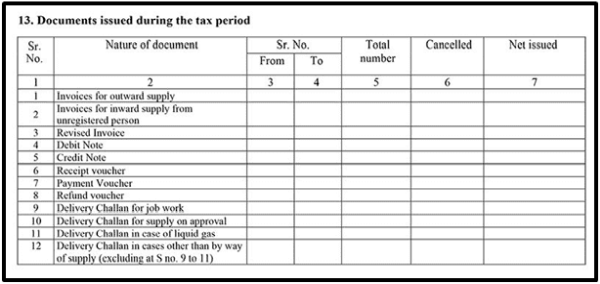 Late fee for non filing of GSTR-1
In case the return is not filed on or before the due date, there is a Rs 50 penalty per day. In case of nil rated return, the penalty is Rs 20 per day.
Important Clarifications
1. GSTR - 1 is to be filed even if there are zero sales in a month
2. GSTR - 1 cannot be furnished before the end of the tax period
3. If the taxpayer has been converted from a normal taxpayer to a composite one, then the return is to be filed only for the period he was a normal taxpayer
4. In GST common portal, a taxpayer can upload invoices on a real-time basis. This can also be modified and/or rectified
Tags :
gst
gst return