Are you director of a company incorporated on or before 31st December 2017? If yes than be ready to get picture of your company's Registered office from inside and outside along with picture of Director in office who will submit these information with Registrar of Companies.
Ministry of corporate affairs vide Companies Amendment Ordinance 2019 has inserted a new sub-section (9) to section 12, which state that ;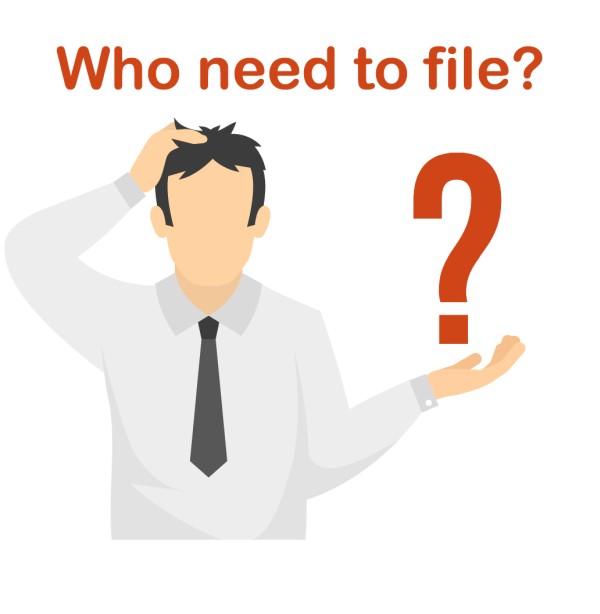 'If Registrar has reasonable cause to believe that the company is not carrying on any business or operations, he may, without prejudice to the provision of sub-section (8), cause a physical verification of the registered office of the company and if any default is found in complying with the requirements of sub- section (1), initiate action for the removal of the name of the company from the register of companies under Chapter XVIII'.
Moreover Ministry of Corporate Affairs has also amended the 'Companies Incorporation Rules 2014 by inserting a new rule 25A after existing rules 25. As per this new rule all companies incorporated on or before 31st December 2017 have to file a 'E-form 'Active' on or before 25 April 2019. In this e form companies need to give details of registered office, directors, CS, along with pictures of interiors and exteriors of registered office. Our team has analyzed the provisions and providing you the details.
Who need to file E-form 22A?
Every Company incorporated on or before 31st December 2017. Therefore a Company incorporated on 1st January 2018 does not require filing form 22A.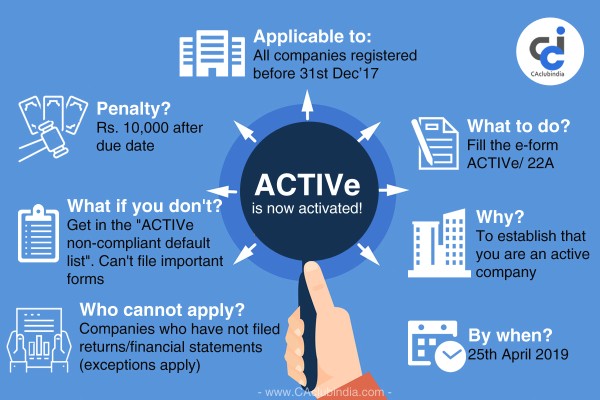 Which companies are not required to file form 22A
As per rule 25A following companies need not to file form 22A
Companies incorporated on or after 1st January 2018
Companies which are struck off
Companies under process of striking off
Companies under liquidation
Amalgamated companies
Dissolved companies
Which companies cannot file 22A ?
Following companies cannot file the form INC-22;
Companies required to appoint CS (KMP) but have not yet appointed
Companies who have not filed Form AOC-4 & MGT-7 for 2017-2018
Companies who have not yet filed form ADT-1 for 2018-19
If number of directors are less than the prescribed limit
DIN Status of any Director is not approved
Companies required to appoint 'Cost Auditor' but have not yet appointed.
What are mandatory details in the forms?
Latitude and Longitude of address of registered office
E-mail Id of the company to receive OTP
List of Directors (Auto populated)
Details of Auditor
Details of Cost Auditor (If applicable)
Details of KMP (if Applicable)
SRN No of AOC-4 and MGT-7 for 2017-2018
What are Mandatory attachments?
Photo of External of registered office
Photo of inside office also showing therein at least one director/ KMP who has affixed his/her Digital Signature to the form 22A
WHAT IS STATUTORY FEES?
NIL (if filed before 25th April 2019)
Rs, 10,000/- if filed after 25th April 2019
CONSEQUENCES OF NON-FILING
Status of the company shall be changed to 'Active-non-complaint'
Company would not be able to file following E-forms;
SH-07 (Change in Auth Capital)
PAS-03 (Change in Paid up Capital)
DIR-12 (change in Directors)
INC-22 (Change in Registered Office)'
INC-28
Filing fees would be Rs, 10,000/-
Registrar can initiate action for the removal of the name of the company from the register of companies under
DOES OPC need to file this form 22A?
Yes, as per the notification all companies including section 8 company and producer companies required to file form 22A before on or before 25th April 2019.
WHO WILL CERTIFY THE FORM?
The E form 22A need to be certify by Two Directors or by one Director and one KMP (if any). However In case of One Person company the form is to be certify by one Director.
IS THE E-FORM AVAILABLE?
Yes its available on the MCA portal.
The author can also be reached at cs.kashifali@gmail.com
Tags
Corporate Law