'You just have to have the guidance to lead you in the direction until you can do it yourself' said Aditya Mittal when asked about scoring 100 out of 100 in SFM in CA Final Nov 2017 examinations.
During an interview with Aditya Mittal - All India Rank 3 following questions were asked:
Q- How did you prepare for SFM to get 100 out of 100?
I attended CA Aditya Jain's classes and practiced questions from the study material.
Q- When did you plan to attend classes for SFM after clearing IPCC?
Interestingly, I planned to take my SFM Coaching just after my IPCC result as SFM is a practical subject and generally it has less amendments as compared to other subjects. Also, I would advise other students to start their studies/ classes as soon as possible, as the same will give you advantage to complete classes on time.
Q- Did you face any difficulty as you took SFM class too early?
No, as sir's concepts plus notes are self-explanatory and can be easily recalled. Also, I used to revise concepts and sums, even after classes were completed. So that's really important, once classes are over, you need to keep touch with subjects and topics.
Q- How many times you revised SFM?
I revised the whole syllabus probably 3 times. During revision I referred to class notes all the concepts were recalled very easily which we have done in classes.
Q- In SFM what material you preferred?
I preferred only Aaditya Sir's books which I think covers whole ICAI study material plus practice manual. So I never had to refer ICAI study material specifically in case of SFM.
Q- Every student tells that Forex and Derivative chapter is so confusing, then how did you got rid of that?
Yes, even I heard that, but I never felt that it was tough because I was lucky to get practical knowledge of the same and my basic concepts were cleared in class.
Q- What did you study a day before your SFM exam?
I referred to notes prepared during the class before the exam. I would advise students to prepare their own notes and refer only to them before exams.
Q- Tell me how you handled your SFM exam paper within stipulated time?
After getting the question paper, I read the whole paper and I felt that I can do all the questions because at that time every concept was simply clicking on mind which was done in class and that's why I was able to solve all the questions. Another reason was I did practice all the sums 3-4 times by myself, that's why it didn't take time to think about the solution or its presentation.
Q- How did you manage that questions those were not directly from the book?
Almost, every question asked in the exam were similar to what I studied in the class and one or two questions which were different was easy to solved with the conceptual clarity.
Q- How did you manage your time during the preparation?
I tried to curtail wasting time on useless things, gave up all social networking sites. Divided the time into revision hours and fresh topics to be studied.
Q- Which website you used to prefer during your CA preparations to keep yourself updated?
I use to prefer CAclubindia website to keep myself updated with any amendments or notification. Personally, CAclubindia as a knowledge sharing community really helped me to grasp knowledge on various topics and keep myself updated with latest changes in syllabus.
Also, various top faculties of India post their summary notes and amendment notes in pdf format, which proves to be very useful for last time revision and guidance to deal with tough topics. Moreover, I used to read Interviews from previous All India Rankers on CAclubindia which really motivated me to score a rank for myself.
Q- What tips do you want to share with other CA Aspirant for achieving this success?
I would say - If you focus on the excitement of improving, exploring and experimenting, your motivation will always be fueled. If you focus only on results, your motivation will be like weather - it will die the minute you hit a storm.
So the key is to focus on the journey, not the destination. Keep thinking about what you are learning along the way and what you can improve.
Marksheet of AIR 3: Aditya Mittal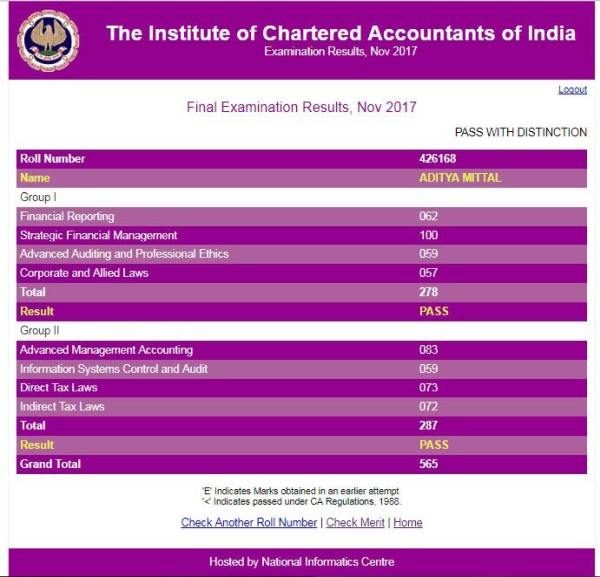 Tags
students
ca rankholder interview
ca exams