On the eve of the Republic Day, the Government of India in consonance with the Ministry of Corporate Affairs took another leap of faith to streamline the process of incorporation of a Company in India.
The government is paving its way to provide cent percent ease of doing business in India by coming up with provisions to rule out complexities for registering a business in India, in a phased manner.
Initially, the aim was to increase the efficiency by reducing the time frame of registering the company from 15 days to 1 day. This time the focus is not only to reduce the complexities rather some monetary benefits are also extended to the end users.
Let us study the new provision of Reserving a Company name and DIN, with a 'Zero' government fee for incorporation of a company in India.
Reserve Unique Name for your Company with a User-friendly Web-form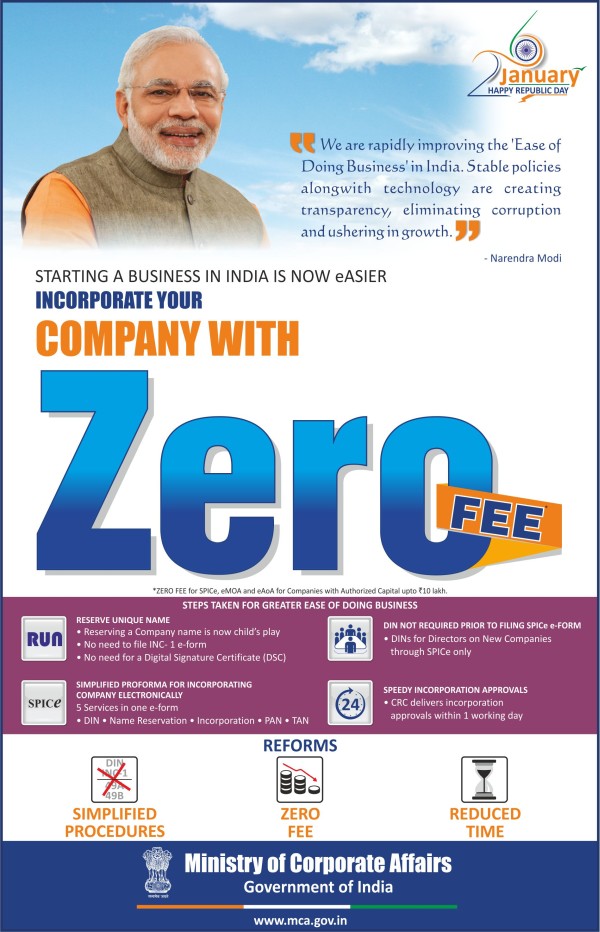 According to the new provisions of Rule 9 of the Companies (Incorporation) Amendment Rules, 2018 there is a new form 'RUN' for reserving or altering a Company Name.
Following are the key highlights of RUN Web Form
Government Fee is Rs.100/- per form
It is optional. The applicants have an option to directly proceed with SPICe form, which also provides an option to enter a single name for approval.
There are no provisions for Re-submission. In case of rejection of name, you need to refile the form and pay the statutory fees again.
Unlike INC-1 e-Form, you get only One name option compared to six in Inc1.
The form is made very user-friendly and the applicant can proceed without affixing the DSC.
The validity of the approved name is for
20 days: for a new company
60 days: for existing companies opting for alteration in Name.
Only one file not exceeding 6MB is allowed to be uploaded containing NOCs and other scanned documents.
To avoid rejection in the first attempt, make sure that the name chosen is not similar to any registered company or a Limited Liability Partnership or a registered trademark. Also, keep the Companies (Incorporation) Rules 2014 handy prior to the name submission.
On approval, the same login id should be used to submit the other incorporation forms like SPICe, INC-12 and INC24.
Even though the government has made phenomenal efforts to streamline Name Approvals, yet many professionals refrain from opting for RUN over SPICe form, especially in the states where the Stamp duty is less than Rs.1000/-
Zero Government Fee for Incorporation
The government has made efforts to extend monetary relief to the applicants by waiving off the government fee applicable on any SPICe form, eMOA and eAOA.
Following are the key highlights of the 'Zero' fee:
This provision is only applicable to companies having an authorized capital of up to Rs.10 lakhs only.
Stamp duties are still applicable on the incorporation forms, which vary from state to state.
For a state like Delhi, where the Stamp Duty is just Rs.360/- it is advisable to opt for SPICe directly over RUN as it provides two Name approval chances without paying of Rs.1000/- extra.
However, for states with a higher Stamp duty like Madhya Pradesh has Rs.7550/-, the RUN form has proved to be a blessing.
Clubbing of DIN with SPICe
While incorporation of a new a company, the applicant need not file DIR3 separately. Now DIN can be applied within SPICe form for up to three directors.
However, DIR3 is still in use by the existing companies for adding a new director.
Such attempts will surely boost the number of companies registered in India in the years ahead, taking the startup culture to reach new heights.
The author has an impassioned zeal for penning the untamed thoughts. He likes to explore different realms of the technology-driven business world along with a legal touch. When not writing he is busy watching football or gaming for as long as he possibly can. Currently, he is associated with StartUpSection.com which is currently dealing in Registering Private Limited Company, Annual Compliances and other associated activities.
Tags
Corporate Law