The PIL filed on behalf of 987 students across 20 states and 3 UTs by Advocate Anubha Shrivastava Sahai - President India Wide Parents Association Lawyer and Child Rights Activist seeking relief measures is scheduled to be heard by the Supreme Court on Monday, 28th June 2021.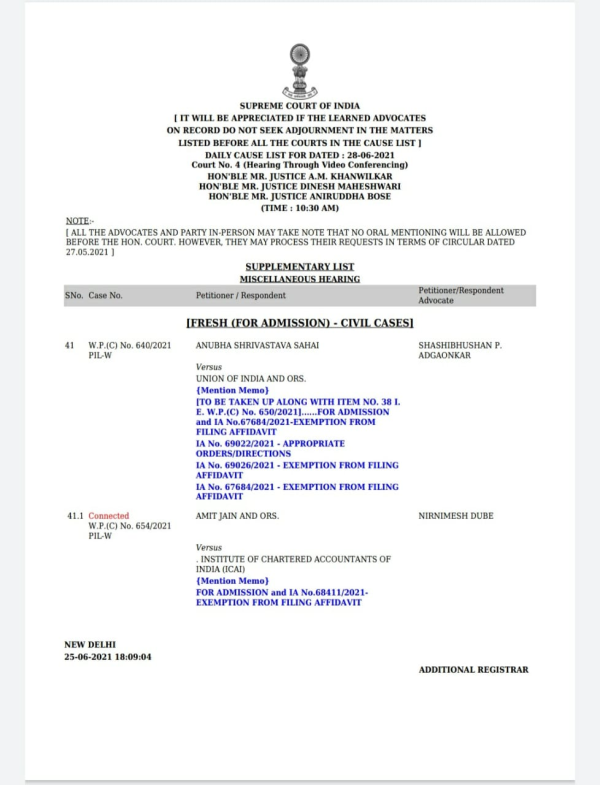 Background
Considering the adverse effect of the second wave of the COVID-19 pandemic, 987 students across 20 states and 3 UTs had approached the Supreme Court seeking several relief measures for students of the CA course including the "Opt-Out Facility" that was given to students during the November 2020 exams. Click here to read the 12 relief measures requested in the PIL.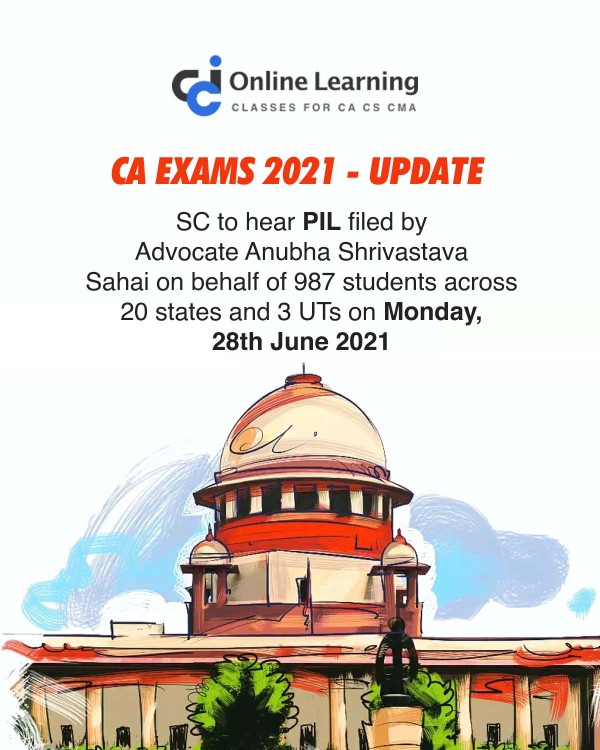 Main Concerns of the Students that is crucial for the ICAI to address according to Adv. Anubha and CA students:
To make sure that the students are vaccinated before they are asked to sit for exams.
Opt-out option must be available to all the students.
Exam cycles must not be merged. Instead, an additional exam cycle must be there for students who have opted out.
A dialogue with students must happen to understand their concerns and then the institute must take a decision about the exams accordingly.
To read our exclusive interaction with Advocate Anubha wherein she talks about student concerns, the progress of the PIL, representation letter written to the CJI, and possible solutions, click here.
TRENDING NEWS REGARDING THE JULY 2021 CA EXAMS
| | | |
| --- | --- | --- |
| S.No. | Title | Link |
| 1 | ICAI modifies Opt Out Criteria after Supreme Court's Order | |
| 2 | No RT-PCR Required for Opting Out of the July 21 CA Exams - Read SC's Order | |
| 3 | SC suggests ICAI to Relax Condition of RT-PCR Certificate - Decision Regarding Opt Out to be given on 30th June 2021 | |
| 4 | ICAI opens conditional Opt Out Window for July 2021 CA Exams | |
| 5 | Submission by ICAI on the issues raised by CA Students in their PIL | |
| 6 | 6000 CA Students Write to the PMO to Postpone CA Exams | |
| 7 | SC to hear PIL filed by CA Students on Monday, 28th June 2021 | |
| 8 | 6000 CA Students write to the CJI to hear their plea out regarding July 2021 CA Exams | |
| 9 | Admit Cards released for July 2021 CA Foundation, Inter, and Final Exams | |
| 10 | ICAI gives conditional Opt Out Option for July 2021 CA Exams | |
| 11 | ICAI to not transfer CA Students to an examination centre in a particular zone of the city opted by them | |
| 12 | PIL filed in the Supreme Court against CA Exams in July | |
| 13 | Expecting conducive atmosphere around July 5 for holding exams, says ICAI President | |
| 14 | Revised Schedule of May 21 CA Inter and CA Final Exams | |
| 15 | Revised Schedule of June/July 21 CA Foundation Exams | |
| 16 | Guidelines for Examination Centres, Examination functionaries and Candidates for July 2021 CA Examinations | |
Tags :
icai
ca students