The second wave of the COVID-19 pandemic has caused immense disruption in the everyday lives of the citizens of the country. However, ICAI President CA Nihar Jambusaria assures that going ahead with the CA Exams, that are scheduled to begin from 5th July 2021 is in the larger interest of the students since the number of students that are appearing for the exams is very high and merging it with the November 2021 exams will do more harm than good.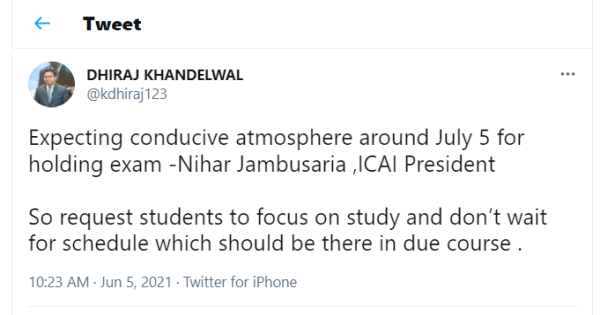 ICAI President Jambusaria also assures that the number of cases are declining with each passing day and with the ongoing vaccination drives the institute should be seeing a conducive atmosphere for holding the exams like they saw in November last year.
On 29th May 2021 ICAI announced that the May 21 CA Inter and Final Exams, that were postponed due to the second wave of the COVID-19 pandemic will now commence from Monday, 5th July 2021 across the globe. The detailed Schedule / Notifications for the said examinations hasn't been announced by the institute yet.
To read the official announcement regarding the conduct of exams, click here.
TRENDING NEWS REGARDING THE JULY 2021 CA EXAMS
| | | |
| --- | --- | --- |
| S.No. | Title | Link |
| 1 | ICAI modifies Opt Out Criteria after Supreme Court's Order | |
| 2 | No RT-PCR Required for Opting Out of the July 21 CA Exams - Read SC's Order | |
| 3 | SC suggests ICAI to Relax Condition of RT-PCR Certificate - Decision Regarding Opt Out to be given on 30th June 2021 | |
| 4 | ICAI opens conditional Opt Out Window for July 2021 CA Exams | |
| 5 | Submission by ICAI on the issues raised by CA Students in their PIL | |
| 6 | 6000 CA Students Write to the PMO to Postpone CA Exams | |
| 7 | SC to hear PIL filed by CA Students on Monday, 28th June 2021 | |
| 8 | 6000 CA Students write to the CJI to hear their plea out regarding July 2021 CA Exams | |
| 9 | Admit Cards released for July 2021 CA Foundation, Inter, and Final Exams | |
| 10 | ICAI gives conditional Opt Out Option for July 2021 CA Exams | |
| 11 | ICAI to not transfer CA Students to an examination centre in a particular zone of the city opted by them | |
| 12 | PIL filed in the Supreme Court against CA Exams in July | |
| 13 | Expecting conducive atmosphere around July 5 for holding exams, says ICAI President | |
| 14 | Revised Schedule of May 21 CA Inter and CA Final Exams | |
| 15 | Revised Schedule of June/July 21 CA Foundation Exams | |
| 16 | Guidelines for Examination Centres, Examination functionaries and Candidates for July 2021 CA Examinations | |
Tags :
icai
students
ca students
coronavirus
ca exams