Restaurant aggregator and food delivery platform Zomato is all set to be the first startup in the Indian food aggregator space to raise public money. The company has seen significant growth over the last few years with its largest competitor Swiggy going head-to-head in the race.
The Initial Public Offering (IPO) of Rs. 9,375 crore of the company opened today (14th July 2021). It is the largest IPO in the last 16 months after the SBI card (Rs. 10,355 crore) that was launched in March 2020.
About the company
Zomato's technology platform connects customers, restaurant partners and delivery partners, serving their multiple needs. Customers use its platform to search and discover restaurants, read and write customer generated reviews and view and upload photos, order food delivery, book a table and make payments while dining-out at restaurants.
On the other hand, the company provides restaurant partners with industry-specific marketing tools which enable them to engage and acquire customers to grow their business while also providing a reliable and efficient last mile delivery service.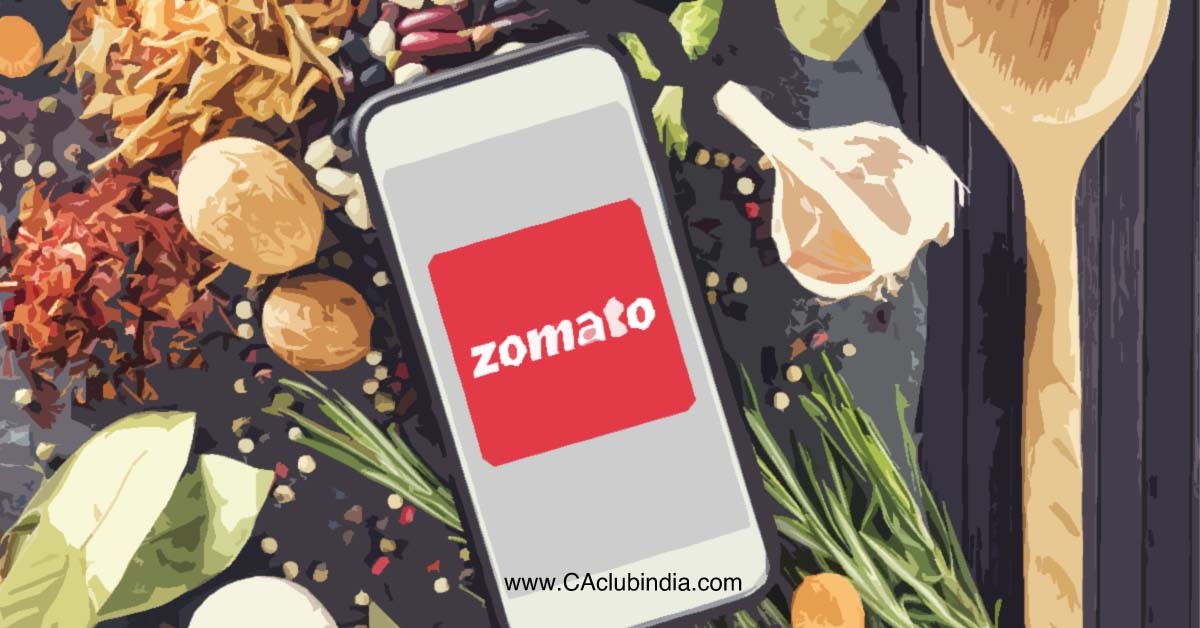 The company also operates a one-stop procurement solution, Hyperpure, which supplies high-quality ingredients to restaurant partners. It also provides delivery partners with transparent and flexible earning opportunities.
According to RedSeer, it is one of the leading food services platforms in India in terms of value of food sold, as of March 2021. During FY21, 32.1 million average monthly active users (MAU) visited its platform in India.
As of March 2021, the company was present in 525 cities in India, with 3,89,932 active restaurant listings.
Its mobile application is the most downloaded food and drinks application in India in each of the last three fiscal years since FY19-FY21 on iOS App store and Google Play combined, as per App Annie's estimates.
Objectives of the Issue
According to the prospectus, the offer comprises of a fresh issue of Rs 9,000 crore and the sale of shares worth Rs 375 crore by existing investors. A large part of the proceeds i.e. Rs 6,745 crore will be used to fund the company's organic and inorganic growth initiatives.
IPO Dates
The offer opened for subscription on July 14 and the bidding will close on July 16.
| | |
| --- | --- |
| IPO Open Date | Jul 14, 2021 |
| IPO Close Date | Jul 16, 2021 |
| Basis of Allotment Date | Jul 22, 2021 |
| Initiation of Refunds | Jul 23, 2021 |
| Credit of Shares to Demat Account | Jul 26, 2021 |
| IPO Listing Date | Jul 27, 2021 |
Offer Price
The price for the offer has been fixed at Rs 72-76 per equity share, by the company after consultation with merchant bankers.
Lot Size and Reserved Portion Category-wise
| Application | Lots | Shares | Amount (Cut-off) |
| --- | --- | --- | --- |
| Minimum | 1 | 195 | Rs 14,820 |
| Maximum | 13 | 2535 | Rs 192,660 |
Investors can bid for a minimum of 195 equity shares and in multiples of 195 equity shares thereafter. Considering this lot size, retail investors can apply for a minimum of Rs 14,820 worth of shares and a maximum of Rs 1,92,660 shares at a higher price band of Rs 76 per equity share.
Up to 75 percent of the total offer has been reserved for qualified institutional buyers, up to 10 percent for retail investors, and the rest 15 percent for non-institutional buyers.
It has already mobilized Rs 4,196.51 crore from 186 anchor investors on July 13, a day before the issue opening. And, the rest of the money will be raised in the next three days till July 16, via public offer.
Progress on the IPO
The Zomato IPO already mobilized Rs 4,196.51 crore from 186 anchor investors on July 13, a day before the issue opening. The retail portion of Zomato's public offering was subscribed nearly 100% within an hour of the opening on Day 1 whereas the overall issue got subscribed nearly 0.18 times at around 11:45 am.
Whether to subscribe or not?
The Rs 9,375-crore IPO of Zomato has received a 'subscribe' rating from many analysts given the investors' appetite and interest in the listing of a new business, unique status in the food delivery space, huge growth potential in tier-II and tier-III cities and strong network of restaurants.
Here is what the brokers have to say-
KR Choksey
We believe Zomato is very richly valued at $9 billion given its status as a company that is yet to make any profit. However, as it is the first start-up in the Indian food aggregator space to be listed on the bourses, the enthusiasm among the investors about the IPO is tremendous.
Also, the company has a unique status as a unicorn in the Indian food delivery space. From the valuation perspective, we are not very comfortable with the sky-high valuation that the IPO is valued at. As a result, we recommend our investors to 'subscribe' to the issue only for listing gains.
Yes Securities
The IPO is expected to generate a lot of interest given the company uniqueness, large opportunity size, and some evidence of scale economies, but the valuations look expensive on conventional parameters at 25x FY21 EV/sales vs 10x for global peers and 12x for Indian QSRs, with the path to profitability also unclear. While the current frenzy should deliver some listing gains, we would await more clarity on capital allocation plans, competitive activity, and unit economics over the next few quarters to provide a more nuanced fundamental view of the company.
Key risks going forward would be emerging competition from well-funded groups and NRAI, losses from new investments, and diversification initiatives.
Angel Broking
Zomato has been able to reduce its losses in FY2021 despite degrowth in the topline. We expect losses to reduce further over the next couple of years due to a rebound in growth and improving unit economy.
Given a strong delivery network, high barriers to entry, expected turnaround, and significant growth opportunities in tier-II and tier-III cities, we believe that Zomato will command a premium to global peers and hence recommend 'subscribe' to the IPO.
Motilal Oswal
Zomato with first-mover advantage is placed in a sweet spot as the online food delivery market is at the cusp of evolution. It enjoys a couple of moats and with the economics of scale started playing out, the losses have reduced substantially.
However, predicting the growth trajectory at this juncture is a little tricky for the next few years. The valuation also appears expensive at 25x FY21 EV/Sales compared to an average of 9.6x for global peers and 11.6x for Indian QSRs.
Though, valuing such early-stage businesses on a plain vanilla financial matrix might not give the right picture and may look distorted. Investors with a high-risk appetite can 'subscribe' for listing gains given fancy for unique and first-of-its-kind listing in the food delivery business.
ICICI Direct
Zomato is yet to turn profitable. However, this new-age digital platform offers strong growth potential, which at present is evolving on the back of favourable macroeconomics, changing demographic profile, rising adoption of tech infrastructure. Hence, we recommend 'subscribe' to this IPO.
With their IPO, Zomato has surely set a benchmark in the Startup Sector
What do you think of Zomato's IPO? Let us know in the comments section below!
Tags :
others