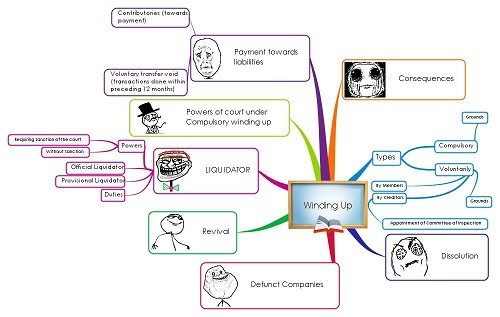 I know about voluntary winding up, tell me the cases in which there is compulsory winding up?
1. Default is made in holding statutory meeting and filing report (winding up at court's discretion).
2. Business is suspended/not commenced for within 1 year of incorporation (may be dismissed on explanation).
3. Reduction in number of members below minimum.
4. Inability to pay debts of creditor > Rs. 500 and neglecting the notice given by him (may be dismissed if bonafide dispute).
5. No alternate remedy available and there is just and equitable grounds for winding up.
It has been discovered that official liquidator was not eligible to be appointed. Will his previous acts will become invalid?
No, it will be still be valid.
Official liquidator is asking me for remuneration, is it safe to pay him?
No, Company is not liable to pay. Liquidator will get his remuneration from CG directly. And CG will recover the same from the company.

Who is the provisional liquidator?
Provisional liquidator is the one appointed by CG to protect the creditors or safeguard the company's assets.
Are there any specific conditions of appointment of provisional liquidator?Yes, provisional liquidator will be appointed only when:
1. Company is insolvent, or
2. Application is made by the company and the same is unopposed.
What will be the consequences of winding up?
1. Employees will be discharged.
2. Power of board will cease.
3. Suits will be stayed (except in HC/SC) unless otherwise provided by court.
I must know the major powers of liquidator which he can exercise on my company. Tell me in short?
1. Disclaim onerous (involving heavy obligation) property within 12 months of commencement of winding up.
2. Sell property and charge assets to raise money.
3. Execute all documents and act on behalf of the company.
4. Power to obtain payment from the estate of the deceased contributory.
Power carries obligations, so tell me about the obligations of liquidator in short?
1. Not to make a secret profit.
2. Submit preliminary report to court within 6 months of winding up order.
3. Maintain books of accounts and minute book of meetings of creditors and contributories.
I have heard about committee of inspection. Expand a little bit?
It is committee the members of which are determined by creditors to watch over their interest during winding up.
· Maximum members = 12.
· No remuneration is payable to them.
How decisions of the above mentioned committee is taken?
By voting, quorum must be higher of 33.33% of members but not less than 2 members.
Does my company has any duty towards liquidator?
Yes, statement of affairs need to be submitted to the official liquidator within 21 days of order of winding up.
Ok, what will be the contents of statement of affairs?
1. Assets and liabilities details.
2. Name, residence and occupation of creditors and debtors.
3. Any other statement as required by the liquidator.
What are the other grounds for voluntary winding up?
1. Completion of duration of the company.
2. Occurrence of event as specified in the articles.
My company is seeking voluntary bankruptcy to show that entity is capable of paying, how to proceed?
Declaration of solvency needs to be made by majority of directors stating that debts, if any, will be discharged within 3 years.
What if my company fails to pay debts after declaration?
· 6 months imprisonment, or/and
· Rs. 50,000 fine.
What is a defunct company?
Company which is no longer existing or functioning.
What is the procedure to list a company in the list of defunct companies?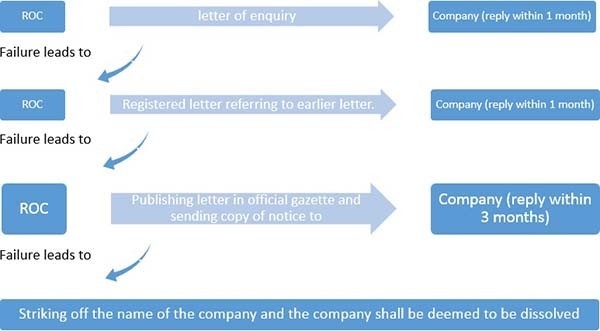 Can the name of the defunct company be restored?
Yes, by making an application within 20 years. If court is satisfied then it can be restored.
Tell me about overriding preferential payments and preferential payments?
1. Overriding preferential payment:
· Workmen dues.
· Secured debts.
2. Preferential payments:
· Salaries to employees (maximum 4 month's salary with a limit of 20,000 for each).
· Taxes due within preceding 12 months.
· Compensation due to employees.
· Investigation expenses due to CG.
Okay, what will be the order of the payment?
Payment will be made in the order as:
1. Overriding preferential payments.
2. Cost and expenses of winding up.
3. Preferential payments.
4. Secured creditors (by floating charge).
5. Unsecured creditors.
Now the final question remains that who will contribute and in which order?
· Present members.
· Past members (who ceased to be members within preceding 1 year).
Order will be defined as:
1. List A contributories: Present members.
2. List B contributories: Past members.
My company made a major deal after which it failed to execute and attracted penalties of the same. Can I recover it from past members?
No, any debts contracted after a past member ceased to be a member doesn't attract any liability of him towards the company.
A transaction was done on behalf of the company mortgaging the machinery and paying off the money to unsecured creditor who is a close friend of MD of the company. Will that transaction be invalid?
It may be a fraudulent preference because:
· It was to give a creditor preference over other creditors.
· It was voluntarily.
· It was from the asset of the company.
So, transaction may be declared as invalid.
But, transactions that took place only within preceding 6 months of commencement of winding up can be judged as valid or invalid. Other transactions are out of scope.
Any other concept related to asset transfer?
Yes, any voluntary transfer of asset of the company in preceding 12 months will be void except in ordinary course of business or in good faith.
And, floating charge will also be void which was created in preceding 12 months except in the case where the company was solvent immediately after creating the charge, with the condition that the amount to the extent of cash paid to the company and interest of 5% on that will be valid.
Chiranjiv Kumar
Owner of fundspedia.com
Tags
Corporate Law