Most of the youngsters these days are pursuing professional courses so that they can start working as soon as they graduate. But even after completing courses like MBA, many of them remain unemployed. The reason is, a vast majority of students from different streams go on to pursue the same qualification thus there are a lot of MBA pass-outs from different colleges and universities but there are only a handful jobs in these sectors. So many are left unemployed, or highly underpaid for their qualification.
If you are a student and want to build a successful career full of growth opportunities, then I'd recommend you to do something different than what everyone is already doing.
ACCA is one of the best options for someone looking to build a dynamic professional career. It is a global qualification that is recognized in over 180 countries and can land you in respectable profiles in Big 4 and multinational companies.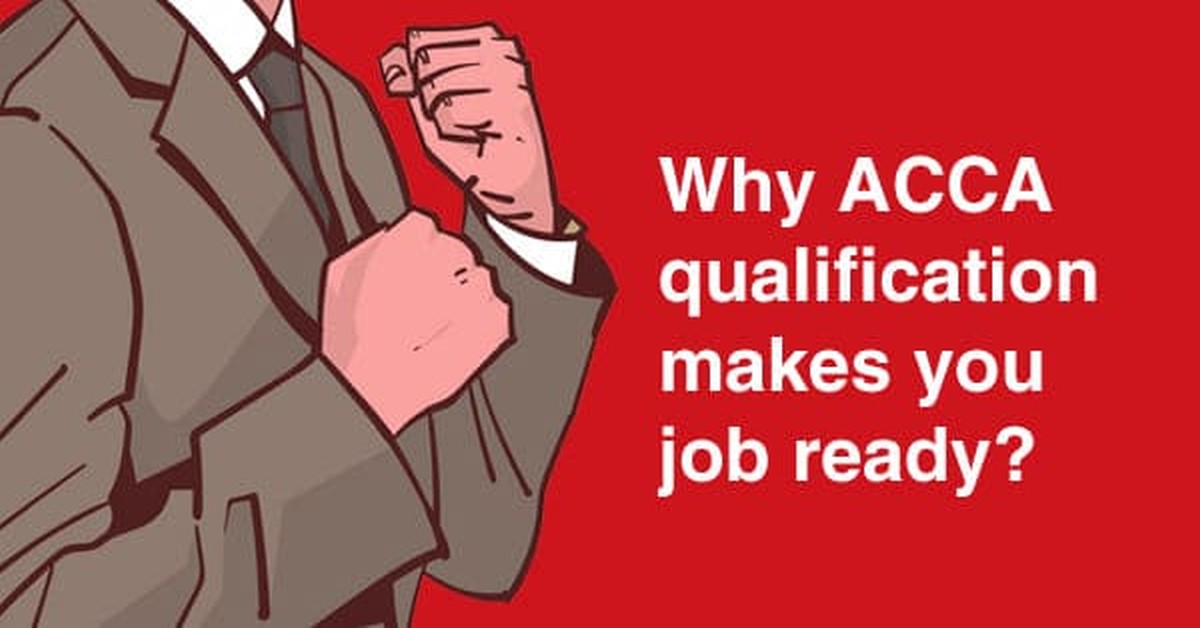 Unlike any other course, ACCA helps you develop advanced technical and professional skills that are required to drive an organization forward. ACCA qualified professionals are always sought after by MNC's because of their extensive knowledge of finance, business, and management.
Here are the main reasons why ACCA makes you job-ready:
1. ACCA Develops Skills: ACCA papers are mostly application based and do not promote rote learning. It assists in developing technical and financial skills along with necessary professional skills that make the candidates eligible to hold several respectable positions at giant multinational corporations.
2. IFRS: ACCA qualification gives you the knowledge of International Financial Reporting Standards (IFRS). IFRS is a single set of high-quality global accounting standards. Many giant organizations like World Bank, FSB, and G20 have openly shown their support to have a universal set of accounting standards to aid the international and inter-economy transactions as it will make the financial markets more transparent, accountable, and efficient around the world. Many of the firms around the globe seek ACCA professionals as they have in-depth knowledge of IFRS and can help them move their accounting procedures according to global standards. Since international trade is the backbone of the modern economy, most of the companies are adopting global standards to compete in the global markets. IFRS also opens the doors for the new investors as it brings transparency and accountability by minimizing the information gap between the capital providers and firms. Thus, having knowledge of IFRS increases the employability of ACCA professionals.
3. EPSM: Ethics and Professional Skills Module of ACCA is 20 hours of online training module that polishes your professional skills by putting you in real-life situations. It increases the employability of candidates by evaluating their business ethics and professional skills. Through exposing them to realistic business scenarios EPSM makes them outrightly strategic and develops their whole mindset in a way that is very beneficial for the organization. It is advised to the candidates to finish their EPSM training before taking up the SBL paper during your ACCA qualification. SBL and EPSM are highly correlated and according to the data published by ACCA in a paper in 2018, passing percentage of those who completed EPSM before appearing for SBL was 73 percent in contrast to 45 percent of those who didn't complete the EPSM beforehand.
Conclusion:
ACCA is one of the few qualifications that are globally recognized and allow you to work in over 180 countries. The knowledge and experience that you gain while completing your ACCA qualification gives you the ability to think and act in real-life business scenarios.
ACCA Professionals have financial and technical skills along with a deep knowledge of taxation that enables them to work as an Accountant, Auditor, Tax advisor`, and on many other top tier profiles at firms like KPMG, Deloitte, PWC, EY, Sand Martin and more.
For more information on ACCA, please feel free to reach out to the ACCA Team at VG Learning Destination at 9599983117/115/113 or email acca@vglearningdestination.com or click on link here
Tags
Students