Most of us are confused about what to choose as a professional career after 12th or Under graduation.
Undoubtedly all three are considered prestigious and most sought after professions in India in the sector of Commerce, Finance, Legal faculties.
But the question is what to choose?
Though there are similarities among the three the scope of work differs.
To choose the right career for oneself let us understand the following: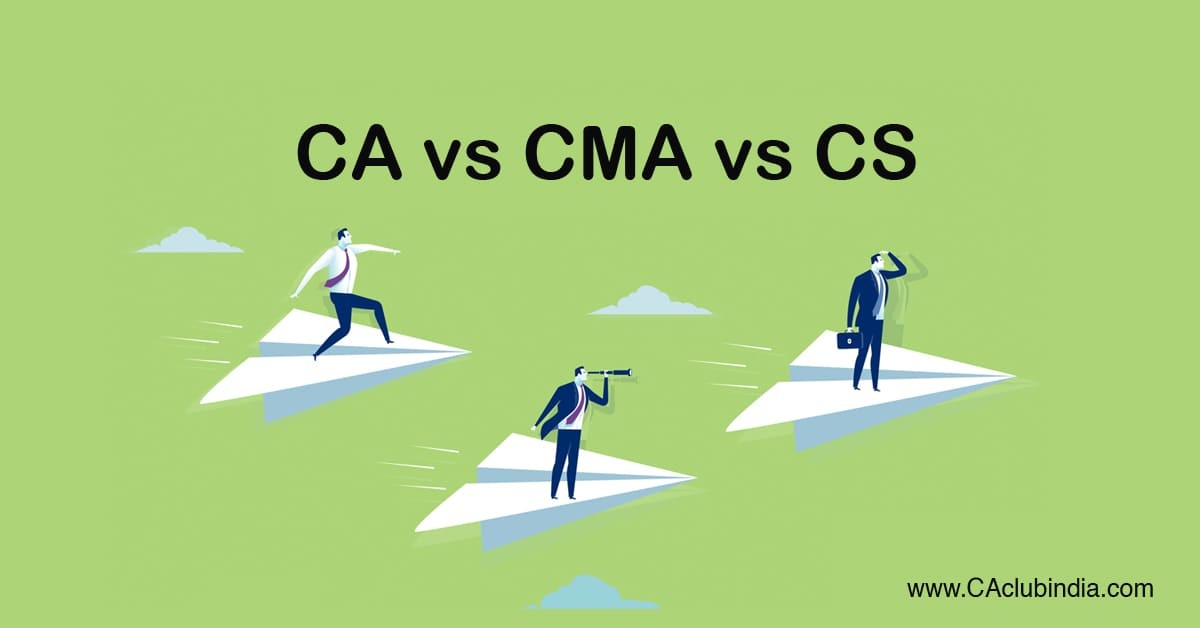 Evaluate your field of interest
Which includes field of Accounting, Financial Management, Taxation both direct & indirect, Company & Secretarial Reporting, Compliance, Audit, Legal framework, Cost Accounting.
After analysing, evaluation of interests, prepare yourself for the course.
The difference and scope of work is explained below.
Career as a Chartered Accountant.
Quoting our Honorable Prime Minister Shri Narendra Modiji, "Chartered Accountants are widely recognised for their work and corporate governance, the CA community has a vital role in nation-building."
A Chartered Accountant is a Member of the Institute Of Chartered Accountants of India (Set up by an Act of the Parliament).
The Chartered Accountancy profession can be pursued after qualifying the three exams conducted by The Institute of Chartered Accountants of India. The 3 exams are Foundation, Intermediate, and Final Examination. A practical training under a Member of the ICAI called Articleship for 3 years shall be compulsory for the students which helps the students to face the industry and or clients post qualification.
Precisely Chartered Accountant's scope of work includes:
Opinion on the Financial Statements
Reporting to the Shareholders, Stakeholders of the company about the Company
Advising on the Financial Matters
Preparation of Tax Returns.
Representation before various authorities.
Post qualification a Chartered Accountant can either Practice or go into service hold high positions in the management like CFO, financial Controller.
Career as a Company Secretary.
A Company Secretary or CS is a Member of The Institute of Company Secretaries of India (Statutory body under the Act of the Parliament). A CS is a legal expert who helps the companies in meeting the Statutory Compliances.
The scope of work of a CS briefly includes:
Compliance Filing
Attesting or verifying any documents (including forms, applications and returns) by or on behalf of the company
Share Transfer Agent
Advisory on Capital Markets, Company Law, SEBI , Industrial Labour Laws.
To Choose a Career in Company Secretary the students should qualify two stages - CS executive followed by the CS professional programmes. To get admission into the CS executive programme (first level), student need to qualify in the national-level Company Secretary Executive Entrance test (CSEET).
Qualified company secretaries can either Practice or may become legal advisors, corporate policymakers, planners, etc. in notable firms.
The provisions of the Companies Act, 2013 or 1956 mandates the appointment of a qualified company secretary on the rolls of the company.
Career as a Cost and Management Accountant.
The credentials for the CMA course in India are issued by the Institute of Cost Accountants of India (Statutory body under an Act of Parliament).
In order to be a qualified Cost and Management Accountant student shall pass all 3 stages of examination(Foundation, Intermediary and Final) conducted by ICMAI.
A CMA or a Cost and Management Accountant is responsible for the allocation, management and regulation of funds in a business.
Post Qualification CMAs can either Practice or may hold top management positions in public and private sectors' enterprises like Chairman cum Managing Directors, Managing Director, Finance Director, Financial Controller, Chief Financial Officer, Cost Controller, Marketing Manager and Chief Internal Auditor and other important positions.
To conclude,all the three professions in India and abroad are in high demand to be a successful professional candidates should be determined and dedicated and also strong to face the pressure and competition which is increasing exponentially.
FAQs
What is the Passing Criteria?
Students are required to obtain 40% marks in each paper and 50% marks in aggregate of all the subjects. A student can appear in either one group or both the groups at a time.
Can a candidate pursue all three courses simultaneously?
Yes depends on the candidate and special permission required from the respective institutes to pursue.
Can a Candidate practice all 3 professions Post Qualification?
No only one Certificate of Practice shall be permitted.
"Loved reading this piece by
Poojitha Raam
?
Join CAclubindia's network for Daily Articles, News Updates, Forum Threads, Judgments, Courses for CA/CS/CMA, Professional Courses and MUCH MORE!"
Tags :
students