And the rates are hiked…..as expected and the way most predicted- nominal, indicating further hikes at a gradual pace.
The US Federal Reserve for the first time in almost a decade increased the benchmark rate for federal funds by 25 basis points to a range of 0.25-0.50 percent in its 15-16 December Federal Open Market Committee (FOMC) Meeting. With the economy showing signs of recovery, healthy labor markets with jobs added in millions, household spending and business investments increasing in solid numbers and good GDP numbers (source- Bloomberg), though the inflation is still below the committee's longer-run objective of 2% because of declines in energy prices and in prices of non-energy imports, the Fed Chair Janet L. Yellen on Wednesday declared a hike in benchmark federal funds rate based on the projections of the participants about the growth prospects and thereby ending the era of close to zero interest rates.
The rate sets the basis for lending in the financial sector, how much businesses pay to finance their activities, and how much banks pay savers for deposits.
How does it impact us (India)?
Having been said that the rates forms the basis of lending rates, it has a big impact on what the foreign companies and governments have to pay on their borrowings, with huge foreign debts on the Balance sheets of the Indian companies close to $185 billion (12.33 lakh crores) in March 2015 (source- Economic Times), it will definitely impact the finance cost, thereby impacting margins and will lead to increased outgo in foreign currency.
Also, in the bond markets based on expectations of weakening rupee in terms of dollar and decreased interest differential making Indian bond markets less attractive for FIIs, they have paired holdings in Indian bonds since October end.
The hike was being seen as the only thing left this year that could turn things around for the Indian markets, with anxiousness appearing in the credit markets and projections that the hike could be disastrous or could heavily affect the Indian equities (because of heavy debts), bond markets and the currency rates, the market has almost been resilient closing in green on all three days in this week and opening in green today as well;
(Chart showing movements since Monday)
RBI Governor Raghuram Rajan also said on Friday that "we are prepared for any kind of eventuality" with reference to a Fed rate rise, Chief Economic Adviser Arvind Subramanian said in a tweet that the Impact of Fed rate hike on India will be 'very minimal'.
Indian rupee (INR) plunged on Monday, weakening to a two year low, due to concerns of a hike, however it recovered on Wednesday and Thursday. INR has been performing well against most of the currencies in terms of dollar in spite of the stronger dollar throughout this year.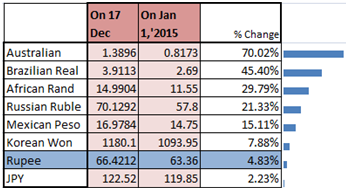 "The rupee should be one of the best performers in Asia as it will benefit from India's good macro fundamentals and a high carry", said Rajeev De Mello, head of Asian fixed income at Schroder Investment Management Ltd. in Singapore. (Bloomberg)
The rupee's one-month implied volatility, a measure used to price options, slumped 39 basis points, the biggest decline since Nov. 20. (Bloomberg)
Indian Sovereign bonds were steady, with the yield on the notes due May 2025 at 7.74% (Source- RBI's trading system).
Overall the Indian markets have performed well and are now relieved of the potentially disastrous Fed' rate hike event, however much of the effects will be seen in the coming months and in the financial results of the Indian Companies. Also, as per the market participants the worst for the Indian markets is over and the markets are going to witness good returns in the coming future.
By Vishal Malhotra (a CA Final Student)
Email- vishal.malhotra379@gmail.com
https://www.linkedin.com/in/vishmalhotra
"Loved reading this piece by
Vishal malhotra
?
Join CAclubindia's network for Daily Articles, News Updates, Forum Threads, Judgments, Courses for CA/CS/CMA, Professional Courses and MUCH MORE!"
Tags :
Shares Stock