Taking a loan is the simplest way to tackle your goals in a timely manner, whether they are personal ones, such as paying for your child's overseas MBA, or professional ones, such as diversifying into handling mergers, company restructuring and buy-outs. But, why use a regular loan when you can make use of a bouquet of customised loans created especially for chartered accountants?
Bajaj Finserv offers a suite of loans tailor made for CAs that help you take care of all your needs. Their Loans for Chartered Accountants are rich in benefits and offer incredible flexibility too.Take a look at each of the loans in the suite and their uses.
Unsecured loans
Personal Loan for Chartered Accountants
Whether you want to rainproof your home, add false ceilings, pay for your child's higher education or for a cruise holiday, this loan will help you cater to it all. You can use the unsecured loan with a sanction of up to Rs.35 lakh as you wish to, and repay it over a tenor of 12–60 months. It offers funds in your bank account in just 24 hours, at a competitive rate of interest.
To know more about a Personal Loan for CAs, click here.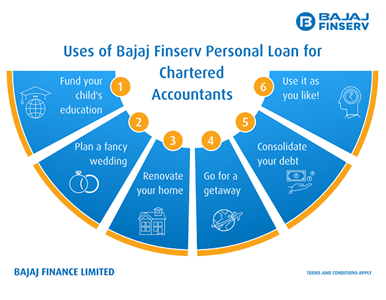 Business Loan for Chartered Accountants
Whether you need to boost working capital of your CA firm, want to lease a bigger office or need to purchase GST software, you can use funds from this loan to pay for planned and unplanned expenses alike. When demand for your services is high, such as close to the tax-filing deadline, you can use the funds to hire additional employees and boost your firm's capabilities and profits. You can access up to Rs.35 lakh with this Bajaj Finserv loan, and repay it over 12–60 months as per your convenience. With easy eligibility and minimal documentation and loan disbursal in under 24 hours, it makes for an ideal source of business finance.
To know more about a Business Loan for CAs, click here.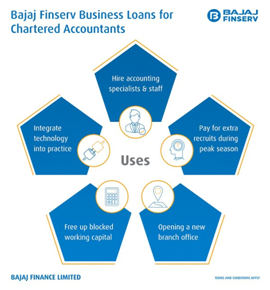 Secured loans
Home Loan for Chartered Accountants
To buy property as an investment or for your family to stay in, make use of this loan from Bajaj Finserv. It offers up to Rs.2 crore with a repayment window that extends up to 240 months. What's more, it comes with add-on benefits such as a property search service, property dossier, top-up loan and even a 3 EMI holiday to help you manage your finances better. If you have an existing home loan, you can transfer it to Bajaj Finserv to benefit from the affordable rate of interest as well as the beneficial value-added services.
To know more about a Home Loan for CAs, click here.
Loan Against Property for Chartered Accountants
This is a secured loan option that also gives you an amount of up to Rs.2 crore with a tenor of up to 240 months. You can pledge a residential or commercial property and get a loan that is similar in value to that of the property. You can then use the amount to buy a commercial or residential property, or use it flexibly for personal or professional purposes, such as paying for your child's wedding. In addition, you can use the loan for lease rent discounting. Just like the home loan, you can benefit from customised insurance services, as well as property search and property dossier services when you choose this loan.
To know more about a Loan Against Property for CAs, click here.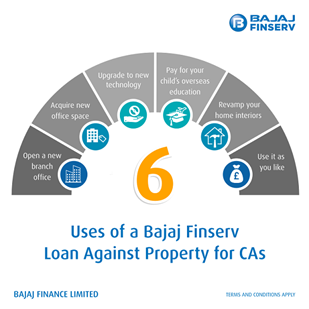 ​​​​​​​
Term loan vs. Flexi Loan: Which one should you choose?
A Flexi Loan is a unique Bajaj Finserv offering that allows you to borrow from your total loan amount in parts. You pay interest on the utilised amount, and you also have the choice to pay only interest as EMIs. Thereafter, you can pay the principal in full at the end of the tenor. You can also make multiple part pre-payments for free, and withdraw, repay orre-avail funds as many times as you wish to. By choosing this option you also stand to save up to 45% on your EMIs.Opting for a Flexi Loan is ideal when your need for finance is periodic and unexpected.
Tags
Others