Time limit for intimation of Aadhaar number to the Income Tax Department for linking of PAN with Aadhaar has been extended from 30th September 2021 to 31st March 2022. Click here to read the official announcement.
Permanent Account Number ( PAN ) holds extreme importance in India, not only for Income Tax purposes but also as a proof of identity. Any incorrect information on your PAN can lead to problems in future. So it is advised to get the mistakes and inaccuracies in your PAN corrected as soon as possible.
Table of Content: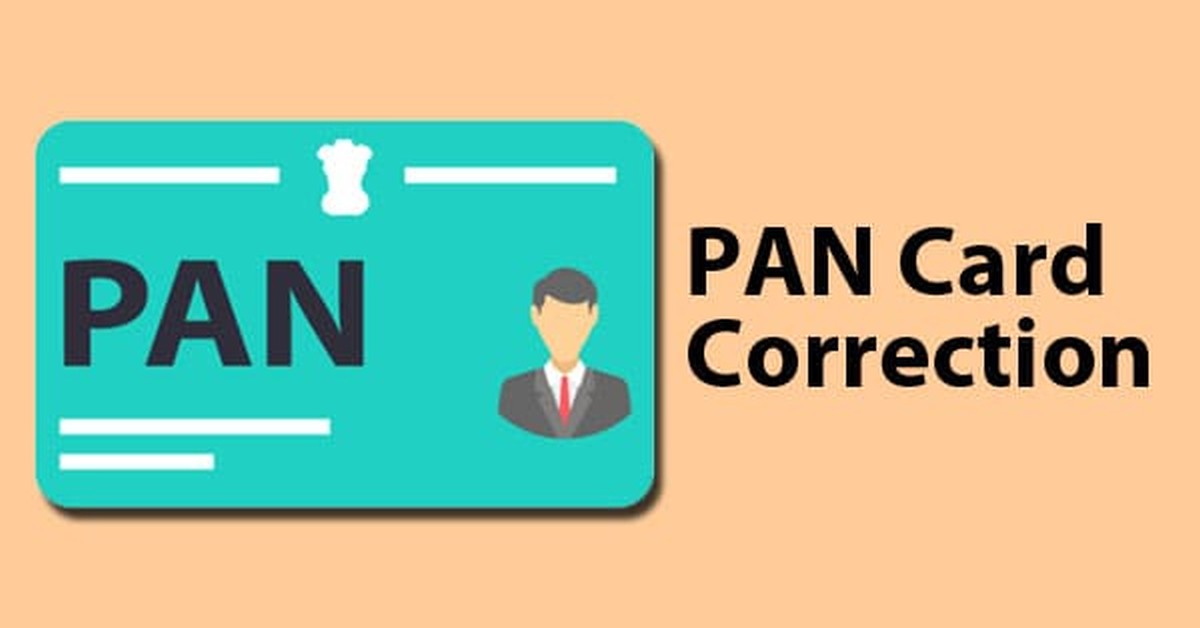 Follow the steps given below to apply for correction Online:
Step 1: Submit the Form 49A
For submitting the form, visit the NSDL websites. You can directly go to the page by clicking on this link- Online PAN application .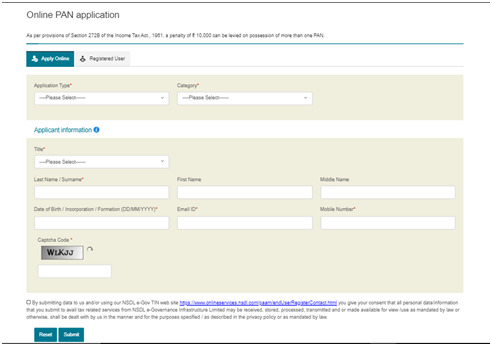 Step 2: From the 'Application Type' dropdown menu, select the third option- 'Changes or Correction in existing PAN data/Reprint of PAN Card (No changes in Existing PAN Data)'.
Step 3: From the 'Category' dropdown menu, select your status. For example, if the PAN is registered in your name, select 'Individual' from the list.
Step 4: Now fill your basic details. Fill the Captcha and click on "submit". Your request will be registered and a Token Number will be sent to the email ID provided by you. You can continue the process by clicking the button given below it.
Step 5: After you proceed, you will be redirected to the form. There are three options to submit your documents-
- Submit digitally through e-KYC & e-Sign (Paperless)
- Submit scanned images through e-Sign on NSDL e-gov or C-DAC (e-sign charges are Rs 5.90 in both cases)
- Forward application documents physically
Choose the way you want to submit the documents.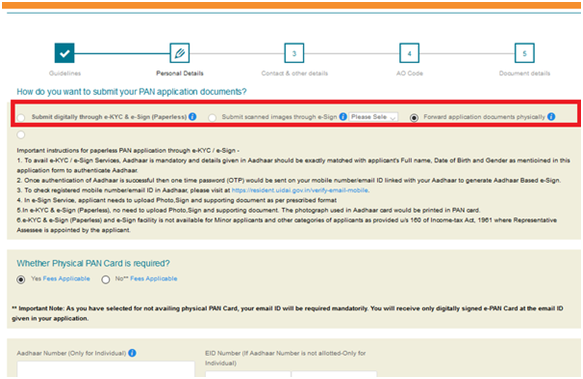 Step 6: Fill your PAN and Aadhaar Details. Scroll down to the correction part where you will find three options- Photo Mismatch, Signature Mismatch and Details of parents. Tick the box that you want to correct and click on Next.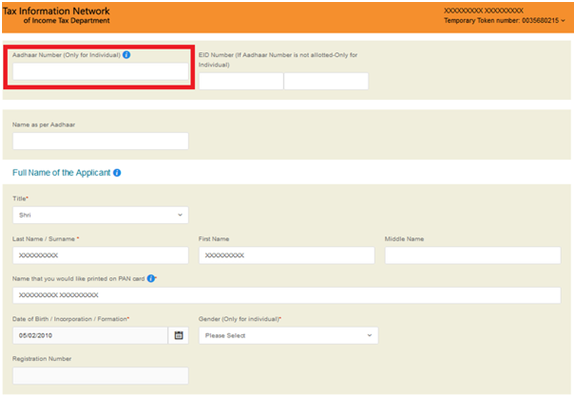 Step 7: You are now on the 'Address and Contact' page. If you have provided your Aadhaar details and your PAN and Aadhaar are linked, then the residential address will be prefilled. Your corrected PAN will be sent at the address mentioned on Aadhaar. In case, you want to update a different address, tick the box given below the prefilled address. You will also be required to submit a valid proof of the address provided. Click 'Next'.
Step 8: Now you are required to provide proof of identity, proof of address and proof of date of birth. If you submit a copy of your Aadhaar, the above three requirements will be fulfilled. You are also required to submit a copy of your PAN or PAN allotment Letter.
Step 9: Sign the declaration mentioning the number of documents enclosed as proof. Click 'Submit'. Upload the scanned copies of the said documents after which you will be shown a preview of your form. Review once and click submit.
Step 10: Mode of payment
You can pay using your debit or credit cards, net banking. Application fees for the correction or update of PAN details is Rs 110 if the communication address is located within the country and Rs 1020 if the communication address is located in a different country.
Step 11: Documents to be sent to NSDL
On successful payment, an acknowledgement slip will be generated. The applicant should send it to the NSDL e-gov office along with the physical proof of documents. Also affix a photograph in the space provided and sign across it. You must write 'Application for PAN Change' on top of the envelope along with the acknowledgement number.
Steps to Apply for PAN Card Correction/Update Offline
One can also apply for PAN Correction offline. You need to download the PAN Correction Form. Fill out this form and submit it at the nearest NSDL collection centre along with the copies of valid documents. You also need to file a letter with the jurisdictional Assessing Officer.The required fields in offline form are similar to that in the online form. However, there are a few points one should keep in mind-
• This form is used for making a correction in your existing PAN, reissuance of PAN and also for the purpose of surrendering extra PAN Card. So, before filling out the form, tick on the boxes carefully.
• Once you submit the form, you will get an acknowledgement slip which is to be sent to NSDL office. This letter should reach the office within 15 days of filing the request.
Documents Required for Change in PAN Card Details
There is a host of documents required to update existing PAN details which should be submitted to NSDL along with the application form. The form and the documents are then submitted to the nearest centres that are present across India. Let us take a look at the documents that can act as proof of identity, address, date of birth and existing PAN –
A. For individuals and HUF:
Proof of Identity

Proof of Address

Proof of Date of Birth

Proof of PAN

1- Aadhaar Card issued by UIDAI

2- Elector's photo identity card

3- Driving License

4- Passport

5- Ration card having photograph of the applicant

6- Arm's license

7- Photo identity card issued by the Central Government or State Government or Public Sector Undertaking

8- Pensioner card having photograph of the applicant

9- Central Government Health Service Scheme Card or Ex-Servicemen Contributory Health Scheme photo card

1- Aadhaar Card issued by UIDAI

2- Elector's photo identity card

3- Driving License

4-Passport

5- Passport of the spouse

6- Post office passbook having address of the applicant

7- Latest property tax assessment order

8- Domicile certificate issued by the Government

9- Allotment letter of accommodation issued by Central or State Government of not more than three years old

10- Property Registration Document

1- Aadhaar card issued by the UIDAI

2- Elector's photo identity card

3- Driving license

4- Passport

5- Matriculation certificate or Mark sheet of recognised board

6- Birth certificate issued by the municipal authority or any office authorised to issue birth and death certificate by the Registrar of Birth and Deaths or the Indian Consulate as defined in clause (d) of sub-section (1) of section 2 of the Citizenship Act, 1955 (57 of 1955)

7- Photo identity card issued by the Central Government or State Government or Central Public Sector Undertaking or State Public Sector Undertaking

8- Domicile certificate issued by the Government

9- Central Government Health Service Scheme photo card or Ex-servicemen Contributory Health Scheme photo card; or

Pension payment order

10- Marriage certificate issued by the Registrar of Marriages

11- Affidavit sworn before a magistrate stating the date of birth

1- PAN Card

2- PAN Allotment Letter

Note: No other document is acceptable as proof of issuance of PAN. If proof is not provided then application shall be accepted on a 'good effort basis'.
Copy of any of these documents should be submitted along with the PAN correction form. In case none of these is available, these can also work –
• A certificate in original signed by a Member of Parliament or Member of Legislative Assembly or Municipal Councillor or a Gazetted officer, as the case may be (in prescribed format) will also work as identity or address proof.
• Bank certificate in Original on letter head from the branch (along with name and stamp of the issuing officer) containing duly attested photograph and bank account number of the applicant (in prescribed format).
• Employer certificate in original (in prescribed format).
How to Change Name in PAN Card
There may be situations where you do not have the correct name in PAN card or where you do not know how to change name after marriage. In such situations, you can update name in your PAN online as well as offline. The online procedure is quite simple and can be performed in minutes. Here's how to change name :
• For online applications, the request can be placed through TIN-NSDL or UTIITSL .
• In case of offline applications, PAN card form download link is provided here .
• The Form has to be duly filled keeping in mind to provide all details correctly
• The photograph has to be affixed and the form has to be signed before submitting
• In case of offline application, a demand draft in the name of NSDL has to be sent along with the application form to the registered address of NSDL
• In case of online application, the payment has to be made online using debit/credit card or net banking.
• A 15-digit acknowledgement number is generated which can be used to check the status of your card.
• Once submitted successfully, the updated card is delivered to the applicant within 45 days of application.
Documents Required for Name Change in PAN Card
Following documents are primarily required for correction in name:
• Aadhaar card
• Driving License
• Voter ID
• Newspaper advertisement containing the updated name
• Passport
• Husband's passport in case of PAN card surname change after marriage
Tags
pan
tin nsdl
nsdl