One Person Company is a company that has only one person as its member. Being just one member company, the OPC has lesser compliance requirement compared to Private Limited Company or Limited Liability Partnership. However, It is important to look in to the Important Statutory due dates for OPC Annual Filing due dates falling in the year as soon as the new financial year starts so that the OPC can be well prepared for all the compliance to be met well in advance. Here we have prepared a calendar for all the Important Statutory Due dates for OPC Annual Filing for FY 2020-21.
Content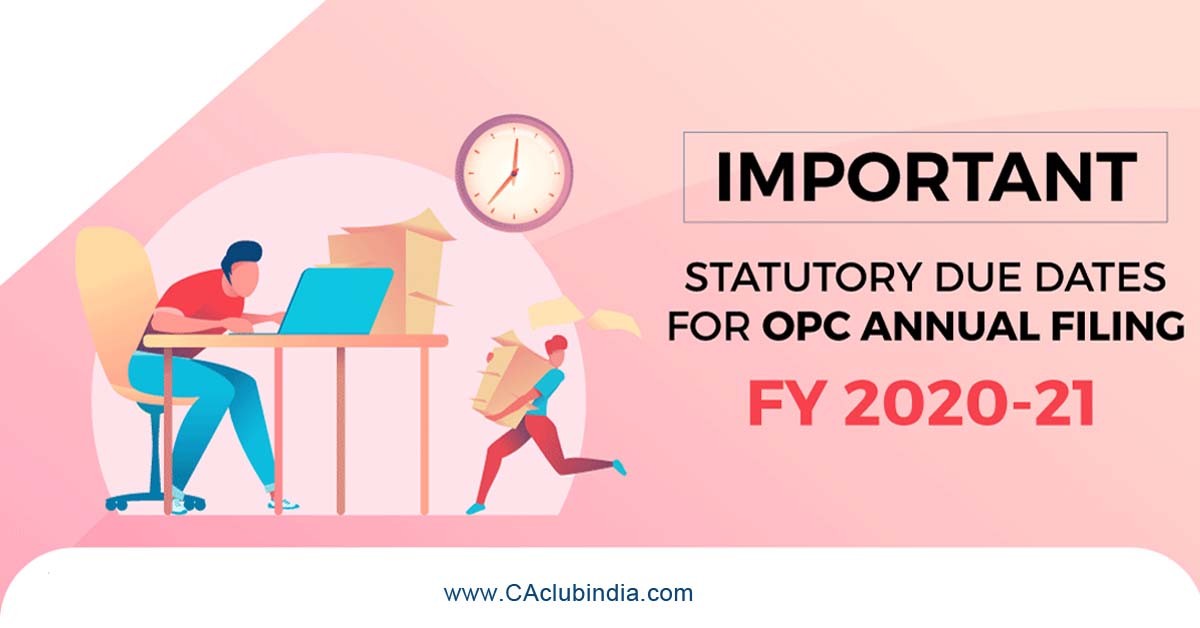 OPC Annual Filing
As far as the OPC Annual Filings (OPC Annual Compliances) are concerned, these are just fewer as compared to those required by a private or public limited company; and hence, its compliance cost is just medium.
An OPC is required to file 2 forms annually namely, MGT 7 and AOC 4. Let us now see the OPC Annual Filing due dates for FY 2020-21.
E-Form AOC 4 due date
This is to be filed with relevant ROC, within 180 days of the close of financial year.
That means the due date for AOC 4 for OPC shall be 27th September, 2021. (If we count 180 days from 1st April 2021)
This compliance offers information about all monetary transactions and finances made by the OPC in the mentioned financial year.
In case of an OPC, the annual financial reports contain only particulars such as Balance Sheet, Profit and Loss Account, Auditor's Report, and the Consolidated Financial Statement.
ROC Form MGT 7 Due date
This is one most important ROC return filing for an OPC (One Person Company), which contains current/updated information about the directors and shareholders of the OPC.
The due date of filing this compliance with the relevant ROC is within 60 days from the date of AGM.
That means if AGM is on 30.09.2021 then ROC Form MGT 7 due date for FY 2020-21 would be 28th November 2021.
However, One Person COmpany does not require to hold AGM, yet the due date for filing Form MGT 7 shall be 28.11.2021
To refer to the MCA provided MGT-7 Instruction Kit, click here
Due date for IT Returns for OPC
This is to be filed with the Income Tax Department, on or before 30th September of the following financial year.
Tax audit will be statutory, if the annual turnover of the concerned OPC gets more than INR. 1 Crore.
Other Compliances
Apart from this, there are some other compliances that an OPC needs to complete, they are as follows:
Event based Annual Compliances, related mainly with the internal administration and external business management.
Annual Compliances under Legal Authorities Such as GST returns, PF and ESI Regulations etc.
Penalty for Late Filing AOC-4 and MGT-7
The penalty for late filing, of AOC-4 and MGT-7 Annual Compliance for Company, has been set to INR 100/- per day for each day for which default continues.
It is important for One Person Company to file the OPC Annual Filings with Companies Act as well as the Income Tax Act, and other regulations if applicable.
Tags :
opc
corporate law