Exam brings super excitement for me as for the past 13 years, being a professor, I am curious to find whether questions were from expected areas or something new has happened and whether any recalibration needs to be done. It is the most important thing to analyze paper so that we can give efficient and effective content to the students.
Analysis of CAInter Audit Nov 20 Exams (NEW Course)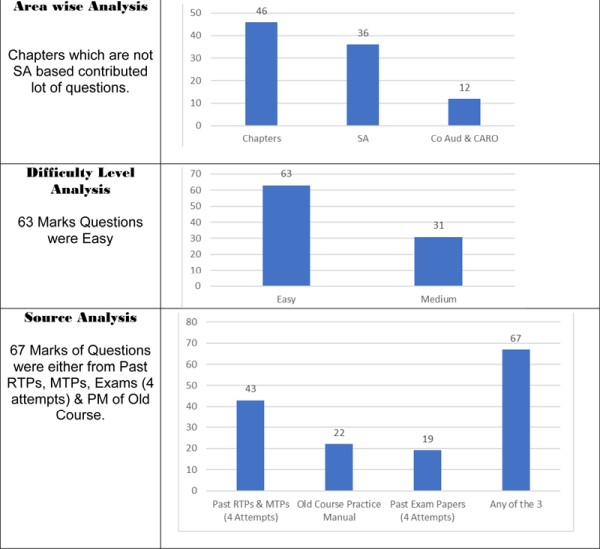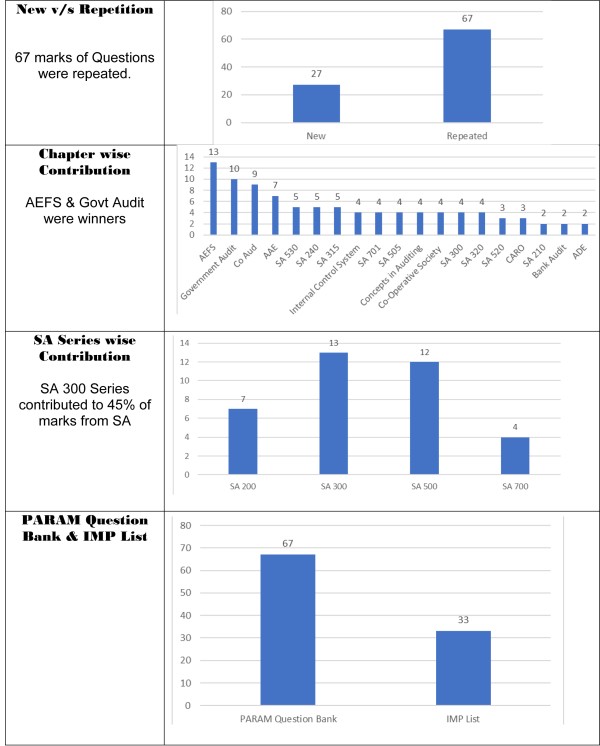 If students cover our Regular notes + Param question bank he will be able to solve around 91 marks questions out of 94 marks, students has to solve only 70 marks.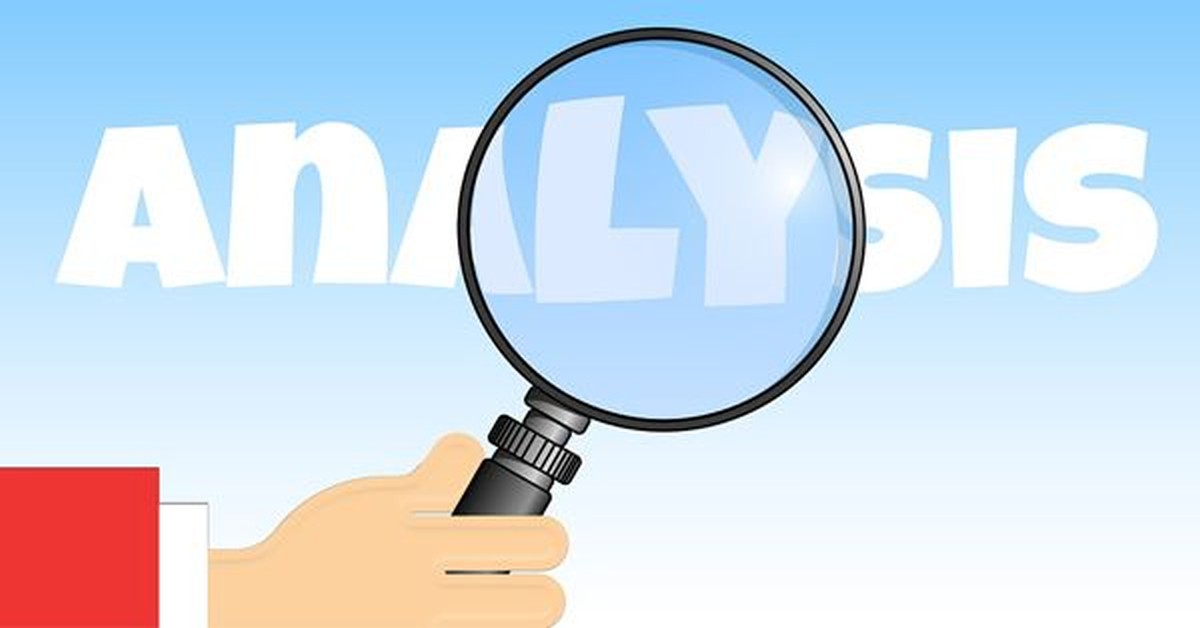 Perfect Strategy in AUDIT
If you are well prepared cover Regular Book + PARAM.
If not cover following step by step as time permits, some may go upto 2 some upto 4 or 5, but whatever you do it should be through
First Cover IMP Questions of PARAM
Then Cover recent RTPs & MTPs
Then Cover all questions in param where you see 2018 /19 /20
Then remaining questions of param
Then Cover areas in notes, not covered by questions
Then got to module, see diagrams and highlighted portion if there is anything new, we will soon questions on such areas
To view/download the question paper on CA Inter Audit (New Course) for Nov'20 Exams: Click Here
To view/enroll the course on CA Inter Audit (New Course): by CA Ravi Taori: Click Here
But study only that much which you can digest and revise comfortably
Division

Q. No

Sub Q

Marks

Concepts

Area

Chapter

Difficulty Level

New or Repeated

Page Number

CNO

Sources

True / False

1

a

2

Terms of engagement given by law

SA

SA 210

Easy

New

Regular Book Pg 4.18

New

No

True / False

1

b

2

Need to review audit programme periodically

SA

SA 300

Easy

Repeated

Param Q Bank Pg 235

300.25

S17M, M19R

True / False

1

c

2

Dividend Recognition

Chapters

AEFS

Easy

Repeated

Param Q Bank Pg 44
Regular Book Pg 7.20

AIFS.69

M18E

True / False

1

d

2

Statement of Accounts and Solvency

Chapters

ADE

Easy

New

Regular Book Pg 6.11

New

No

True / False

1

e

2

Classification of NPA

Chapters

Bank Audit

Easy

New

Regular Book Pg 8.5

New

No

True / False

1

f

2

Audit Strategy vs Audit Plan

SA

SA 300

Easy

Repeated

Param Q Bank Pg 232

300.15

S17M, M19M

True / False

1

g

2

Risk of Material Misstatement, Significant Judgemental Matters

SA

SA 315

Easy

Repeated

Param Q Bank Pg 187
Regular Book Pg 4.66

T/F SA 200-12

M18E

True / False

1

h

2

External Confirmation

SA

SA 530

Easy

Repeated

Regular Book Pg 4.91
Param Q Bank Pg 276

505.05

N16E, M20R

Descriptive

2

a

4

Safeguards to eliminate threats of independence

Chapters

Concepts in Auditing

Medium

Repeated

Regular Book Pg 9.9
Param Q Bank Pg 148

COA.35

N19R, M20M

Descriptive

2

b

4

Factors affecting identification of benchmark

SA

SA 320

Easy

Repeated

Regular Book Pg 4.69
Param Q Bank Pg 254

320.03

P16M, S17M, M18R, M19R, M19M

Descriptive

2

c

3

Projecting Misstatements

SA

SA 530

Medium

Repeated

Regular Book Pg 4.115
Param Q Bank Pg 295

530.15

M19R, M20R

Descriptive

2

d

3

Analytical Procedures Factors

SA

SA 520

Medium

New

Regular Book Pg 4.103

New

No

Descriptive

3

a

4

Monitoring Controls

Chapters

Internal Control System

Medium

Repeated

Regular Book Pg 12.4
Param Q Bank Pg 166

ICS.07

S17M, M18E

Descriptive

3

b

4

Uses of Data Analytics

Chapters

AAE

Easy

Repeated

Regular Book Pg 5.9
Param Q Bank Pg 6

AAE.40

M19M, N20M

Descriptive

3

c

3

Factors for control risk assesment

SA

SA 315

Medium

New

-

New

No

Descriptive

3

d

3

Impact of IT risk on audit

Chapters

AAE

Easy

Repeated

Regular Book Pg 5.4
Param Q Bank Pg 4

AAE.25

S17M, M18R

Descriptive

4

a

4

Verify interest on fixed deposit

Chapters

AEFS

Easy

Repeated

Regular Book Pg 7.20
Param Q Bank Pg 44

AIFS.71

M18E

Descriptive

4

b

4

Management refusal to send confirmation

SA

SA 505

Medium

Repeated

Regular Book Pg 4.94
Param Q Bank Pg 278

505.09

P16M

Descriptive

4

c

3

CARO Fraud Reporting

Co Aud & CARO

CARO

Medium

Repeated

Param Q Bank Pg 71

CARO.27

M18R, N19R

Descriptive

4

d

3

Goods Sent on Sales or Return Basis

Chapters

AEFS

Medium

Repeated

Param Q Bank Pg 43

AIFS.67

S17M, M19M

Descriptive

5

a

5

Questions ability to continue

SA

SA 240

Easy

Repeated

Regular Book Pg 4.41
Param Q Bank Pg 213

240.21

S17M, M19R, N20R

Descriptive

5

b

5

Applicability of Rotation & Appointment for 11 years

Co Aud & CARO

Co Aud

Easy

Repeated

Regular Book Pg 2.22
Param Q Bank Pg 90

CoAud.15

P16M, M17E, N18M

Descriptive

5

c

4

Determining Key Audit Matter

SA

SA 701

Easy

Repeated

Regular Book Pg 4.149
Param Q Bank Pg 326

701.01

N19E

Descriptive

5

c

4

Auditor denied right to visit branch

Co Aud & CARO

Co Aud

Easy

Repeated

Regular Book Pg 2.32
Param Q Bank Pg 118

CoAud.73

P16M

Descriptive

6

a

4

Verification of Provision

Chapters

AEFS

Medium

New

Regular Book Pg 7.7

New

No

Descriptive

6

b

4

Co-Operative Society, Audit Classification & Discussion of Draft Report

Chapters

Co-Operative Society

Easy

New

Regular Book Pg 10.4

New

No

Descriptive

6

b

4

Audit of Receipts

Chapters

Government Audit

Easy

New

Regular Book Pg 11.5

New

No

Descriptive

6

c

3

Types of Revenue Grants in Local Bodies

Chapters

Government Audit

Easy

New

Regular Book Pg 11.9

New

No

Descriptive

6

d

3

Audit against rules & orders by CAG

Chapters

Government Audit

Easy

Repeated

Regular Book Pg 11.3
Param Q Bank Pg 156

GA05 / GA.10

P16M, M16R, N16M, M17M, M17R, M18R, N18M, M19E, N19R, N19E, M20R, N20R
Tags
ca students
ca exams