A new era in banking is where banking activities are done through a digitized mechanism.
Neobanks are fintech firms, that is to say, digital banks without any physical branches. Activities like loans and advances, money transfers are done online including mobile via apps.
Neobanking aims at providing customers a new experience and satisfaction, which might be missing in most of conventional banking systems.
Neo banking system is a digitalized form of banking available on finger touch. It is relatively secure as it uses advanced technologies like artificial intelligence (AI), facial identification and biometrics and all banking services are available on a virtual platform.
Neo banks in India do not have their own license for banking they channelize with their banking partners for the license and other banking functions.
These neo banks are data-driven. Collecting, analyzing the data collected from the digital platforms about the customers. They observe how customers behave in the neo banking environment and decisions for lending and other credit activities.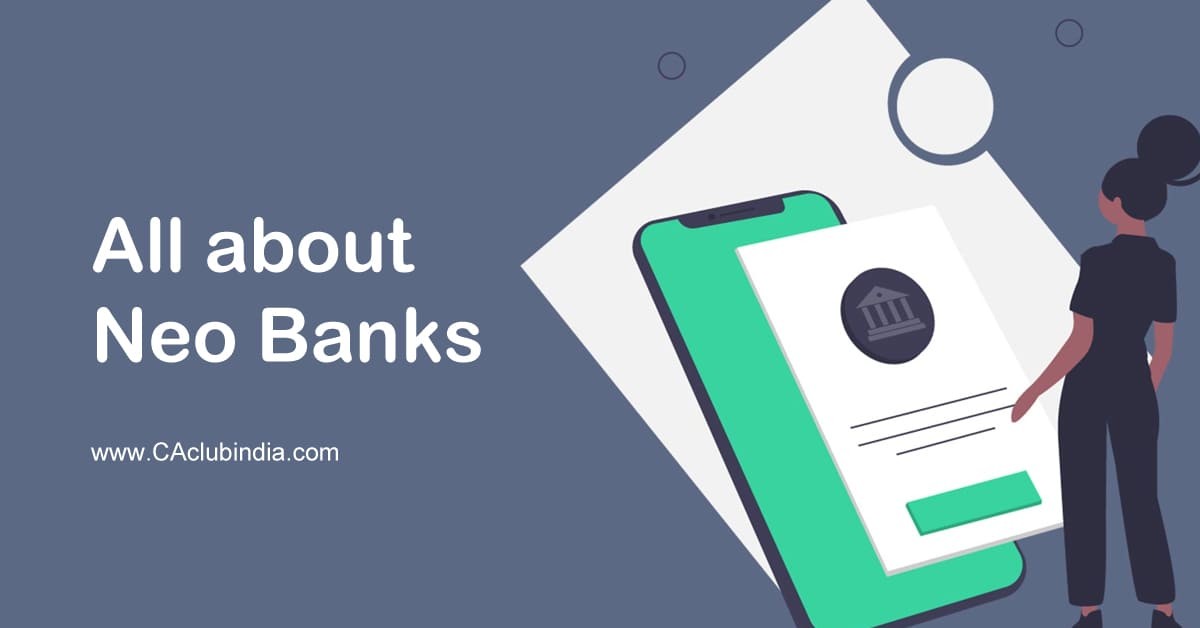 Global Neobanking Market is valued at USD 31.37 Billion in 2020 and is expected to reach USD 377.94 Billion by 2027 with a CAGR( Compound Annual Growth Rate) of 42.7% over the forecast period.
The top 4 Neobanks in India are: Instapay, Razorpay X, Open and Niyo.
Instapay: Offers instant activation, money tracking and cash deposit features. The neo bank has provisions of round-the-clock customer support, 365 days a year. InstantPay can be used on the web and mobile. Instapay partners with ICICI Bank, Axis Bank, IndusInd Bank and Yes Bank.
Razorpay X:, E-commerce businesses can make instant refunds to credit cards, bank accounts and UPI ID. Razorpay X automates refunds of Cash on Delivery (CoD) orders with Payout Links. Payout Links helps automate the entire process of making a refund to a customer within minutes.
Open: Open is a Bangalore based neo bank offers small businesses and startups an online bank account and credit card facilities.
Niyo: Niyo has partnered with IDFC First Bank. Niyo caterers millions of customers across the proletarian sector, salaried employees easing the banking transactions.
Advantages of Neobanks
Instantaneous Account Opening.
Easy International Payment.
Real time generation of Reports.
Disadvantages
Cyber Frauds
No personal relationship with Bankers
Delay in receipt of refunds etc
Limited banking products
The Difference between Conventional Banking and Neo Banking
| | | |
| --- | --- | --- |
| Point Of Difference | Conventional Banking | Neobanking |
| Platform | Physical Establishments | Digitalised (Website or Mobile App) |
| Client Relationship | Long term | Virtual and Flexible |
| Fees for processing | High | Low |
| Confirmation Process | Long | Instant |
| Customer Satisfaction | Comparatively Low | Customer-centric |
"Loved reading this piece by
Poojitha Raam
?
Join CAclubindia's network for Daily Articles, News Updates, Forum Threads, Judgments, Courses for CA/CS/CMA, Professional Courses and MUCH MORE!"
Tags :
others