Compliance Requirement Under Companies Act, 2013 and Rules made thereunder - For the m/o October, 2021
Applicable Laws/Acts

Due Dates

Compliance Particulars

Forms / Filing mode

Companies Act, 2013

Within 180 Days From The Date Of Incorporation Of The Company

(one time compliance only)

As per Section 10 A (Commencement of Business) of the Companies Act, 2013, inserted vide the Companies (Amendment) Ordinance, 2018 w.e.f. 2nd November, 2018, a Company Incorporated after the ordinance and having share capital shall not commence its business or exercise any borrowing powers unless a declaration is filed by the Director within 180 days from the date of Incorporation of the Company with the ROC.

MCA E- Form INC 20A

(one time compliance)

Companies Act, 2013

First declaration within 90 days from the date of notification Dt. 08.02.2019

A person having Significant beneficial owner shall file a declaration to the reporting company

https://www.mca.gov.in/Ministry/pdf/CompaniesOwnersAmendmentRules_08020219.pdf

i.e. within 90 days of the commencement of the Companies (Significant Beneficial Owners) Amendment Rules, 2019 i.e. 08.02.2019

In case Subsequent Acquisition of the title of Significant Beneficial Owner / Any Change therein a declaration in Form No. BEN-1 required to be filed to the reporting company, within 30 days of acquiring such significant beneficial ownership or any change therein.

Form BEN-1

Draft Format available at

Companies Act, 2013

within 30 days of acquiring beneficial interest

Filing of form BEN-2 under the Companies (Significant Beneficial Owners) Rules, 2018.

(the date of receipt of declaration in BEN-1 )

Form BEN – 2

(e-form deployed by Ministry (ROC)) on 01.07.2019

Companies Act, 2013

Annual Compliance

(30.09.2021)

*DIN KYC through DIR 3 KYC Form is an Annual Exercise.

Last date for filing DIR-3 KYC for Financial year 2020-21 is 30th September, 2021

Annual Exercise: CLICK HERE

Penalty after due date is Rs. 5000/-(one time)

E-Form DIR – 3 KYC

(Web Based and E-form)

Companies Act, 2013

Within 270 days from the date of deployment of this Form

Annual Return To Be Filed By Auditor With The National Financial Reporting Authority

Note on NFRA-2 Click Here

NFRA-2

(NFRA-2 e-Form live since 9th December 2019.)

Companies Act, 2013

Within 15 days of appointment of an auditor.

The Ministry in its General Circular No. 12/2018 dated 13th December, 2018 clarified that filing of Form NFRA-1 is applicable only for Bodies Corporate and ruled out filing by Companies as defined under sub-section (20) of Section 2 the Act.

E – Form

NFRA -1

Companies Act, 2013

Within 30 days of the board meeting

Filing of resolutions with the ROC regarding Board Report and Annual Accounts. The details of the resolutions passed should be filed.

MGT-14

(Filing of resolution with MCA)

Companies Act, 2013

Within 60 (sixty) days from the conclusion of each half year.

Reconciliation of Share Capital Audit Report (Half-yearly)

Pursuant to sub-rule Rule 9A (8) of Companies (Prospectus and Allotment of Securities) Rules, 2014

To be filed all unlisted companies, deemed public companies

Till further clarification to be filled in GNL-2

E-Form PAS – 6

Companies Act, 2013

(Half Yearly basis)

31.10.2021

Form for furnishing half yearly return with the registrar in respect of outstanding payments to Micro or Small Enterprise

E-Form MSME-1

Companies Act, 2013

One Time compliances

Registration of Entities for undertaking CSR activities - Trust/ Society/ Section 8 Company need to file before Acceptance of Donation as CSR w.e.f. 01st April 2021

E-Form CSR-1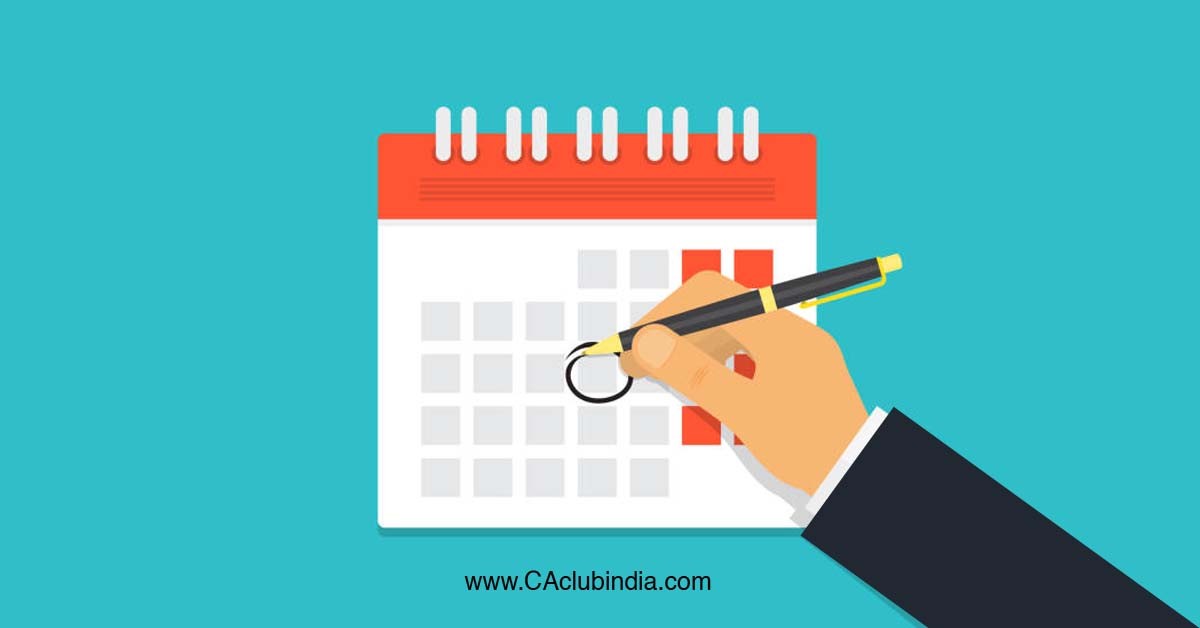 LLP Compliance
Applicable Laws/Acts

Due Dates

Compliance Particulars

Forms / Filing mode

LLP Act, 2008

30.10.2021

Statement of Account and Solvency for Financial Year 2020-21

Within 30 days from the end of 6 months of the financial year to which the statement relates.

Form LLP-8
Due dates of ROC Return Filings
Sl. No.

Particulars

Due Date

E- Form

1

Appointment of Auditor

Within 15 days from the conclusion of AGM

ADT-1

2

Filing of financial statement and other documents with the ROC

Within 30 days from the conclusion of the AGM, other than OPC

(In case of OPC within 180 days from the close of the financial year)

AOC-4

3

Filing of annual return by a company.

Within 60 days from the conclusion of AGM

MGT-7

4

Filing of annual return by a company.

Within 60 days from the conclusion of AGM

Applicable in respect of Annual Return for the F.Y. 2020-21 and onwards of OPC and small companies.

MGT-7A
KEY UPDATES - September, 2021
1. MCA extends due date for AGMs by two months
Companies get till end November to hold AGM for financial year 2020-21
In what could come as some respite for companies, especially small and medium ones, the Ministry of Corporate Affairs (MCA) has extended the due date for holding annual general meetings (AGMs) for the financial year 2020-21 by two months.
This extension would mean that companies now have time till the end of November 2021 to hold the AGM. Under company law, corporates are required to hold AGM within six months from the date of completion of financial year - i.e September 30.
This latest MCA move comes in the wake of representations received by the Ministry seeking extension of time for holding of AGM for FY21.
2. Govt extends tenure of Company Law Committee by one year till Sept 2022
The government has extended by one year the tenure of the Company Law Committee, which was constituted back in 2019.
The tenure of the panel, which was set up by the corporate affairs ministry in September 2019, was extended last year also. The committee has the mandate for examining and making recommendations to the government on various issues related to implementation of the Companies Act and the Limited Liability Partnership Act.
The committee was constituted as part of the government's efforts to promote ease of living by providing ease of doing business to law abiding corporates, to foster improved corporate compliance for stakeholders at large and to address emerging issues having an impact on the working of companies.
Important Updates - September, 2021
MCA Monthly Update Calendar: September, 2021
| | | |
| --- | --- | --- |
| Sl. | Particulars of the Circulars | Link |
| 1 | Public Notice U/s.75 of LLP Act, 2008 read with Rule 37(2) of the LLP Rules, 2009 | |
| 2 | Invitation of Claims - in the matter of M/S. Magnum Intergrafiks Private Limited (in Liquidation) issued by the Official Liquidator Bengaluru | |
| 3 | Workshop on "Competition Issues in the Pharmaceutical Sector in India' | |
| 4 | Accounting standards and special courts to be created for LLPs: MCA | |
| 5. | CSR credit has to be used in 3 years: MCA | |
| 6. | Engagement of Young Professional-I (YP-I) in Ministry of Corporate Affairs on contract basis | |
| 7 | Public Notice U/s.75 of LLP Act, 2008 read with Rule 37(2) of the LLP Rules, 2009 | |
| 8 | In the matter of Birla Power Solutions Ltd. | |
| 9 | Don't appoint CAs as part-time members of authority, NFRA tells ministry | |
| 10 | Financial literacy: MCA wants educational institutions, industry bodies to shoulder responsibility | |
| 11 | OYO increases authorised share capital to ₹901 crores - The increase was approved in a September 1 extraordinary general meeting held over video conferencing. | |
| 12 | The Chartered Accountants (Election to the Council) Amendment Rules, 2021 | |
| 13 | Extension of period of the Company Law Committee | |
| 14 | Public Notice u/s 37(2) of LLP Rules, 2009 | |
| 15 | Public Notices U/S. 75 of LLP Act, 2008 read with Rule 37(2) of the LLP Rules, 2009 | |
| 16 | Advertisement Notice in Form No.63 for invitation of claims in the matter of M/s. Shwetadri Speciality Papers Pvt Ltd., (in liquidation) issued by the OL, Bengaluru | |
| 17 | AGM Extension orders issued by various ROC's | |
| 18 | MCA extends due date for AGMs by two months - till the end of November 2021. | |
| 19 | NFRA issues Audit Quality Review (AQR) report of statutory audit of IL&FS Transportation Networks Limited (ITNL) for FY 2017-18 | |
| 20 | Extension of last date of filing of Cost Audit Report to the Board of Directors under Rule 6(5) of the Companies (Cost Records and Audit) Rules, 2014-reg | |
This article is updated till 30th September, 2021 with all Laws / Regulations and their respective amendments.
Disclaimer: Every effort has been made to avoid errors or omissions in this material. In spite of this, errors may creep in. Any mistake, error or discrepancy noted may be brought to our notice which shall be taken care of in the next edition. In no event the author shall be liable for any direct, indirect, special or incidental damage resulting from or arising out of or in connection with the use of this information. Many sources have been considered including newspapers (ET, BS & HT etc.)
"Loved reading this piece by
CS Lalit Rajput
?
Join CAclubindia's network for Daily Articles, News Updates, Forum Threads, Judgments, Courses for CA/CS/CMA, Professional Courses and MUCH MORE!"
Tags
corporate law
companies act 2013