The year 2020 has been important for every type of business size - small, medium, large. To prevent the spread of COVID-19, the government announced a prolonged global shutdown. In the meantime, many businesses had to take quick measures (such as the right use of business software, accounting software) to move quickly. While many others were not so lucky and were forced to close forever as a result. Thus, to remain contact-less, all of us started using online platforms and business software. And, thus, started shifting business to a purely electronic medium.
Now, we have covered almost the entire journey of 2020, and with this, we will definitely not want to harm our business with any kind of pandemic in 2021 or the near future. For this, we have to equip our business with more advanced software technologies for our future.
This blog is about the same subject, how we can give a great business experience to our business and customers without any hassle through advanced accounting software. And can make the business ahead of the according to the latest market trend.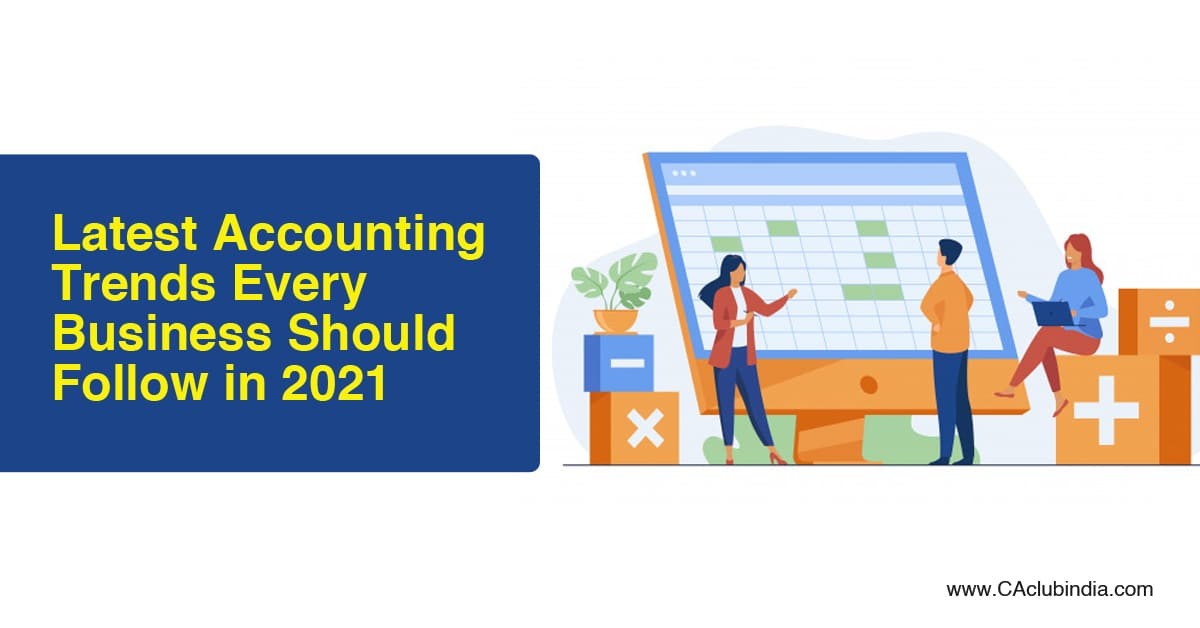 A digital and cultural shift in accounting
A Sage report suggests that about 90% of accountants feel that accounting is undergoing a cultural shift that is tilting more toward technological adoption.
This shift is driven by many factors such as marketing demand, consumer demand, market trends, rules, and generational changes that keep pace with the accounting world. With such changes in the industry, more and more accounting professionals are discovering new strengths in using advanced solutions for accounting processes. Thus, any organization needs to reshape its business strategies to stay updated with recent digital and cultural events developments. In which smart and advanced accounting and GST billing software play an important role.
Let's dive into and adopt more comprehensive discussions of each accounting trend and technique in the accounting industry.
Emerging Accounting Trends
Focus on automates accounting process
In this changing business environment, what makes us more popular and up-to-date is the correct use of technology to automate business processes. With automation, a business owner gets rid of doing manual work. The system ensures error-free processing, saving time as well as helping professionals become better. Business accounting is critical. There is no other chance for mistakes. Thus, companies are investing more in automated accounting solutions. In this way, the automated accounting process will drive companies to make decisions based on more data than before.
Increase in Demand for Accounting Software Solutions
According to a report by Fortune Business Insights, the accounting software market will experience a higher level of growth in the years ahead(i.e. 2021). And, during the forecast period of 2019 to 2024, the market will grow at a CAGR of 8.5%.
As we are still experiencing the effects of the COVID epidemic in our daily lives. Now businesses are more likely to use accounting software instead of manual accounting. Therefore, businesses are growing and using robust solutions by adopting technically driven accounting solutions. These solutions optimize processes and reduce manual tasks. In this way, there is a strong demand for software platforms for managing accounting spreadsheets. It gives a better understanding of tax management.
Trendy accounting software, therefore, gives businesses the ability to manage vast datasets, enabling accounting firms to have detailed financial reporting and sophisticated data analytics.
Focus on Outsourced Accounting Functions
Nowadays doing business is unpredictable. It is the reason that the demand of customers keeps changing with time. That's why businesses now outsource the demanding business accounting functions of demand. Thus, this accounting trend allows establishing the business in work resources. This way, outsourcing lets companies focus more on their limited resources, increasing profitability. It also saves them employment costs like payroll, taxation, salaries, benefits, and training expenses. Hence, outsourcing accounting functions is becoming a popular strategy among many companies.
Focus on Cloud-Based Accounting
A survey stated that around 67% of accountants now believe that cloud technology can make their roles easier.
A cloud-based accounting system gives companies access to their systems at any time. The software provides features that track inventory, sales, and expenses, which help create an accurate report. These reports help business owners to plan future strategies to achieve maximum benefits. As a result, it transfers more and more business owners to these new accounting and finance trends.
Focus on Data Analytics
In the present business environment, effective data analysis is key to success. Every business accountant knows how to work with data to make strategic business decisions and meet business demands. This way, the accounting industry's focus on data analytics. It leads them towards more efficient management of the accounting process. This way, it tracks & improves performance, identify & manage risks, and finally enhance the customer experience with the business.
Focus on Remote Work Setting
As in 2020, we have seen the value of remote working patterns. Now, more and more businesses are accepting the trend of allowing them to engage in remote work as a result of this. They are allowing their employees to work from home regularly. Therefore, it is necessary to accept this changing trend for future aspects. With the emergence of computerized accounting systems, accountants working from home have been able to produce excellent results in their work.
Focus on Blockchain in Accounting
Blockchain is an important accounting technology in this Present business scenario. It effectively manages business transactions and maintains accurate financial information. The use of blockchain in accounting software gives accountants a seamless accounting ecosystem. It provides clarity of business resources and can dramatically improve efficiency. Thus, it helps organizations to gain transparency on their available resources. And, frees up resources to focus on planning and evaluation rather than record-keeping.
Focus on Use of Social Media
In this modern era, no one can be untouched by the influence of social media. It is available in almost every business sector to make the business more informed and decisive. Any business owner can consider this as an influential sales and branding tool for accountants. Consequently, a compelling social media strategy can achieve business success in business. Therefore, in 2021, new accounting trends are sure to see social media platforms playing a significant role in marketing in the coming year.
Focus on Artificial Intelligence
Artificial intelligence is today's technology. Each business sector is seeking advice from the trade to make it more efficient. It helps in analyzing large volumes of data at high speeds, as well as generating more accurate data at increased productivity and lower costs. While in accounting, it streamlines administrative tasks and accounting processes in a more planned mode. In this way, it allows business persons/accountants to achieve a new level of efficiency for the workflow.
Focus on Big Data
Big data plays an important role in many business areas. While evaluating its role in accounting, it facilitates businesses with many advanced techniques. It gives accountants an idea about how to make the data collected for your business valuable. And, also gives them a plan to turn it into actionable insights. In this way, with the use of big data, accountants and experts transform critical internal data sets into secure, vigorous, and critical data analysis.
Final Words
We have a lot of current business scenario. It tells us the importance of software and technology and also motivates us to keep updating over time. In this blog, we have learned the upcoming / latest trends of the accounting sector and their uses. This will result in enhanced and effective business decisions and profitable outcomes.
Tags
accounts