Kotyark IPO Tracker
Company Name

Exchange

Open Date

Close Date

Lot Size

Issue Price
(Rs)

Issue Size (Rs Cr)

Rating*

Kotyark Industries Ltd.

SME NSE

Oct.21, 2021

Oct 25, 2021

2000 shares

51

11.26

NA
*NA- not assigned / not available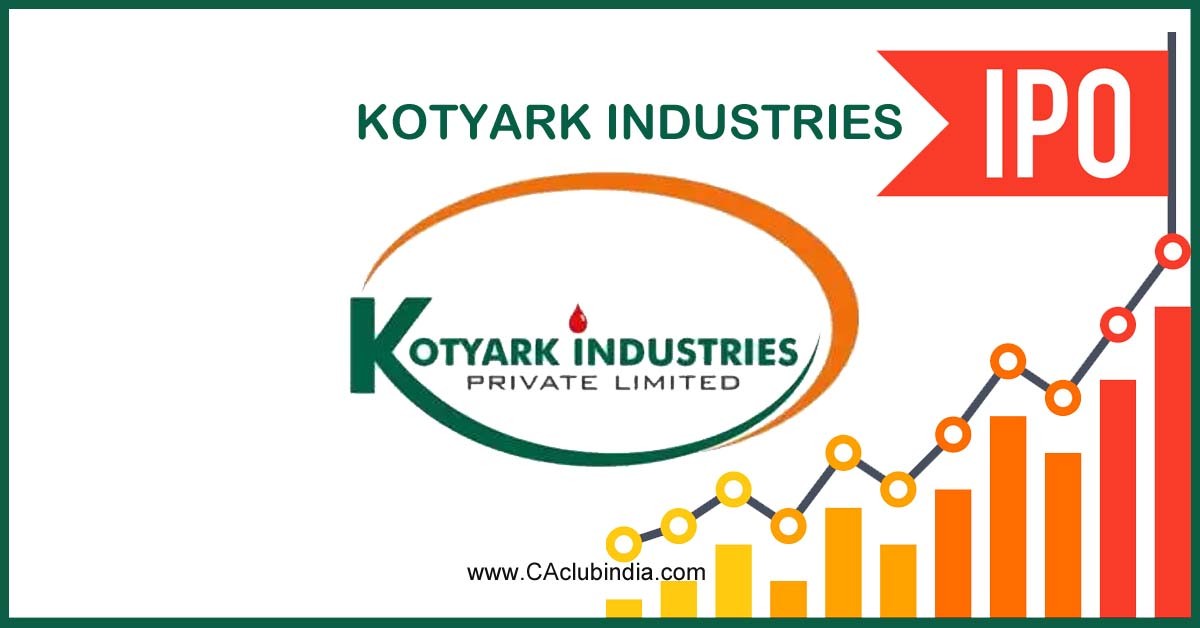 Further more details
Application money: 100
Face Value: 10
Premium: 41
Minimum Bid Quantity: 2000 (lot size)
Market Lot: 1
ISIN code: INE0J0B01017
SME Issue- Prospectus available: Click Here
Issue Size of the Company
Public Issue of 22,08,000 Equity Shares of Face Value of Rs. 10/- each for Cash at a Price of Rs. 51.00 Per Equity Share (Including a Share Premium of Rs. 41.00 per Equity Share) ("Issue Price") aggregating to Rs. 1126.08 Lakhs, of which 1,12,000 Equity Shares of Face Value of Rs. 10/- each at a price of Rs. 51.00 aggregating to Rs. 57.12 Lacs will be reserved for subscription by Market Maker ("Market Maker Reservation Portion") and Net Issue to Public of 20,96,000 Equity Shares of Face Value of Rs. 10/- each at a price of Rs. 51.00 aggregating to Rs. 1068.96 Lakhs (hereinafter referred to as the "Net Issue") The Issue and the Net Issue will constitute 26.68% and 25.33% respectively of the Post Issue paid up Equity Share Capital of the Company.
About the Company
The Company was originally incorporated as a Private Limited Company, Company limited by Shares, on 30th day of December, 2016 as "Kotyark Industries Private Limited" vide CIN - U24100GJ2016PTC094939 (Registration No. 094939) under the provisions of the Companies Act, 2013 with the Registrar of Companies (ROC - Ahmedabad).
The Company was converted into Public Limited Company as "Kotyark Industries Limited" vide Special resolution passed by the Shareholders at the Extra Ordinary General Meeting of the Company held on 24th 24, 2021 and a fresh certificate of incorporation dated August 05, 2021 issued by the Registrar of Companies, Ahmedabad.
Business Details of the Company- in Brief
The Company is primarily engaged in the manufacturing of BioFuel which is an alternative source of energy and has the ability to replace a good substitute of traditional fossil fuels like coal, firewood, lignite, etc. The company is also serving towards renewable green energy and sustainable development of renewable natural resources (Biofuels) through the adoption of environmentally friendly technology that favors the net reduction of greenhouse gas emissions for use in a vehicle for public and private transport as well as various equipments and Gen Sets.
Source: News articles / SEBI
Disclaimer: Every effort has been made to avoid errors or omissions in this material. In spite of this, errors may creep in. Any mistake, error or discrepancy noted may be brought to our notice which shall be taken care of in the next edition. In no event the author shall be liable for any direct, indirect, special or incidental damage resulting from or arising out of or in connection with the use of this information.
Recommended Read:
"Loved reading this piece by
CS Lalit Rajput
?
Join CAclubindia's network for Daily Articles, News Updates, Forum Threads, Judgments, Courses for CA/CS/CMA, Professional Courses and MUCH MORE!"
Tags
ipo
corporate law