Meet Komal Jain - All India Topper (AIR-1) November 2020 CA Final (New) Attempt.
In our conversation with Komal, she talks about her journey from CA Foundation to CA Finals, her strategy and planning to complete the CA Curriculum and her future career plans. She threw light on how the CA students have been affected by the COVID-19 pandemic and how it is important to stay away from negativity and stay motivated in such a difficult time. She also stressed how all your hard work will pay off when the results are flashed on your screen.
Here is the detailed interview of Komal with CAclubindia:-
Many congratulations from the entire team of CAClubIndia in securing All India Rank-1
Thank you so much and thank you for the opportunity.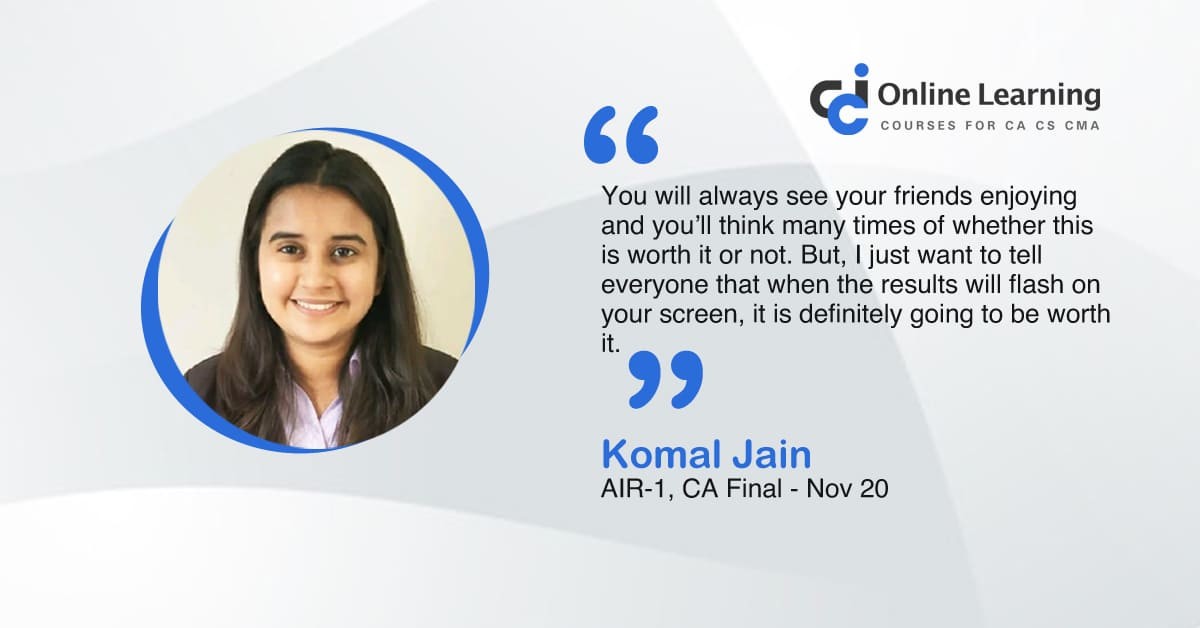 So, how's the feeling? Has it sunk in yet?
No, no. This is definitely like becoming a celebrity overnight. There's really no better way to describe this. The feeling hasn't yet sunk in and till date, I am asking myself, 'Is this real'? It's definitely going to take longer to soak this in.
So, what was your immediate reaction when you found out that you have topped the country and secured AIR-1?
So, basically, the top three rank holders receive a call from The ICAI President. I was eagerly waiting for results and was refreshing the site again and again. Suddenly, I received a call on my phone that you have secured AIR-1 and I started screaming on the call itself. For two hours after, I couldn't really believe what had happened with me and I was numb from that feeling. Then, after a few hours, I realized that this has happened.
What was the reaction of your parents when you told them that you have secured AIR-1?
My parents' reaction was also pretty much the same. Nobody could digest the fact that such a huge thing has happened and everyone took a lot of time to react to this fact because this is something you cannot even think of. They were really happy, had teary eyes and it was a great experience.
Since you also secured the AIR-4 rank in IPCC, were you expecting to be a rank holder this time too?
The exams are really very unpredictable and there is no assurance even after writing the paper of what you can expect to score. I wanted a rank since everyone holds expectations and I worked hard for it. But after the exams, I was really clueless. The papers had gone well and I was expecting a positive result but expecting a rank is too much.
Please tell us something about yourself Komal!
Okay, so I am Komal and I was born and brought up in Ghatkopar, Mumbai. I completed my graduation in 2019 from RA Podar College. I started pursuing CA right after my 12th standard, starting with CPT which went well. IPCC definitely was a milestone because no one in my family is from the CA Background and I had no mentor or no one to guide me properly, and when I secured AIR-4 in IPCC it was like a milestone which motivated me to work even harder the next time.
In IPCC, I just couldn't get into the top 3 because I was behind with 1 mark. I have been a consistent performer in Academics right from the beginning itself but professional courses are definitely different.
I worked with KPMG for 2 years under their taxation department during my articleship period and last one year I did my industrial training from Cadbury India in the finance department.
So Komal, what was your strategy to prepare for the CA Finals? This year especially must have been different because there was a global pandemic too.
Yes, definitely. I would like to answer this in two parts. First I would like to talk about the strategy during my preparation time and then, the strategy during the exam days.
So, starting with the preparation time, this year it was completely different and the main things I would like to really stress on is:-
CA syllabus is like an ocean and it is very vast. If you enter without a plan then it is sure that you will get lost. So, I think the most important thing is to come up with a solid plan. Your planning should be very minutely detailed like for a day or even for every hour. The right planning will give you the direction for your preparation. So I personally spent a lot of my time making plans and I would say that planning is key.
Secondly, staying positive and motivated during these times is very important because it was very frustrating and I always thought that I can't do this anymore. Positivity and motivation were very important and especially for this attempt and holding on to your preparations for so long. There is no alternative to your hard work because except that nothing can happen. Planning, staying motivated, and hard work were my main three goals during preparations.
So before you go on your study leave you should be very clear of what all resources are you going to refer and what are you going to follow.
First, have a very clear picture in your mind, gather all the necessary resources, have a plan in hand and then you should start studying. Take breaks whenever you feel necessary and stay away from negativity.
During the exam days, being calm and patient is very important and conceptual clarity is very important. Whatever subjects you study, you need to study them in depth and have clarity of all the concepts.
When we talk about clarity and the study material, did you also refer to the Institute's MTPs and RTPs?
Yes definitely. I think those must be referred because the questions are definitely repeated and you get a fair idea of what the Institute is focusing on. RTPs and MTPs are a must apart from the Institute's papers.
The CA Inter results are also round the corner and people must be under a lot of stress and anxiety right now, so is there something you would like to say to them?
In the CA Exams, definitely, luck also has a role to play, no matter the amount of hard work you put in. When signing for a course such as CA everyone is aware of the pass percentage so everyone must accept their result in the best spirit and not take it to heart even if the results are not in your favor; Sooner or later you will be able to clear the exam. Recognize and acknowledge the course and always take it in the right spirit is what I would suggest.
How is your career escalating after you've topped the November 2020 CA Exam?
I think there are a host of opportunities awaiting me and there is no power or restriction. Every field is open and I can freely explore any field I want to go ahead with. This definitely has to be the best part of securing AIR-1.
Do you have any plans for the future?
As of now, I want to work with corporates and maybe in the consulting and the finance area.
Is there a message you would like to share with the CA community through our platform?
You will always see your friends enjoying and you'll think many times of whether this is worth it or not. But I just want to tell everyone that when the results will flash on your screen, it is definitely going to be worth it. Please don't give up and keep up the motivation. It is surely going to be worth it in the end.
Thank You so much, Komal. You were definitely a breath of positive air and we wish you all the success in life.
Thank you so much for such a great opportunity.
This interview was taken by Aishna Kukreja, Assistant Editor - CAclubindia
Also Read:
CA Final Nov 20- Pass Percentage, Rankholders list, marksheet, and Trend analysis
"Loved reading this piece by
CCI Team
?
Join CAclubindia's network for Daily Articles, News Updates, Forum Threads, Judgments, Courses for CA/CS/CMA, Professional Courses and MUCH MORE!"
Tags
students