Journey of becoming CA: Never settle for less than you deserve
My CA journey began in same year i graduated from senior secondary school in 2006. I cleared CPT (now foundation) with distinction in my first attempt in 2006 itself. I managed to clear both groups of PCE (Now IPCC) in my 4th attempt in May 2010, scoring an exemption in Auditing and Assurance subject along with pursuing my articleship.
The real struggle started when I entered CA final. I appeared 6 times in both the groups and could only score exemption in ISCA (one of toughest subject considered by CA students). Because of this exemption I started focusing only on Group 2 but lost exemption of ISCA due to constantly getting less marks in Direct Taxes subject. So now, after a gap of 1.5 years, I had to restudy ISCA and this took me 5 more attempts to finally clear Group 2 with an exemption in Indirect Taxes subject in May 2016. After all said and done I started studying for Group 1. It took me further 6 attempts to clear Group 1 because Advanced Auditing and Professional ethics subject troubled me lot but because of exemption in Financial Reporting subject, I cleared in May 2019. I was a CA, finally!!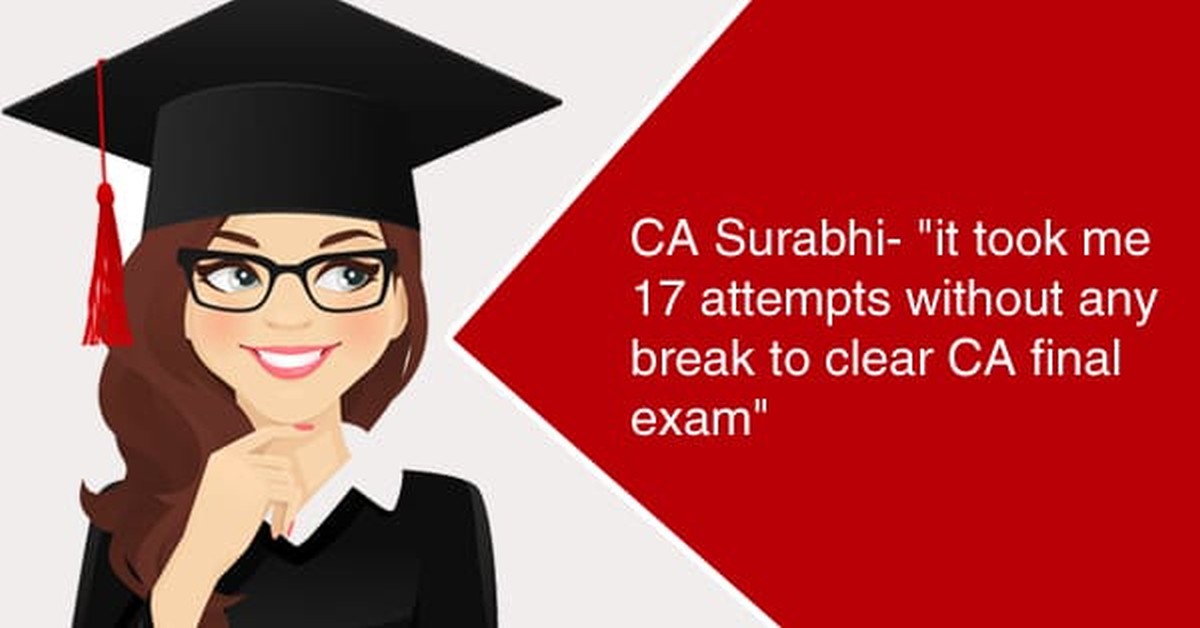 So in total it took me 17 attempts without any break to clear CA final exam and golden 12.5 years of my life to complete the whole CA course.
No doubt the journey was tough but this course made me what I am today: a better and stronger person than I was before. Being successful academically it was really difficult to digest constant failures I met in CA exams. But it taught me patience and perseverance. When social pressure increased to quit CA course, the only thing I had was a belief in me that I can do it. Even at times when I felt I cannot get up after falling soo many times, I pushed myself and got up each time. Always believe in yourself, everything else doesn't matter. "Never settle for less than you deserve'' was only thing going in my mind throughout the struggle. By hard work one can beat luck. Even destiny changes its course for those who work consistently and honestly towards their goal.
For CA aspirants-
Purpose of sharing my journey is to make you believe that constant effort in one direction will surely reward you one day. Having patience with determination and consistency is very important for completing CA course. Number of attempts and years will not matter once you qualify as CA.
Make sure to prepare atleast one subject in each group so to score an exemption in that subject. It is really difficult to clear a group without an exemption. Since syllabus is really vast, proper planning and implementation is very important .In my latter attempts I took help of video lectures of some of the best faculties which helped me tremendously in improving my weak areas and helped me in quick preparations. Eat healthy food, exercise, meditate daily, take proper sleep, and give enough time to friends and family as these are very important to manage stress and to succeed in exams. Don't ignore these aspects of life.
Never lose hope, keep working harder and smarter. Stay positive!!Success will be yours one day. Lots of strength, positivity and best wishes to all CA aspirants..!!
I thank CAclubindia for giving me opportunity to share my journey and thoughts with CA aspirants.
Tags
students
ca exams