First of all many congratulations from the entire team of CAclubindia !!
Thank you so much!!
How are you feeling? And what was your parents reaction?
I am thrilled. It came as a complete surprise to me and my family.
My parents are also extremely happy and proud. We have been getting a lot of calls from our relatives and peers.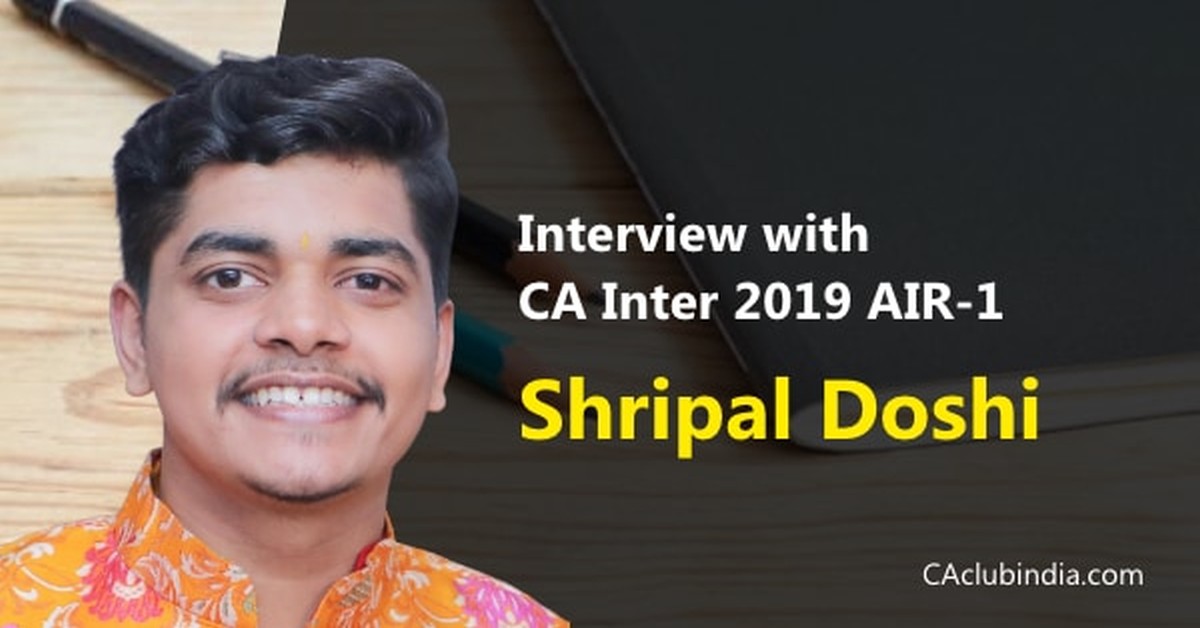 So, did you receive a call from the President?
I was at my workplace when I got a call from the President. I remember I was getting down the stairs of my office building when my phone rang, I answered the call and I was completely taken by surprise when the President informed me that I have got All India Rank 1 in CA Intermediate.
Can you tell us something about your study plan?
I had decided in advance how much time I shall devote to each subject to complete the syllabus and I made sure that I completed the syllabus of each subject on time. I started with my weakest part, that was Costing. I took enough time to complete the syllabus of Costing first and then I shifted my focus to other subjects. I stuck to the same material from Day 1. I referred to the institute's material as well as the material that was provided to me in my classes. I had also prepared short summary notes of the relevant topics for every subject. As soon as I completed my syllabus I started with my revision. I used to revise three subjects in a day.
How did you plan your coaching, studies, mock tests, etc.?
I believe that one should focus on conceptual clarity while studying in the classes so that you don't face any difficulty while revising your subjects. This way you will be able to revise quickly. Make sure that you cover every topic while studying, don't miss out on anything. Once you are confident enough that you have prepared well, you can solve mock test papers and previous year papers also.
How much time should one give for self-study? Any minimum number of revisions which you feel, one should do?
It took me 2 months to revise the whole syllabus along with mock tests and past year's question papers. If you ask me, I would say 3 months are sufficient to complete your revision of both groups and get a rank.
One should revise at least 4 to 5 times. I would suggest students to revise ITSM and Audit as much as possible.
Share your views on MCQs that were introduced in the exam?
I would say the level of MCQs was average this time. Actually, how easy or difficult it will be to attempt MCQs totally depends upon how well you have prepared for your exams. E.g. I had prepared very well for Law and ITSM and I got exemption in both as I didn't face much difficulty attempting the MCQs. So if you study well, then theory also becomes scoring because of MCQs.
Which was your favourite subject and which you considered to be hard?
I hated Costing (smiles) the most and my favourite subject was Accounts.
So, what are your future plans now? And what about articleship?
I am fully focused for my Final preparations. As I joined CA through direct entry route, so, I am already in my articleship period. I managed articleship along with studies.
What are your views on the pass percentage (Old Course) as it is very less this time – 1.90%
Papers were a bit tough, but I have no idea as to how the institute provides the marks. The new thing introduced was the MCQs, so students were a little confused about that. I remember for Audit, in RTPs majority of the objective type questions were application based but in the question paper there was no question based on case studies rather direct questions were asked. According to me this change in the pattern could be the reason for such a low percentage.
Was there any strategy of attempting the paper within those 3 hours?
And how to utilize the first 15 minutes that is provided for reading the question papers?
Yes, I had a strategy. I had decided that I will attempt the complete paper. This was my mindset since the very beginning. And as far as MCQs are concerned, I tried studying the MCQ questions in the first 15 minutes that are assigned for reading the question paper. In the first 15 minutes, one should just read out the paper, don't solve it. My strategy was to read the paper thoroughly so that I could decide which questions I need to attempt first. I preferred attempting the 70 marks subjective type questions first, then I proceeded with the 30 marks MCQ questions.
Any strategy for the one-day revision that you get before the exams?
For that, I had prepared my summary notes, so that on the day of the exam I could revise all the relevant topics in the morning.
How should one prepare one's notes?
One should cover all the topics, make sure that you do not miss out on anything. Notes were provided to us in the classes, but I had also jotted down the points which I felt were important and could be asked in the exams. Other than this, I had highlighted the important points in my books.
What did you do to cope up with the stress? Can you throw some light on how can one balance both studies and leisure time for oneself?
Every day I would tell myself to be calm because getting stressed won't take you anywhere. I was calm because I had completed my entire syllabus on time, so there was no point in getting tensed.
You can't study for 16 to 18 hours, you also need to take out some leisure time for yourself. I used to take breaks in between my meals to stay relaxed and rejuvenated. I used to take 7 hours of sleep.
I had joined the library for my studies because I cannot study properly at home. I used to study from 9 a.m. to 9 p.m. in the library itself. In between, I used to relax for some 2 to 3 hours – say 1 hour after lunch and some short breaks in the evening. This was my initial plan then the days went by I started waking up early at 7 a.m. to solve test papers. So, it eventually went to 13 to 14 hours a day, not more than that.
Any tips that you would like to share with the students who are going to appear for the upcoming exam with hardly 2 months left in their hands?
The very first thing that they should do is keep their cellphones aside and quit social media. I kept my cell phone aside for 2 months. Secondly, as I said earlier, that I never had stress as I had completed the entire syllabus on time. So, you just have to plan in such a way that you are able to revise the complete syllabus before your exams. All I would suggest is – make a proper plan, nothing else.
Any strategy on which subject should be followed first and regarding RTPs and mock tests that students need to work on within these 2 months?
I would suggest completing the RTPs once before the exams. E.g, in Accounting subject, the RTP questions cover almost all the topics and you get an idea about the sort of questions that would be asked in the exams. If you have solved the RTPs then you will feel confident enough about solving the questions without any difficulty. Also, try to solve the mock test papers and previous years' papers. I had solved the past 3 attempts papers. So, it proved to be very much helpful for me. This strategy can be followed for the practical subjects not theory because the scenario for theory questions is different. In my case, I had followed the PM for the theoretical subjects, e.g. for Audit I preferred studying from the PM, nothing outside the PM. I would suggest that if you are registered under Old Syllabus, then try solving the PMs first and then give the mock tests.
Great !! Did you know about CAclubindia? Did it help you in any way?
I do follow it. Yes, it helped me in many ways. I had referred to the platform for the newly introduced provisions and MCQs as well. I had also looked for queries that concerned me and had gone through the articles. The platform proved to be very helpful.
Once again, many congratulations from the entire team of CAclubindia. It was wonderful talking to you and it was indeed an insightful conversation!!
Thank you.
Tags
students
ca exams
ca rankholder interview