Integrity as per OXFORD Dictionary means -
• "the quality of being honest and having strong moral principles"
So, a gman/woman of complete integrity means - someone adhering to moral and ethical principles with the soundness of moral character and honesty. Integrity and Honesty are intertwined.
The definition also includes:
• "the state of being whole and undivided"
• "upholding territorial integrity and national sovereignty"
To sum up, Integrity refers to standing strong on the principles you are required to adhere to irrespective of the situation.
Integrity should be a way of life. It is not simply a projection as a special quality which only a handful possess. Being a person with a high level of integrity will make the person hold his/her HEAD HIGH.
Integrity we are talking about here is an aspect which should be maintained on all matters of life, be it official/personal. That is how essential it is.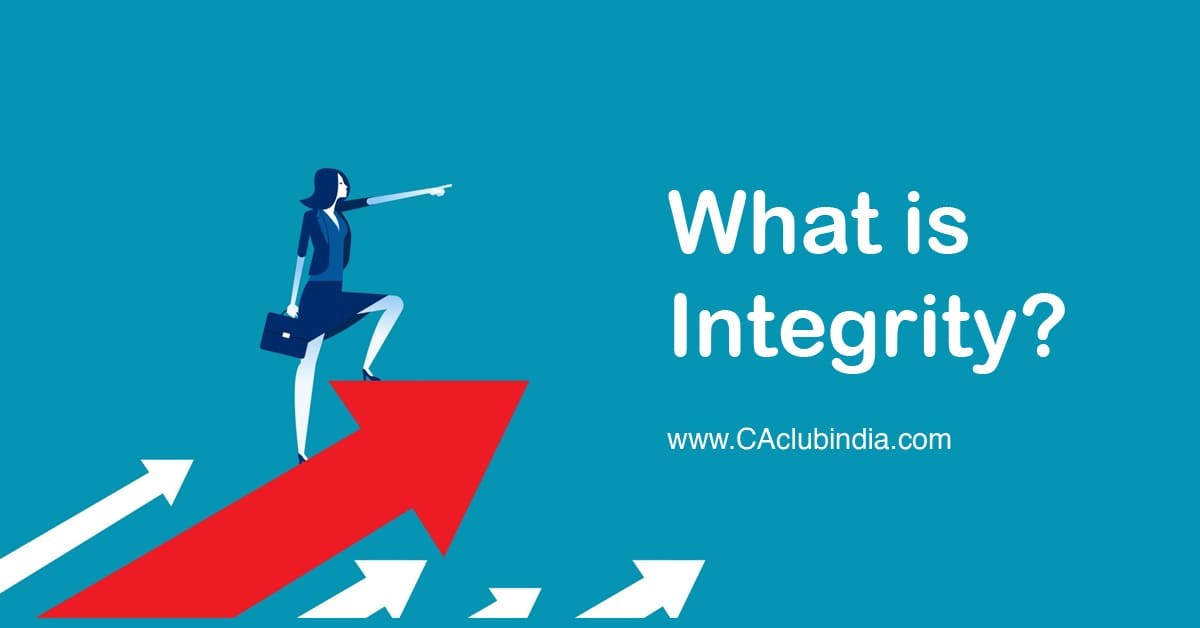 Let us look at some specific scenarios where we have to consciously make our choices:
In situations, while dealing with Government agencies wherein the level of integrity could be questioned at times - it becomes all the more important for us to stand strong and maintain our integrity.
The concept of integrity also features in business contexts including aspects such as employee/employer honesty and ethical behaviour, marketing/branding. Talking about branding, it is regarded as a desirable outcome for companies seeking to maintain a consistent, unambiguous position in the mind of their audience. This includes consistent efforts and often includes using a set of graphics and visuals in marketing communications. At the same time, it is important to maintain standards and "Integrity", when it is easy to fall prey. Kaptein and Wempe have developed a 'theory of corporate integrity' including criteria for businesses dealing with moral dilemmas.
The quality of maintaining integrity makes a person complete; he/she can survive all circumstances.
Azim Premji, Founder & Chairman of Wipro, in his recent Convocation speech at NIT, Trichy underlined the importance of truth & integrity - some values that shaped him as an entrepreneur. He has to say, this has been the most important lesson of his life, that truth and integrity are the foundation of everything. In the absence of integrity, everything falls apart. It is when we are willing to face the truth, speak the truth and have integrity in all our actions, that we can finally be confident that things will fall into place. "From 1966 ever since I took over the responsibility of Wipro, I have tried to practice this. It has not been easy. However, the most important thing that I believe has been the foundation of everything that I have done is this commitment to truth and integrity" he added.
It is hard to read press reports about bureaucrats, in high positions get exposed. We see how they slowly go on to lose their professional respect. It also goes on to affect the family and the innocent children's frame of mind, who once admired them. That is when we learn how expensive integrity can get.
It is the era of technological development, and more so the decade which has now started questioning dependability of electronic information. Electronic signals are said to have integrity when there is no corruption of information transferred between one domain and another. This is a fundamental principle of information assurance. Corrupted information is logically untrustworthy, as you would all agree, yet it is noteworthy and unfortunate that 'uncorrupted information has no takers.'
Summing up, it is now clear than integrity is an important tool we all must practise and possess throughout our personal and most importantly our professional journey. It is definitely the most prized possession as it can get expensive once given up.
The quality of Integrity will remove a point of 'Guilt' from our character. We can be free of all chains.
This quality is something we have to not only possess and but pass on to generations to come.
The Bhagavad Gita explains Integrity in BG 18.42: "Tranquillity, restraint, austerity, purity, patience, integrity, knowledge, wisdom, and belief in a hereafter—these are the intrinsic qualities of work."
The author is a Chief Financial Officer in a Real Estate Firm and has industry experience of over 30 years in various fields say, Direct, Indirect Taxation, Company Law, Accounting - including identifying revenue leakage, Audit and General Management & Human resources. Integrity has been his trait. At the age of 29, he raised a red flag in a South Indian conglomerate. He has played an important role in bringing out many revenue leakages during his 30+ years of industry association. He believes TRUTH will prevail & integrity will give positivity and satisfaction.
Tags :
professional resource