Update:
The newly revised October/November 2020 Edition of study material released by the ICAI for May/November 2021 CA Examinations is now available on the CDS Portal. The new edition of study material is applicable for CA Foundation, CA Inter, and CA Final May 2021 and November 2021 Attempt.
Table of Contents
What is the ICAI CDS Portal?
With a view to modernising and improving efficiency, the Institute of Chartered Accountants of India (ICAI) developed a Centralised Distribution System (CDS) to provide study materials, member publications, mementos and other materials to students, members and other stakeholders. The portal can be accessed at https://icai-cds.org .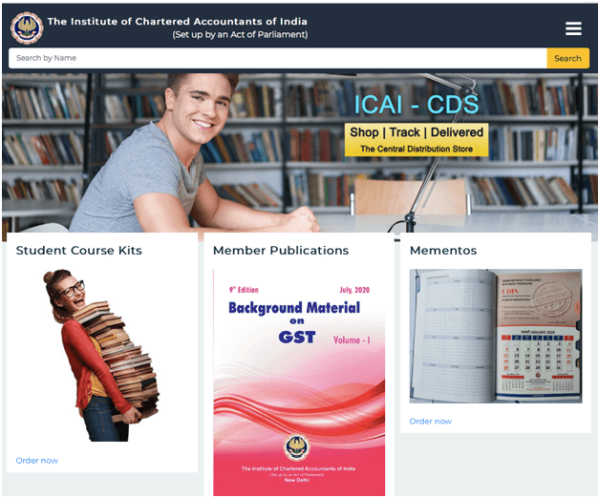 This distribution system will ensure that updated study material reaches the doorstep of the students, in a systematic manner, saving time and effort.
How to Log in to the CDS Portal?
After online registration, students will receive an automatic notification via email or SMS alert, providing their login ID and password. The SMS alert is sent only after the registration is confirmed by the concerned Regional Office, not immediately after the student has completed the online filling of registration form. Specimen SMS is given below.
Dear XXXXXXXXX,
You have successfully registered on the Centralised Dispatch System (CDS) portal of ICAI. Your user name is XXXXXXXXXXX. Your password is your date of birth in DDMMYYYY format. In case you are a student, you can order your required Study Material/s by redeeming coupon/s. Log in to www.icai-cds.org with your credentials.
To log in as a student, simply plug in the Student Registration Number (SRN) and password. The password can be changed.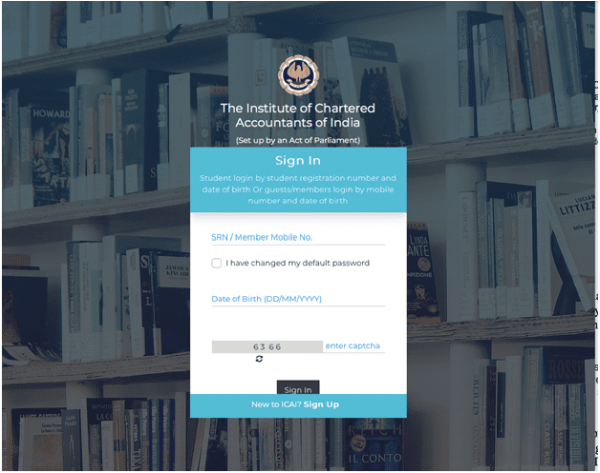 A Member or non registered student may also sign up on the portal by filling in the required details and generating a login ID and password.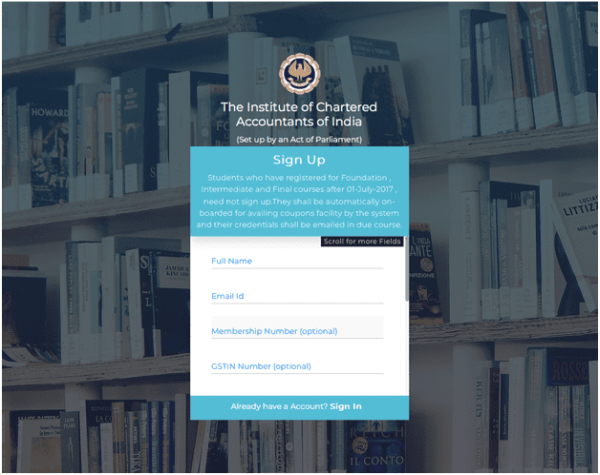 How to Place an Order on the CDS Portal?
Follow the given steps to place an order on the portal for study materials.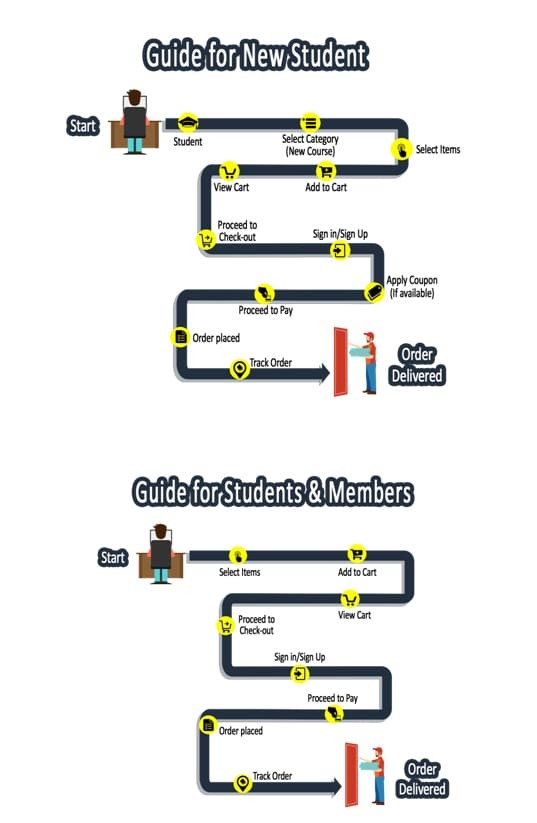 Step 1 - Log in to the Portal
Visit https://icai-cds.org . and log in using your credentials.
Step 2 - Choose the Course
After logging in to the portal, select the required course which may be Study Material Against Registration (New Course) or Study Material for Sale (All Courses).
Step 3 - Select the Subjects
After choosing the respective courses, select the subject and study material required (English or Hindi Medium)
Step 4 - Apply Coupon
You can view your cart by clicking on the basket button from the top right corner. Once you have made sure that the required material has been selected, you can proceed to activate your coupon. If you are a newly registered student, your coupon will be automatically activated.
Step 5 - Make Payment
After applying coupon, students may proceed to payment. They will not be asked for payment for the order. Old students of the institute will have to pay the requisite amount in addition to applicable courier charges.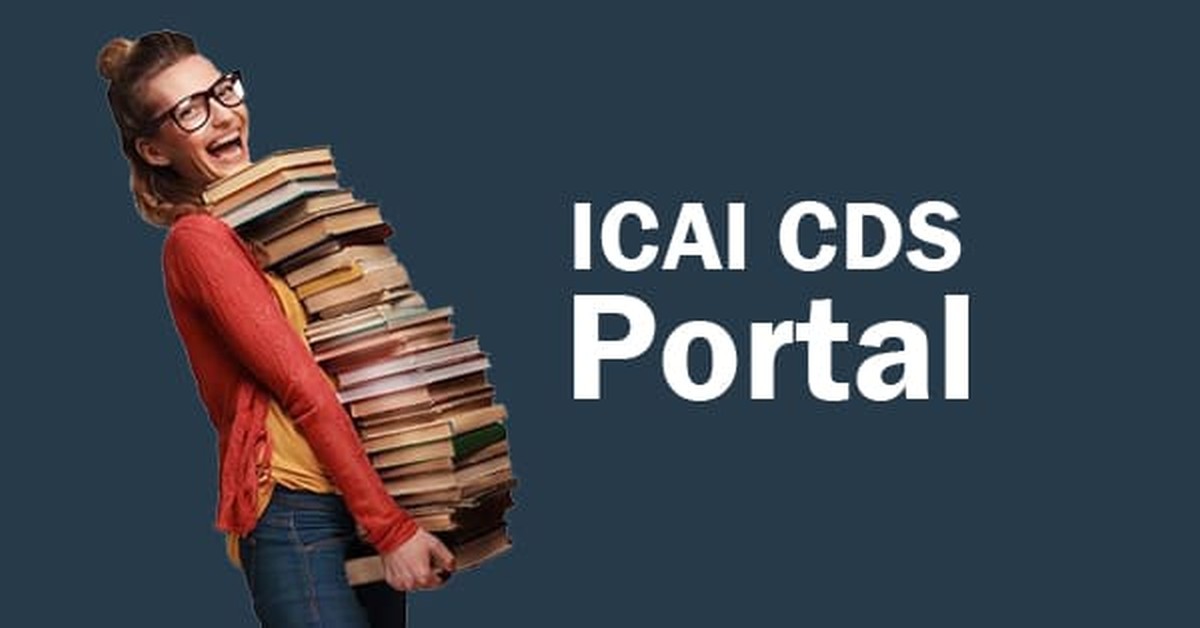 How many Coupons are allotted on ICAI CDS Portal ?
A student will be allotted coupons against successful registration for purchasing study material.
Foundation Course Student - 1 Coupon
Intermediate Course Student - 2 Coupons
Final Course Student - 2 Coupons
Intermediate and Final students are allotted 2 coupons so that they may used second coupon for any book left out, if required.
What is the Validity of allotted Coupons?
Foundation Course Student - 1 year from registration
Intermediate Course Student - 2 years from registration/conversion
Final Course Student - 3 years from registration/conversion
How to Change Shipping Address?
Before placing an order, there is an option to update shipping/delivery address on the portal. An OTP will be sent to the registered mobile number confirming the edit. No changes will be allowed after placing the order.
How to Cancel and Refund an Order?
An order placed on the portal can be cancelled on the same day in the CDS Portal. No request for cancellation will be entertained later. The amount of order cancelled on the same day will be refunded within 15 working days. No refund/chargeback claim is allowed thereafter for successful orders. Students are requested to check the order carefully before making payment.
How to Track an Order?
After dispatch of purchased material, tracking no. will be sent on the registered mobile number. Members/students can use this number to track their shipment.
When will the Material be Delivered?
The estimated delivery schedule is within 12 working days from the date of dispatch not counting the date of booking, weekend, gazetted holidays and delivery date. The delivery schedule may vary for remote areas/regions or due to any natural calamities.
Member related publications will be sent by air courier, for which payment has to be borne by the member, and it normally takes up to 5 working days for delivery depending upon the location of delivery.
If there is a stock out, delivery schedules may be changed accordingly. Complaints regarding non-delivery of order / chargeback / wrong / incorrect delivery of books should be made within 45 days from the date of order.
Whom to Contact for Assistance?
For complaints regarding delays, tracking or delivery,
Contact Executive, Trackon courier
Mobile: 8448598034/ 01123623070
If you have received less/extra study material, than ordered, send a mail immediately along with picture of carton/books to cdsonline@icai.in
For any other complaint related to CDS following contact numbers and email may be used:
Publication Directorate - 0120- 3045943 / 947,
Email: cdsonline@icai.in
Why are Some Books not Available on the Portal?
On certain rare occasions, some books may not be available on the portal due to a stock out situation that may be caused by a rush of orders or delays in printing or any other reason. The books will be put back on the portal when the same stock is replenished.
Material which is no longer applicable for incoming exams or where a newer edition is available will be removed from the portal as well.
What happens if Subjects are Revised After Purchasing Kit?
If a study material is revised by ICAI after students have purchased the previous kit, students can buy those study materials loosely, against payment. Alternatively, they can download the same from the Knowledge Portal of Board of Studies free of cost.
When are the Revisionary Test Papers/Suggested Answers made available in CDS portal?
Revisionary Test Papers/Suggested Answers are prepared by the Board of Studies and are normally available roughly 2 months before examinations.
Tags
icai