Articleship!! Probably the most important phase in the life of a student pursuing Chartered Accountancy. This phase of 3 years will decide what you will be in future. This is the reason why I have decided to pen this blog as I want my juniors to handle this phase very wisely as this is the base for your future ahead.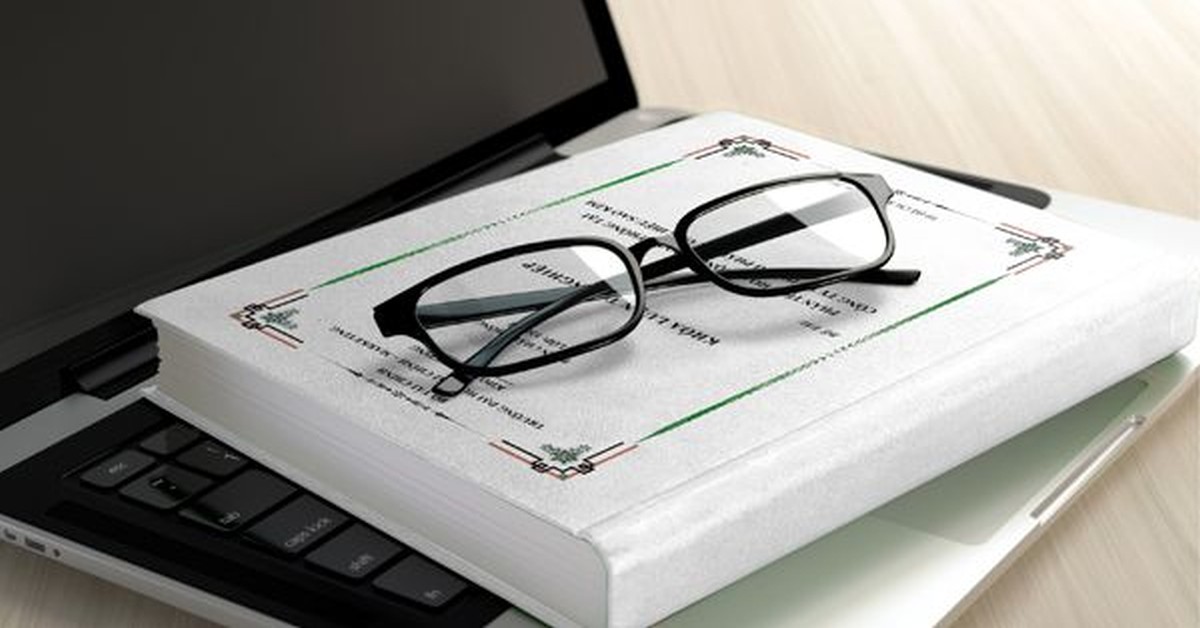 CA Inter Exams got over few days back and now students who have appeared in Nov 2019 attempt must be relaxing CA Inter Students should explore about articleship during this break of 2 months before results. I am writing this Blog to give some suggestions based on my personal experience to CA Inter Students who will be starting articleship post results.
Do you know why Chartered Accountants have an edge over other professionals like Company Secretaries, CMAs, etc? This is because of our Training during Articleship in various fields like Statutory Audits, Internal Audits, Taxation, ROC Compliances, etc. Accordingly choosing a place where you'll get trained is a crucial decision.
Most of the times students make the wrong choice due to lack of guidance and end up spoiling his/her career. Below are certain suggestions on how to choose a CA Firm for Articleship which are based on hard core personal experience which you won't find in any book.

1) Talk to Seniors doing Articleship: A person who is already working in a CA Firm as an Article Assistant is the best person to guide. He/she knows best about the firm and about the exposure. You should ask questions like number of clients, number of partners, services offered, leave policy, nature of tasks allotted to article clerk, etc to get a brief idea about the firm. You should also ask about his/her exposure and his/her suggestion about joining that particular firm and decide accordingly.
2) Working Hours: Working hours is one of the most important factors which must be taken into consideration while choosing a CA Firm. Yes, exposure is necessary but the end of the day your goal is to be a Chartered Accountant for which you need time to study. Accordingly, choose a CA Firm with normal working hours and where you don't waste time in traveling unless there is no such good firm near your location. Yes during peak season you will be required to work for extra hours but this shouldn't be followed for the entire year.
3) Exposure during Articleship: As already mentioned that exposure is one thing that should be discussed with seniors working in a particular firm. After you are shortlisted in a CA Firm, you must discuss the exposure thing in detail with the HR/Reporting person so that you are aware of what kind of work would be allotted to you during these 3 years.

There are a lot of Chartered Accountants who keep articles for work which are not meant for Articles or for doing the same work during the entire articleship period which would certainly of no value addition to you. So be very sure about the work that you'll get.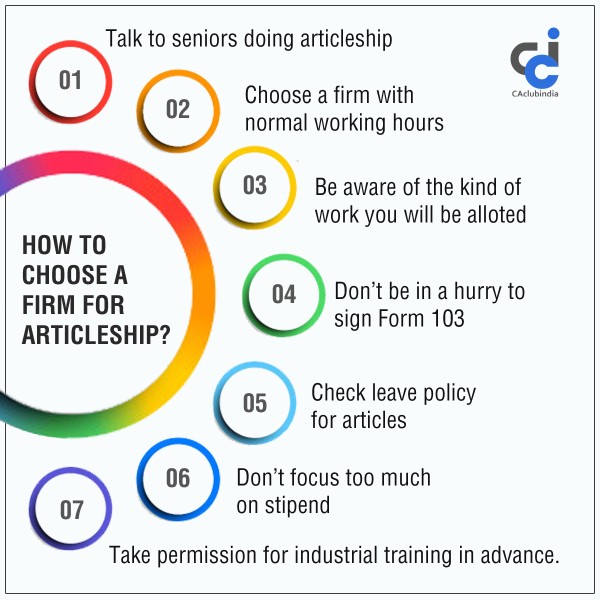 4) Don't be in a Hurry to Sign Form 103: Yes, don't be in a hurry to start articleship in a CA Firm. Go there, sit there for 5-10 days, talk to people working there, know more about clients, areas of functioning, Behaviour of your reporting person, office infrastructure, office environment etc. and once you are satisfied then only register. A lot of times people get frustrated at a later stage and then decide for transfer which sometimes becomes difficult. So be very wise in choosing!!
5) Leave Policy for Articles: Leave Policy should be discussed in detail and should be taken in writing as most of students must be doing Graduation along and hence must be requiring leaves in between. Also, you have CA Finals for which you require at least 3-4 months of leave. There are a few CA Firms which are very good when it comes to allowing leaves but there are a few who are very pathetic who don't care about your career. Discuss in-depth the periods during which you'll be requiring leaves during these 3 years.
6) Don't focus too much on Stipend: There has been a trend these days of choosing a CA Firm based on the stipend offered. Please don't be in a Hurry to make money. Yours is the age of learning and not o earning money. I would suggest a firm which gives you very good exposure and might give you very less stipend as per ICAI norms rather than suggesting a firm that offers you stipend in 4 digits with lesser exposure or same kind of work.
7) Permission to Attend Coaching Classes: You will be required to attend coaching classes for certain subjects and hence permission must be sought well in advance i.e. when you will be allowed to take classes and make a proper plan for next 2-2.5 years so that all your coaching's gets completed before taking exam leaves and you get entire period of 4-5 months for self-study. Those who plan early for CA Finals are the once who get through early and planning starts right from today i.e. immediately after appearing in CA Inter Exams.
8) Out of station audits: You need to confirm at the onset whether they will send you out of station for audits or not. It might be so that you have difficulties in traveling. In that case, it is best to know if you would be required to perform outstation audits.
9) Industrial Training Permission: I have always suggested all my juniors that one should always try for Industrial Training during the last 9-12 months of their articleship and hence permission must be sought from the principal regarding Industrial Training well in advance so that there are no issues later.
10) Distance of Firm from your Location: If you are not brand savvy and more work-oriented, this becomes a very essential parameter to choose the firm. Traveling is a big-time consumer (specifically in cities like Delhi, Mumbai, and Kolkata). The time saved in daily commuting is such a big advantage. It shall give you more time in preparing for exams, regular studies, and other essential activities.
I believe I have touched upon most of the relevant points which must be taken into consideration by you before joining a CA Firm. During this period between exams and results, I suggest CA Inter students to start working on these points i.e. make a list of all good CA Firms near your location or in the city where you'll be doing Articleship. Join LinkedIn and look for people working there and explore more about the Firm from them. Connect with HR's/Partners of CA Firms so that you get to know about the vacancies in the CA Firms.

I request other's to share any other point which must be considered by CA Inter student before joining Articleship and which has not been covered in this blog.

The author can also be reached at connectwithcarohitkapoor@gmail.com
Tags
Students