Linkedin Profile of Abhinay Chopra read:
CA Abhinay Chopra
Proprietor at Chopra & Associates since 2012
Mumbai Area, India | 359 connections
Endorsed by 21 connections
Featured Skills: Direct Tax, Indirect Tax, Statutory Audit, and MIS
About Chopra & Associates: Started five years back in the co-founder's garage, we are a CA firm providing real world efficient solutions to our clients' financial needs. Chopra & Associates has grown from 1 CA to a 20-member team, and continues to grow. Over five years, we have gained the trust of some top clients from hospitality sector. Our end-to-end solutions coupled with excellence in service have aided our effectiveness.
Because of the growing business and team size, Chopra and Associates decided to move to a new office in a premium location. But the total expenditure involved was quite high. Therefore, Abhinay decided to avail a CA loan is an ideal choice for CA's looking to scale up their business. The eligibility criteria for getting a CA Loan is that you require minimum 4 years of business vintage.
Loans that aid your CA practice
Here's how CA loans can help you expand your practice: -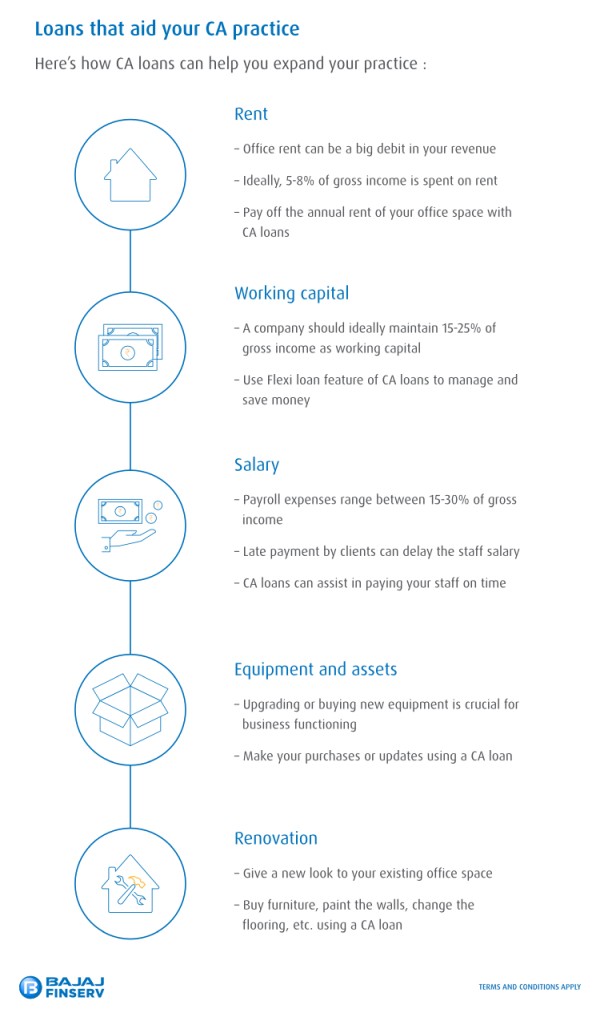 Your CA firm may have sufficient revenues to meet most of these expenses. However, large expenses can put a big dent in your current cash flow. A CA Loan will ensure that your business stays on track and continues to grow. The CA loan helped Abhinay's Chopra and associates setup a swanky new office and his neighbouring offices have become his new clients.
To know more about CA loans, click here.
To apply for a CA loan from Bajaj Finserv, click here.
Tags
Career