Looking back at the last 15 months - specifically 2020, it was the year when Professionals worked double than any usual year. In this article, we have discussed the timeline of 2020 & 2021 for GST Professionals.
JAN - 2020
31st January 2020 was the last date for GSTR 9 AND 9C FOR FY 17-18. This was after extending 4-5 times. Professionals still understanding 36(4) which was implemented back in Oct-2019
FEB - 2020
Covid cases identified in India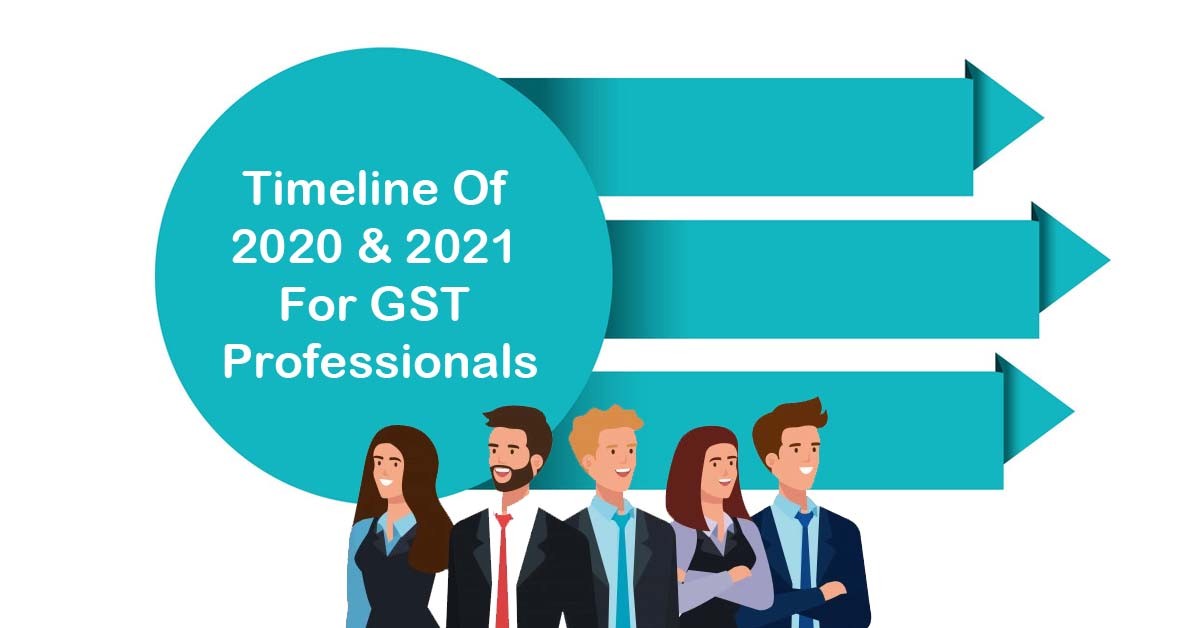 MAR-2020
Janta Curfew on 22nd March 2020
We were about close year 19-20 on 31st March but then It was announced Lockdown from 24th March 2020
APRIL - MAY 2020
Lockdown Extended till 31st May.
Aatm-nirbhar packages announced.
GSTR 3B & 1 dates extended. 36(4) relaxed for few months.
even when GSTR 3B March to May late fees were waived till 24th June 2020, They levied interest at 9% (still feeling strange)
JUNE - NOV 2020
Successfully navigated through the maze of due dates extension in wake of covid relaxation wherein we attended webinars to just understand various due dates and interest rate applicability.
Unlock phase
Faceless era started in Income Tax.
All GST extended dates got settled and it was back on track..36(4) got more stricter. GSTR 2B introduced.
Einvoice for 500 crore above FROM 1ST Oct, 2020 - A new era.
Restricted staff, Night Curfews, Work from Home, Social distancing and Fear continues
TCS on SALE OF GOODS was introduced in Income tax from 1st Oct, 2020. I still can't understand the logic behind implementing TCS. This created little bit Havoc & confusion.
DECEMBER 2020
ITR dates extended till December
GSTR 9 and 9C of FY 18-19 due date was 31-12-2020. Clashing due dates. One of the Hectic December ever.
It was not extended even Extension was requested.
JAN - FEB 2021
Finally Covid Controlled.
Tax audit extended till 15-1-2021
Budget 2021 on 1st Feb gave some bad news to Professionals. Lots of Procedure changes in GST.
New GST amendments - strict suspension / cancellation policies w/o. natural justice, Stricter registration norms etc.
QRMP implemented. One of worst return filling system decision after GST implementation
Einvoice for 100 crore above from 1st Jan 21
NOW MARCH 2021
GSTR 9 and 9C of FY 19-20 due date 31-3-2021.
End of all pending things.. End of all Pendency. Beginning of New Fin. year from April'21 with Fresh work with new Vision.. Some more new provisions and Some More restrictions & complexities in GST.
Finally, What I see on Macro level is Incredible efforts by Professionals even during time of Pandemic. Most GSTR 9+ 9C of FY 17-18, 18-19, 19-20, have been filed during last 1.5 year. Each time looking into data of 3 yrs + Making reconciliation each time for 3 yrs as data spilled for 3 yrs
Even with workload of Income Tax Audits and Monthly Compliances like 3B, 1 , ITR, TDS TCS returns, CMP8, etc.
We all conquered.
Tags :
gst