Food Safety and Standards Authority of India (FSSAI) is the primary law for the regulation of food products established under the Food Safety and Standards Act, 2006. It is responsible for protecting and promoting public health through the regulation and supervision of food safety. For alert and active customers, getting a license under FSSAI is a way of assuring them that they are getting a good quality product.

FSSAI Registration
FSSAI Registration is for food business, therefore every Food Business Operator (FBO) must obtain license/ registration. FSSAI provides an opportunity for FBOs to apply for Registration/Licensing through an online Registration/Licensing system.
This license acts as proof and permission for any place dealing in food to be a legal manufacturer and distributor of cooked and processed foods that are to be sold commercially to the masses. Holding a valid FSSAI License allows a business to enhance and improve their credibility. Therefore, All food restaurants and kitchens must apply for an FSSAI license registration to acquire an FSSAI license if they pass the FSSAI standards.
FSSAI Registration vs License
FSSAI issues three types of license based on the nature of the food business and turnover:
• Registration: For Turnover less than Rs 12 Lakh
• State License: For Turnover between Rs 12 Lakh to Rs 20 Crore
• Central License: For Turnover above Rs 20 Crore
Other criteria like the location of the business, the number of retail stores etc. is needed while evaluating the nature of license applicability.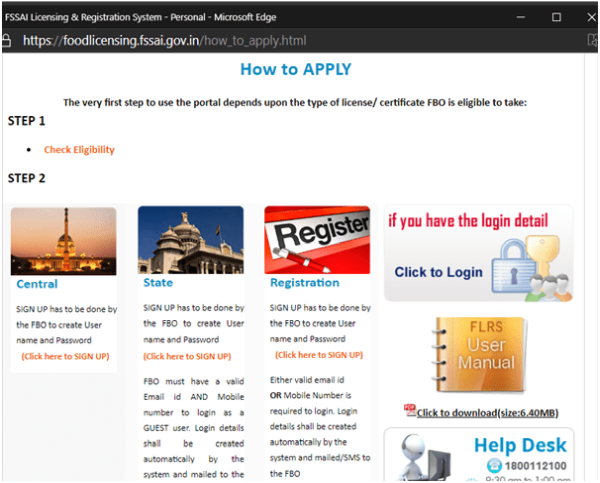 So first, check your eligibility criteria; whether you are eligible for a State License, a Central License, or a Basic License.
Who is required to get FSSAI Registration?
Kinds of Business

Criteria

License/ Registration

Fees per annum

Petty Food Business Operators

Manufactures or sells any kind of food by himself/herself, Petty retailer, hawker, itinerant vendor, temporary stall, Thela, Sweets Shop, Juice Stall etc.

e.g Gol gappa stall, fruits/vegetables vendors, snacks stall, Tea Stall, Samosa, Bread pakoda, retail shops, Temporary Food Stalls like Chinese food stall, South Indian Food etc.

Temporary or fixed stall or food premise involved in preparation, storage, distribution and sale of food products that can be served as a snacks/ tea/coffee and similar variants.

Hawker - Selling packaged or freshly prepared food by travelling (usually on foot or movable carts) from one location to other

Annual Turnover upto Rs. 12 Lacs

Registration

Rs 100
Steps to apply for FSSAI Registration:
FSSAI has launched a Food Safety Compliance System (FoSCoS) wef 1st June 2020 replacing the existing Food Licensing and Registration System. Users are now required to visit https://foscos.fssai.gov.in/ and login through the same user Id and password.
Here is the stepwise guide for registration:
Step 1: Go to the website https://foscos.fssai.gov.in/. Click on 'Apply for Registration Certificate on the home screen. The fee for registration is Rs. 100 per year.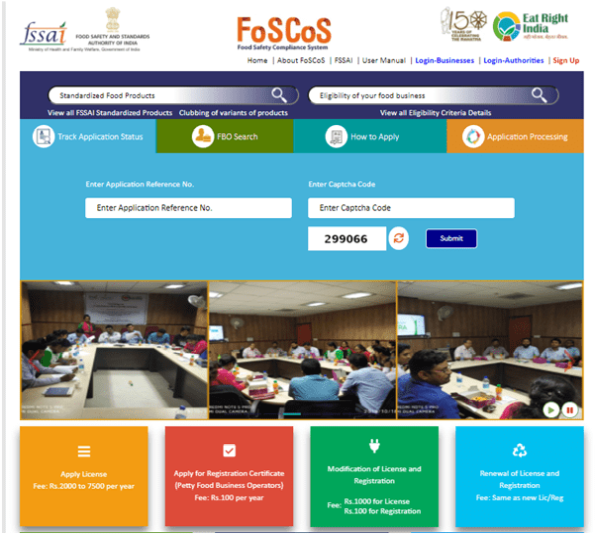 Step 2: Enter Email-Id or Mobile Number and captcha code. After clicking on submit, a verification code (OTP) will be sent to the given Email-Id or Mobile Number. Enter the code and proceed.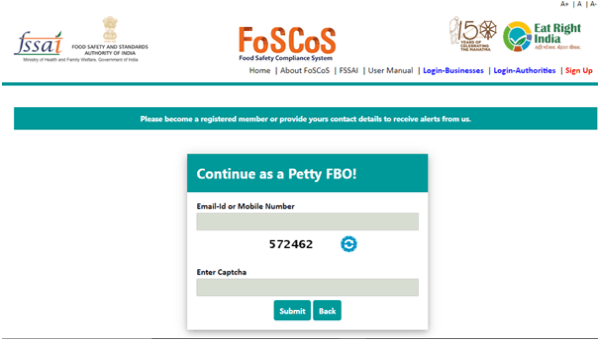 Step 3: Select the State after reading the Note before proceeding.

Step 4: Read the Group Heads of Kind of Business. Click on Kind of Business under which the food business falls and click on the radio button under it to proceed further.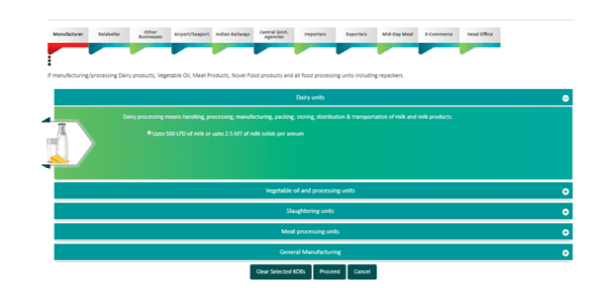 Step 5: Fill all the mandatory fields as shown in Form A.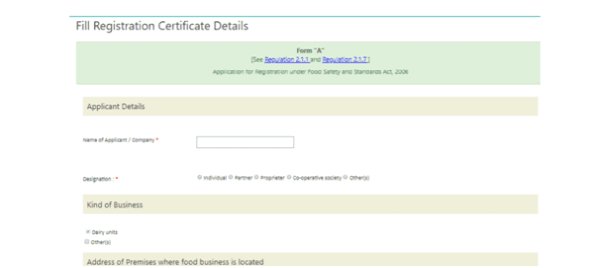 Step 6: Upload the required documents, pay the application fee with available modes and submit the application.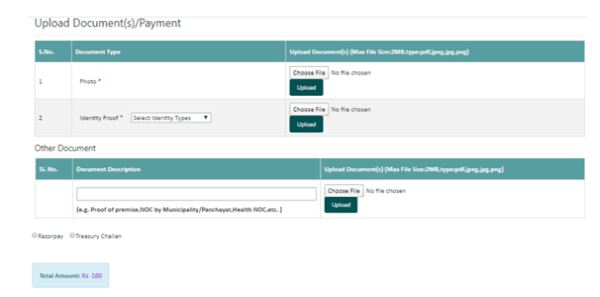 Documents Required for FSSAI Registration:
Documents required for Registration Certificate
1. Photo
2. Government issued Photo ID such as AADHAAR, PAN, Voter ID etc.
3. Proof of Address of Businesses activity (if address is other than as mentioned in Photo ID Card)
Step 7: After successfully completing the payment, a receipt will be generated with a 17-digit reference number which can be used for future reference.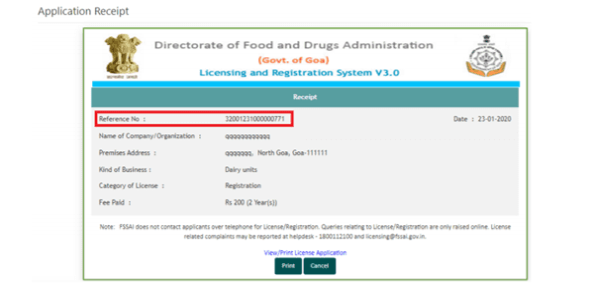 How to track FSSAI registration application status?
You can track the status of your application using the reference number on https://foscos.fssai.gov.in/ .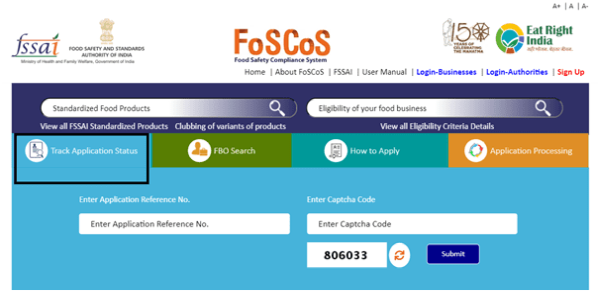 This application can be accepted or it may be rejected by the department within 7 days from the date of receipt of an application and the rejection has to be intimated to the applicant in writing.
After successful registration, a 14- digit registration or license number is given. This number is printed on all the food packages. This 14 digit registration number gives details about the assembling state, producer's permit.
Frequently Asked Questions [FAQs]
1. Are different Licenses required to conduct different kinds of food business activities at the same premise?
SSAI license is based on premise, not on foods. All kinds of food business activities which are being conducted at the same premise can be applied for a single FSSAI license.
2. Who are petty food business operators?
Petty Food Business Operators (FBO) are those who manufactures or sells any article of food like a petty retailer, hawker, itinerant vendor or a temporary stallholder or small scale or cottage or such other industries relating to food business or tiny food business operator
3. My License was cancelled. Can I apply for a fresh License?
Yes, you can apply for a fresh application for Registration or license to the concerned authority after a period of 3 months from the date of cancellation under Regulation if all observations made in the improvement notice have been complied with.
4. How can I renew my license/Registration after expiry?
You can not renew License or Registration if it is not applied before the expiry of license/registration. Once the license/registration is expired, you have to apply for a fresh new licence/ registration.
5. Who will issue the license to food business operators under railways premises?
FSSAI license/Registration for food premises under Railways are issued by the Indian Railways Designated Officers/Registering Authorities as notified by the Food Authority from time to time.
6. Do pharmacies and medical stores need to apply for an FSSAI license or registration if they are selling Health supplements or Nutraceutical products?
All Food business operators including pharmacies or medical stores selling Health supplements or Nutraceutical products need to apply for the FSSAI license or registration.
Updates on Food Regulations due to Covid-19 Outbreak
As we are changing our lifestyles in times of social distancing to prevent further transmission of COVID-19, FSSAI by using its social media helps and guides the communities with an appropriate course of action during this public health crisis. It is trying to improve the perception of food over the country which is very low.
• During the Covid-19 outbreak, FSSAI has provided online application processes as well as e-inspections to avoid delays in approvals.
• FSSAI tightens screws of FBO as India looks for some immunity boost and says all claims relating to immunity-boosting products must conform to regulations. Sales of such immunity-boosting foods have shot up by an estimated 20-40%.
• FSSAI is working to improve hygiene and sanitary efficiency in fish & meat markets on account of coronavirus outbreak.
• FSSAI asks industries to reduce the level of unsafe food to less than 1% or negligible level in the next 4 years.
• FSSAI has banned the consumption of unhealthy junk food by school children in school canteens.
• To prevent misleading advertisements, brands can not use words like 'natural', 'fresh', 'organic', 'traditional' etc. They have to go through new guidelines issued by FSSAI before using these words.
Source: https://fssai.gov.in/
Tags
others