PREAMBLE
Fraud is a burning problem all over the world, not only for India. Enron, WorldCom, Satyam are some of the famous fraud cases you might have heard. Up till fraud is uncovered after it occurred i.e. detection of fraud and being damage is already done thereby money already lost. But now the focus is shifting from detection to prevention approach thereby mitigating risk through various means like there are analytical tools available in the market which can be used directly to find suspicious transactions.
RELATIONSHIP OF FRAUDSTER AND ANTI-FRAUDSTER
Remember one thing: 'If you want to find fraud then you need to think like fraudster'. Even though after so much of the development in the Forensic sector but still fraud occurs and will be! Because something can be used, can be misused also. There is always a reaction to action. If you find something new to prevent and detect fraud, then it is very obvious that fraudster will find new ways to fraud. But in between trade-off point lies whereby even if you cannot eliminate fully but can minimize fraud and its damage. That's why I call it as 'Never Ending Chor-Police game'.
WORLDWIDE LOSS DUE TO FRAUD
Total loss caused by the cases covered in the study by ACFE (Association of Certified Fraud Examiners) exceeded $6.3 billion, with an average loss per case of $2.7 billion. In 94.5% of the cases in our study, the perpetrator took some efforts to conceal the fraud. The most common concealment methods were Creating and Altering physical documents. And the most common detection method was tips (39.1% of Cases).
(Source: acfe.com, Pg.4 of Report to the nations - 2016 Global Fraud Study)
Geographical distribution of such fraud cases:

(Source: acfe.com, Pg.7 of Report to the nations - 2016 Global Fraud Study)
INDIA'S NPA POSITION
When it comes to India, a recent example is Mr. Vijay Mallya who ran away with banker's money. NPA is one of the major burning issues in the present economy. RBI came up with various 'SCHEMES' (satire intended) like CDR, SDR, S4A and 5/25 etc. But the question comes to my mind: how many Vijay Mallya's are still there in Indian economy who are still undercover. There is no definite answer to this question but have a look at Gross Advances and Gross NPA movement of Indian banking system over a period of time which highlights some interesting facts.
Gross Advances and Gross NPA & Loan Subject to Restructuring and Corporate Debt Restructured movement over a period of time of Indian Banking System
(Source: RBI) : Amount in Million

Year

Gross Advances

Gross NPA

Gross NPA %

Incremental Gross NPA %

Incremental Advances

Incremental NPA

% of Slippage NPA to Advances

Loans Subjected to Restructuring

Corporate Debt Restructured

Adjusted Total

Adjusted %

A

B

C=A/B

D=(Bt/B(t-1)-1)/100

E=At/A(t-1)-1

F=Bt/B(t-1)-1

G=F/E*100

H

I

J=B+H+I

K=J/A*100

2006

1,54,57,301

5,17,531

3.35

-

-

-

-

62,375

48,027

6,27,933

4.06%

2007

2,00,74,130

5,05,170

2.52

-2.39%

46,16,829

12,361

-0.27%

87,326

16,237

6,08,733

3.03%

2008

2,50,34,310

5,66,060

2.26

12.05%

49,60,180

60,890

1.23%

1,54,300

30,144

7,50,503

3.00%

2009

3,02,46,518

6,99,537

2.31

23.58%

52,12,208

1,33,477

2.56%

7,05,952

50,070

14,55,559

4.81%

2010

3,26,20,788

8,17,181

2.51

16.82%

23,74,270

1,17,644

4.95%

9,44,515

1,96,036

19,57,733

6.00%

2011

3,99,59,815

9,39,969

2.35

15.03%

73,39,027

1,22,788

1.67%

5,43,829

1,23,339

16,07,138

4.02%

2012

4,64,88,078

13,69,683

2.95

45.72%

65,28,263

4,29,714

6.58%

12,05,398

3,62,770

29,37,852

6.32%

2013

5,97,18,199

19,27,688

3.23

40.74%

1,32,30,121

5,58,005

4.22%

24,06,045

10,10,806

53,44,540

8.95%

2014

6,87,57,479

26,30,152

3.83

36.44%

90,39,280

7,02,464

7.77%

25,50,661

16,08,616

67,89,429

9.87%

2015

7,56,06,658

32,29,161

4.27

22.77%

68,49,179

5,99,010

8.75%

31,78,788

20,67,303

84,75,253

11.21%

2016

8,16,73,445

61,16,074

7.49

89.40%

60,66,787

28,86,913

47.59%

26,42,720

17,79,490

1,05,38,285

12.90%
From above table, it can be clearly seen that average increase percentage in NPA in last 3 years is around 50%. Further fresh slippage of NPA in 2016 is as high as around 48% as against total advances disbursed during the year. But this is not the end, by so-called SCHEMES, various amounts were restructured over a period of time. If we take into consider loan subjected to restructuring and Corporate Debt restructured, then adjusted percentage is around 10-11% for last 3 years.
Interesting Fact - Underreporting of NPAs by banks
Leading Private sector banks had underreported their NPAs in FY16. Total amount under-reported by Axis, ICICI and Yes comes to more than Rs 18000 Cr in FY16 as identified by RBI. Refer below image extract for more detail: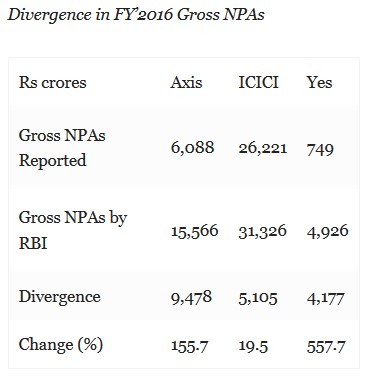 Source: https://thewire.in/138498/auditor-extraordinaire-the-curious-case-of-npa-underreporting-in-india/
Note: NPAs do not mean that they are fully due to fraud but there may be a possibility of fraud behind NPA.
NPA was just a one of the thing. There are various occupational frauds, forgeries, Corruption, and bribery etc. occurring in India of which size of fraud is not known. There is a list of frauds whose count is in trillions and quadrillions. One may refer state finances report by Comptroller and Auditor General of India (better known as CAG)
One more interesting and Eye-opener fact:
Refer Article by Indian Express on 'A third of top 500 firms books dodgy' dated April 10, 2015.
http://indianexpress.com/article/business/a-third-of-top-500-firms-books-dodgy/
A small Excerpt but much relevant!! From above article
'The report also states that audit by four big firms of these 500 companies is not necessarily superior to that of home-grown auditors to catch these aberrations. A top revenue department official told The Indian Express they are also studying the report and have commissioned an agency to examine the revenue angle further.
'Questionable operational practice' followed by many companies also include those on depreciation, interest cost, employee cost and selling and distribution expenses besides their tax scores as shown in their financial statements.
There are significant numbers of black sheep in the BSE 100 list too. While it does not offer any details, an independent source, analyzing the financial statement, notes that the total number of such companies is above 15.'
DEVELOPMENT IN FORENSIC SECTOR
Various developments are taking place in this field like;
RBI has mandated Forensic audit need to be done before approving CDR package of borrower
Increased reporting requirements by auditors under Companies Act 2013 viz. ICR and ICFR,
Increase in the number of players in this field, which dictates demand, and need of the hour.
SFIO (Serious Fraud Investigation Office) who comes under Ministry of Corporate Affairs is developing EWS (Early Warning Signal) which will help in early detection of corporate frauds and safeguard gullible investors from fly-by-night operators.
Recently, the government has deregistered more than 2 lac companies and more than 3 lac directors were disqualified.
Source: https://timesofindia.indiatimes.com/india/centre-disqualifies-over-2-lakh-directors-of-shell-companies-within-15-days/articleshow/60927911.cms
Further, the government also identified the list of entities wherein extra-ordinary deposits made during the demonetization period. A government investigation has revealed that Rs17,000 crore was deposited into 58,000 bank accounts and withdrawn after demonetization, pointing to tax evasion and money laundering.
Source: http://www.livemint.com/Companies/g3KUovJaafYFKbxaUIivJP/Shell-companies-Govt-identifies-Rs17000-crore-of-suspiciou.html
Securities and Exchange Board of India esteemed regulatory authority also indirectly contributing to this field. One may refer to various orders passed by SEBI in respect of Share price rigging, various statutory violation by listed entities wherein they have worked remarkably and uncovered malpractices of share price rigging.
The author can also be reached at tehsinblog@gmail.com or http://knowledgekhan.blogspot.in/
Note: No part of this article or any article in series is allowed to be copied and share in public (e.g. on any blog or website) without written prior permission of the author in whatsoever manner and, this article strictly meant for Personal use only, not for commercial purpose.
Tags
Audit