CA Final Exams will commence from 01st Nov 2019 and all of you whether appearing for Group 1 or Group 2 or Both Groups must be going through mixed emotions. Some must be excited; some must be scared but most of you must be nervous.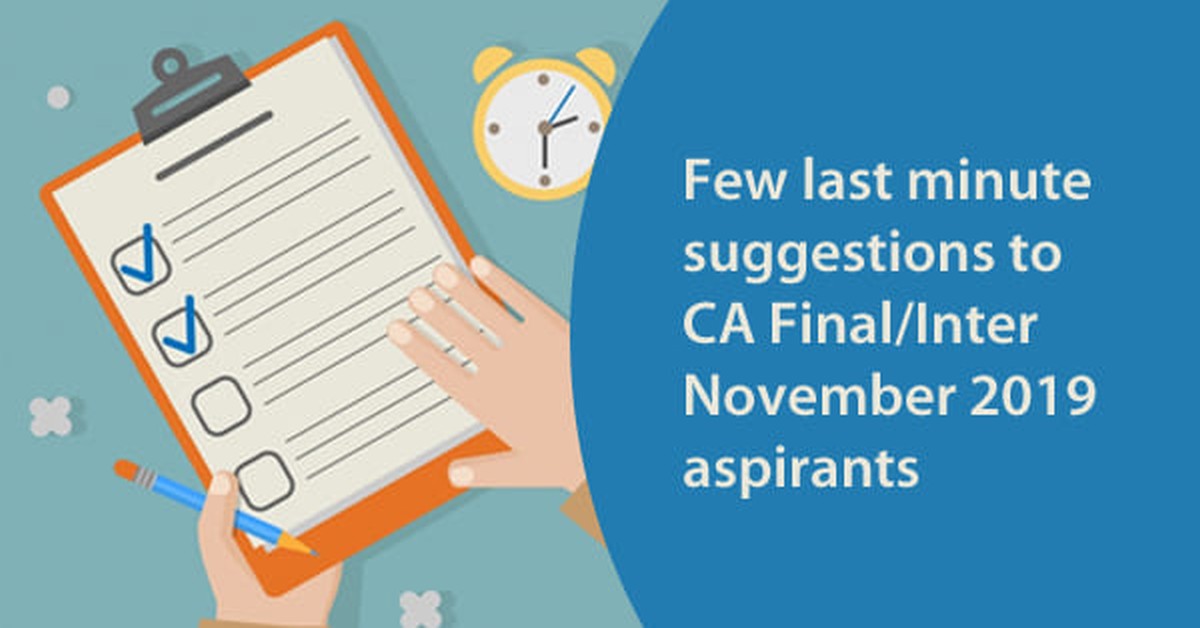 Yes, it's CA Final, Yes, it's one of the toughest exams, Yes, you have worked really very hard, Yes, your family and relatives have lot of expectations from you. But end of the day it's just an exam and you people have given lot of exams earlier and cleared them with good grades, so this exam is no exception. Just stay calm, focus on syllabus whatever you have covered and do not think about the rest as you need 50% marks to clear thus doing 100% syllabus is neither a requirement nor is feasible.

I know you people have paucity of time, so I will try to restrict the length of this article. Friends, I am myself a person who has cleared CA Final in multiple attempts and I cleared only when I actually followed the study strategy which I shared earlier for Group 1 and Group 2 and the following last day strategies. So this is hard core personal experience and believe me this will surely add a minimum of 10-20 marks in your aggregate

1) DO NOT START A NEW TOPIC NOW: Lot of people have a habit of taking overview of certain untouched topics in a hope of writing at least something if a question is asked on that topic. Believe me doing this will back fire you as you'll waste time in doing a new topic and getting nothing as this time you could have invested in revising whatever done. So just focus on whatever done and even if you are done with 75-80% of the syllabus of a subject, you still have a good chance to score 50+ marks.

2) MAKE A REVISION PLAN FOR 1.5 DAYS FOR EACH PAPER: You must make a Revision strategy for 1.5 days for each paper and this could be prepared after an exam in the evening for the next exam. The Revision Strategy must cover the entire syllabus which you have covered as not revising topics which you have already done is equivalent to leaving those. Also, you must go through certain important questions which you must have marked for practical subjects.

3) FOCUS MUST BE ON SUMMARIES: For Subjects like Audit, Law, DT and IDT focus while revising must be on summaries which either you have prepared yourself or bought. It is not advisable to read the main modules during last 1.5 days as you can complete 100% of content covered only with the help of summaries. Also, for Practical subjects like FR, SFM and AMA you can refer concept/formulae booklets for last minute revision. I have shared LDRs/ABC Analysis and other such relevant files on my Telegram Channel with name "Professional Sansaar". You can Subscribe the Channel and download the same.
4) SLEEP WELL BEFORE EXAM: Lot of people study for the entire night before exam day or sleep for 2-3 hours. This is not at all advisable as you will achieve nothing by doing this. You should take good sleep before exam day, only then your mind will perform well in 3 hrs. Needless to say that you have another exam after a day and you cannot afford to waste half a day after exam, so sleep well. You have worked really hard since last 3-4 months and now is the time to relax and give your best.

5) STOP STUDYING AT LEAST 2 HOURS BEFORE EXAM: This is the MOST IMPORTANT point which you must follow. Lot of people continue studying till last minute even outside the exam Centre. This means you are telling your mind that you are not prepared for the exam. This will land you only in stress and make you nervous forget about any addition to your total marks. Stop studying at around 12:00 and relax but do not leave for exam Centre too Early unless it's too far. There is a reason why I am saying this and reason has been mentioned in next point.

6) DO NOT REACH EXAM CENTRE TOO EARLY: Reach Exam Centre 10-15 mins before the exam at around 1.30 PM as you will find lot of people studying outside the Centre and some even discussing concepts/Questions etc. This can make you feel nervous if you are not confident about those topics. So just stay away from such people as these are the one's who only study outside the exam centers.
7) READING TIME STRATEGY: As you all know that 15 minutes are given as reading time. I would suggest not to read first question in those 15 mins as that being a compulsory question anyhow you have to do it. Instead find the question which you will leave in optional choice and rank the rest in order in which you will do i.e Rank 1 to Question that you know 100% and so on. Try to do at least first 3 questions above average as this where examiner makes a opinion about your paper.

8) MCQs STRATEGY: Five Papers at CA Final Level have MCQs and all are OMR based. I would suggest you to complete MCQs first in 40-45 mins including the time taken for hell lot of formalities i.e roll number, set number etc. Try to complete MCQs in 45 mins and do not look at them after 45 mins i.e. complete at one go as these are comparatively easy 30 marks and if you get around 20 marks in MCQs then it would be cake walk in the descriptive portion. MCQs are a BOON so focus on them initially.

9) DO NOT WASTE TIME IN DISCUSSING: Whether your Exam went really very good or worst, there is not point in discussing it as that is Sunk Cost. These 15 days are really very crucial and take each exam one at a time i.e forget about last exam as people score in 50s even after attempting 60 marks paper and fail even after doing 100% and assuming that they will get an exemption. ICAI can do anything, just give your 200% in 3 hrs. and forget for next 15 days. You have got 2 months' time to do post-mortem later.

10) REACH HOME ASAP AFTER EXAM: Try to reach your home ASAP after the Exam, take minimum 1 hour of rest and start preparing for next exam by at most 7.30 PM as this half day is very crucial and you must cover at least 25% before going to sleep.

I have tried my level best to keep it short and simple and still covered most relevant points with you all.
I would like to wish everyone ALL TH BEST. May God Bless you with Success.

The author can also be reached at connectwithcarohitkapoor@gmail.com
Let me know after exams that whether this was useful to you as this keeps me going and contributing to Fraternity as much as I can.
Tags
Exams