Any vehicle without FASTag or vehicle without valid or functional FASTag entering into the toll plaza's FASTag lane will be charged an amount equivalent to two times the fee applicable to that category, as per NH Fee Rules 2008. The FASTags were launched in the year 2016, and four banks together issued nearly a lakh of them.
Union Transport Minister Nitin Gadkari on Sunday said that the deadline for implementation of FASTag will not be extended and vehicle owners should immediately buy the e-payment facility. "It has been decided that all lanes in the fee plazas on National Highways shall be declared as FASTag lane with effect from the midnight of February 15/16," a statement issued by the transport ministry has said.
More Detailing About FASTag
What is Fastag?
FASTag is an electronic toll collection system in India, operated by the National Highway Authority of India. It employs Radio Frequency Identification technology for making toll payments directly from the prepaid or savings account linked to it or directly toll owner.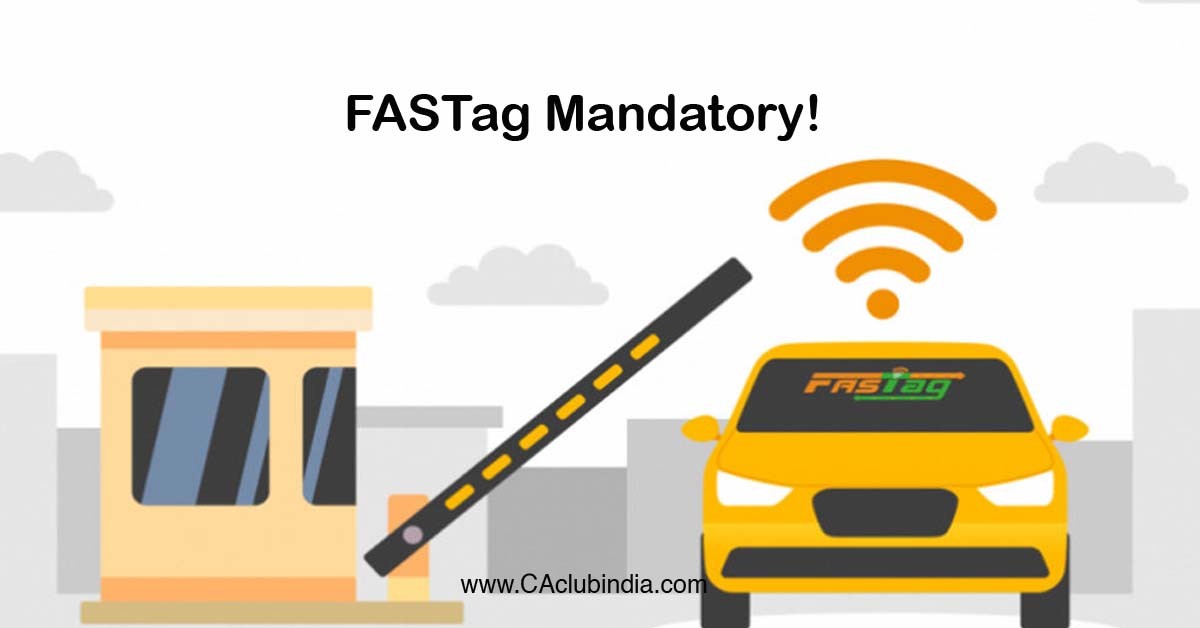 How does FASTag Work?
FASTag works in a similar fashion to other radio frequency-based technologies. There is a reader which scans the FASTag card on the vehicle and processes payment. This card is supposed to be affixed at the upper middle of a car's front windshield, from where the reader can properly scan it.
When you pass a FASTag-enabled toll plaza, you will not be required to halt your car for paying the toll fee. Instead, you can remain mobile while passing and the deed will be done automatically.
These readers are enabled to scan the FASTag card while it is in motion; wherein it emits a signal to the FASTag card to request toll fee payment, and the card reverts with confirmation of the payment. It is essential that a FASTag card is linked with a digital wallet or savings account to enable toll fee payment.
Documents which You Need to Submit During Application?
In order to apply for a FASTag card, you would need to submit your KYC documents - identity proof and residential proof. The KYC documents which you need to submit vary from one bank to another.
In addition to it, you also need to submit your vehicle's registration certificate (RC) and your passport size photo. These documents are irrespective of whether you avail the card online or offline.
How can I recharge my FASTag account?
You can recharge your FASTag account through a credit card, debit card or net banking. One needs to recharge the FASTag account with at least Rs 100 and a maximum of Rs 1 lakh.
Apart from this, you can recharge the FASTag account through SBI Bank, HDFC Bank, Axis Bank and Punjab National Bank, among others. It can also be recharged through payment services provider Paytm.
What should I do if I sell my car which bears a FASTag card?
In that case, destroy the card before delivering it to the buyer.
How do I know the amount which has been deducted from my card?
You will get an SMS in your registered mobile number along with relevant details whenever the card is utilised.
Tags :
others