About ACCA:
ACCA (the Association of Chartered Certified Accountants) is the global body for professional accountants, offering business-relevant, first-choice qualifications to people of application, ability and ambition around the world who seek a rewarding career in accountancy, finance and management.
ACCA supports its 219,000 members and 527,000 students (including affiliates) in 179 countries, helping them to develop successful careers in accounting and business, with the skills required by employers. ACCA works through a network of 110 offices and centres and 7,571 Approved Employers worldwide, and 328 approved learning providers who provide high standards of learning and development.
ACCA has introduced major innovations to its flagship qualification to ensure its members and future members continue to be the most valued, up to date and sought-after accountancy professionals globally.
Founded in 1904, ACCA has consistently held unique core values: opportunity, diversity, innovation, integrity and accountability.
The qualification itself is proof that you have the required skills in multiple aspects of a business.
It enables you to take up the higher positions in a business and you can even climb your way up among the top-level management.
While these are only a few of the examples, when it comes to career and growth opportunities after ACCA, you can say that the sky is the limit.
Being part of a Gold Approved Learning Partner of ACCA, VG Learning Destination, here is a compilation of a few Frequently Asked Questions about ACCA !
FAQ 1 - How does the ACCA Qualification work?
Students' progress through three elements of the ACCA Qualification on their journey to ACCA membership, these are:
• ACCA exams (13 papers, 3 levels)
• An Ethics and Professional Skills module( 20 hours online training) and
• A Professional Experience Requirement( 36 months)
FAQ 2 - CA vs. ACCA
PARAMETER

CA

ACCA

Recognised

Only in India

Recognised in 179 countries

Flexibility

No Flexibility, Need to give in predefined groups

Complete Flexibility, can choose any paper within the level

No of papers

Need to attempt all papers in the group

Complete Flexibility- can choose a minimum of 1 paper in the level

Exam

Fixed tenure of CPT(4 papers in a day!!!)

Complete flexibility to choose first 4 exams as per own convenience

Frequency of Exams

Twice a year

Four times a year

Pass Rate

40% Individual,
50% Aggregate
Overall Passrate - 20%
Flat 50% in all,
No Aggregation
Overall Pass rate - 60%

Training

2 (1/2) Years training compulsory before you can attempt final level

36 months of PER. Can do training at any time-Before, During, After completion of ACCA( includes CA Articleship)
FAQ 3 - Employability in India/ Placement Services
ACCA opens up the avenues for students to secure high end jobs in the big fours (E&Y, PwC, Deloitte, KPMG) and MNC's. ACCA program opens up doors for diverse career opportunities like below: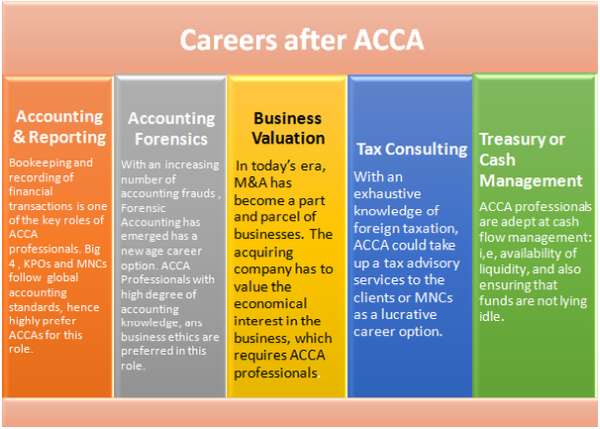 FAQ 4 - Membership Agreements with other countries
ACCA has established mutual acknowledgment agreements with several key prestigious global accountancy bodies:
• The Certified General Accountants Association of Canada
• The Hong Kong Institute of Certified Public Accountants
• The Malaysian Institute of Certified Public Accountants
• UAE-AAA (Accountants and Auditors Association)
• CA Australia and New Zealand
These agreements render unsophisticated and inexpensive routes for ACCA members to become a member of their bodies and appreciate the services local organizations can offer.
FAQ 5 - Exam Time table
The ACCA Exams are held 4 times in a year, generally in the first week of March, June, September and December.
Exact date sheet is available at www.accaglobal.com
FAQ 6 - Study Material for ACCA
ACCA has 2 Approved Content Providers: BPP and Kaplan.
ACCA books are easily available online.
FAQ 7 - What is PER?
As part of your journey to become a qualified ACCA member, you must demonstrate relevant skills and experience within a real work environment. This is what the PER (Practical Experience Requirement) is all about.
What do you need to do?
To complete PER , you will need to:
• Achieve 36 months of supervised experience in a relevant accounting or finance role(s)
• Complete nine performance objectives (five Essentials and four Technical)
• Record your progress online in MyExperience
• Have your experience signed off by a practical experience supervisor.
FAQ 8 - What is Ethics and Professional Skills Module
Students are required to complete our Ethics and Professional Skills module which develops in students the complete range of skills that employers told us they need. By introducing students to the full spectrum of advanced ethical and professional skills and exposing them to realistic business situations, our students are ready to shine with recruiters and be really credible in the workplace.
For further details please refer to the link below:
https://www.accaglobal.com/gb/en/student/ethics.html
FAQ 9 - ACCA Salaries in India:
The salary ranges from 6 lac to 14 lac depending upon the candidate's skills and companies demand.
Every day new job opportunities gets posted on ACCA's career portal and the average salary for all is same as that of a qualified CA, sometimes even better if you are a CA as well as a Qualified ACCA !!!
FAQ 10 - What are the Exemptions available in ACCA?
ACCA recognizes your present Qualification and awards you exemptions in ACCA accordingly.
Out of total of 13 papers, a Qualified CA gets exemptions for 9 papers and have to appear for only 4 papers which can be done in a span of 6 months even if the student appears for 2 papers in one go, you become a Qualified ACCA in 6 months only !
For an IPCC Qualified student, a total of 5 exemptions are available.
The best part is that students who are struggling to clear the Final level exam of CA, and have got 40+ marks in Costing, SFM,FR in any attempt of CA Final and are a qualified B.Com , can avail upto the same 9 exemptions as a qualified CA!
Bachelor of Commerce students from a recognized University get 4 exemptions.
Please take a look at the Exemptions calculator to find out which exemptions you could claim.
https://www.accaglobal.com/in/en/help/exemptions-calculator.html
FAQ 11 - What exam certificates are awarded for the ACCA Qualification?
Students are awarded:
Certificate of Achievement
Students are awarded a Certificate of Achievement if they achieve a pass mark of 85 per cent or above for individual passes in Accountant in Business (AB), Management Accounting (MA) and Financial Accounting (FA) from June 2011 onwards and Corporate and Business Law (LW) from June 2015 onwards.
ACCA Diploma in Accounting and Business (RQF Level 4)
Students are awarded the ACCA Diploma in Accounting and Business (RQF Level 4) when they have successfully completed Accountant in Business (AB), Management Accounting (MA) and Financial Accounting (FA) (at least one of which must have been sat and passed), plus completion of Foundations in Professionalism. Students who obtain full exemptions will not be awarded the Certificate.
Advanced Diploma in Accounting and Business
Students are awarded the Advanced Diploma in Accounting and Business when they have successfully completed the Applied Skills exams (at least two passes are required, one of which must have been sat on or after 1st June 2011), plus completion of the ethics and Professional Skills module. Students who obtain full exemptions will not be awarded the Certificate.
Strategic Professional Certificate
Students are awarded a Strategic Professional Certificate when they have successfully completed all of the Essentials exams of the ACCA Qualification (Strategic Business Leader (SBL), and Strategic Business Reporting (SBR)) and any two of the Options exams from Advanced Financial Management (AFM), Advanced Performance Management (APM), Advanced Taxation (ATX) and Advanced Audit and Assurance (AAA).
FAQ 12- How much do I need to pay for exemptions?
You will need to pay EXAM fees for each exemption ACCA awards you.
Exemption Fees = Examination Fees
VG Learning Destination offers Scholarships to its students from time to time.
Get in touch for latest Schemes and Scholarships.
Scholarship upto Rs 1, 02,600/- available to Qualified CA's.
For details regarding your applicable Scholarships and Exemptions, please reach out to VG Learning Destination at 9599983117/115/113 or email acca@vglearningdestination.com
Visit us at:
http://vglearningdestination.com/vgldlanding/acca/acca-enquiry?adspart=ca_club
Tags :
professional resource