CA Final May 2017 exam results have just released and we are once again glad to bring to you the success stories of this year's toppers. It surely motivates everyone!

Meet Raj Paresh Sheth All India Rank 1 CA Final May 2017 who hails from Dombivali, Maharashtra. He has a very confident, calm, diversified persona. He is passionate about cricket and is a MS Dhoni fan, who also plays guitar and love to listen to Bollywood songs. Let us find out what his strategy for the exam was, what suggestions he has for other students and aspirants & how he has achieved this success:
First of all many congratulations to you from the whole team of CAclubindia!
Thank you so much.
Can you describe your feelings at this moment?
It's an awesome feeling. I am elated and am currently on cloud nine. When President Sir called me at 11.15 in the morning, I started crying out of happiness. It was an awesome feeling and I m feeling just great.
When you got to know that you are AIR1, what was your first reaction?
There were tears of joy in my eyes when I got to know about my result.
And what was the reaction of your parents?
When I shared this news with my mother, she also started crying out her emotions of joy and proudness. There were tears in their eyes as it was a dream come true for me. There were mixed emotions - they were crying but at the same time, they were also very happy.
Were you or your parents expecting a rank?
Ya, I was expecting a rank but not AIR1. As I secured AIR 10 in IPCC, my coaching teachers then told me that I would definitely secure AIR 1 in CA Final. From that moment, I had started taking my studies seriously. I had started studying regularly right from the beginning. I was not expecting an AIR 1 but yes, I was sure that I would be securing a rank in CA Finals. The efforts that I had put in were very high and this is how I succeeded in securing AIR1.
Whom would you like to give credit for this success and any special person you would like to thank?
Firstly, it would be my parents and my two sisters. They had always supported me; may be financially, emotionally or mentally. Secondly, my coaching classes. I had been associated with my coaching classes since my 11th standard. The coaching teachers taught me in a very good way which had helped me to crack CA Final. Thirdly, I would like to thank my Articleship firm because they were supporting me, listening to me firmly and always gave me the liberty to attend my classes, whenever I have to and they never forbade me in any way. So, these are the things which I can credit to my success.
Raj, it is a big achievement at your part i.e. securing AIR 1 in CA Finals but many students are there who could not achieve this despite the hard work. So, what would be your message to those who could not clear the exam?
Firstly, don't get disheartened. It's just that you are putting your full effort but there's somewhere something which is evading you from focus. If not now, then the next attempt would be yours.
Secondly, change your attitude towards studies. Most of the students study in the last 3 or 4 months before the exams. But CA is a course where one has to start studying right from Day 1. I used to study 2 hours at the beginning and then gradually increased it to 13 to 14 hours in the last 3 to 4 months. So, have the regular studies going on and refrain from social media. I m not saying that you should completely refrain from social media like Facebook, Whatsapp etc. but you should try to balance it with the studies and use it minimally. Thirdly, many people avoid study materials provided by the Institute. They find it to be complicated but it's not like that. I have studied completely from the study materials and practice manuals. And I have referred to very few reference books. So, don't ignore study materials provided by the Institute.
Can you give details on your study planning and your strategy to mitigate the challenges to gather focus?
In the first two years, I used to study regularly for two hours atleast. Then, during the third year, I have started planning for managing the entire syllabus in those one and half days, keeping in mind my exams because I knew I could easily study Law / Audit in 4 days. So, what would I do if I get one and a half days during the exam days? It was like - how should I strategize my studies so that I can completely cover the entire syllabus in one and a half day. I used to revise for a couple of days and then I started rehearsing. For e.g., I am taking Law in Wednesday morning, so I made a strategy that I should complete it by Thursday afternoon. So, this is how I rehearsed where I could utilize that one and a half days which I got during the exams. So, completing your studies during these one and half days is very important.
4 months before the exam I fixed my schedule from January. I made a schedule for 4 months - from January to April. There were my classes on Mid-March. So, for me, it was like; I should complete the syllabus atleast once before Mid-March. So, in those 3 months, I used to study 14 to 15 hours everyday. I won't say that I used to study for 14 to 15 hours at a stretch. After 3 hours of study, I used to take a break for half an hour for my recreational activities like listening to songs or watching TV etc. And, then I used to jump to studies but in those 3 months, you should be very cool and calm and you should have a proper meal because your energy gets used up in those 3 months. Have proper food and be cool and calm and yes, I believe that while studying 14 to 15 hours during those 3 months it is very important to keep a proper eating plan. It should be like - Heavy breakfast, heavy lunch and very light dinner. So, I used to avoid oil and cheese during my dinner as I had to study during the night and so that I don't get dozed off and able to study till 3 or 4.
So, what did you do to keep yourself calm and remove the stress?
I just remembered MS Dhoni. The way he kept calm even during the tensed moments and this is how it worked for me. I just thought 15 minutes before the exams that I am on a pitch, I like cricket so much so I am giving you the same example, that I am the opener and the bowler would bowl me a googly or a bouncer or a yorker or something but I just need to defend and need not be afraid. So, I just need to defend and go on with the flow and once if I am on the pitch (say) for one hour then I can go on with the flow of writing the answers with good presentation.
How important is this achievement for you?
It's very important because I see that CA is not the end - it's the beginning of a very good career. It's like a passport where you can go out of India. As I have secured a rank with good marks and grade, this will help maintain my speed and pace accordingly and will help me to go ahead in my life.
So, did you face any hurdles in this journey - something which you can share with us?
It was a roller coaster ride for me. I remember after giving my IPCC exams, I was a bit confused and wasn't sure if I could pursue further.
Then my sister gave me the support and said that CA is one of the greatest course that one would aspire for and you have worked very hard for IPCC exam. Let the result of IPCC come, then we would sit together and decide and I said ok and then I secured AIR 10 in IPCC. She then just said that you can delete that "0" and get rank 1. So, just go ahead.
Frankly, I liked Accounts and Taxation as well and then my Articleship firm was very good. It was amazing. There was full liberty and no interference from their end. There were situations, where I had to leave my office at 6:30 to attend my classes by 7:30. So, to travel in one hour in that crowded Mumbai train proved to be painful physically if not mentally. I am also suffering from some arthritis so physically, it was difficult for me but I kept going but I took medicine or some massage from my sister or mother sometimes.
How is your health now?
It's fine now. After my exams, I had taken care of my health and its fine now.
Was there any time where you felt very low and needed motivation?
Yes, there was a time when I was very low last year in December. I was not sure if I would be able to crack it or would be able to get a good job. But, then my sister was the one who boosted confidence that CA is one of the dreams which can be easily cracked by me and said to just go on with the flow.
How important Articleship is in a CA student's life?
Articleship is an important phase of CA career because even if you pass the degree, you have to pass it for an interview and that is where the knowledge of the Articleship comes into account. It's not like Big4 Articleships are good because I personally feel that Big 4s are just institutes of some outsource companies for three years but if you join an excise firm (like I have also joined an excise firm for the same reason), I have got to do practice, I have got to do taxes - direct tax as well as indirect tax. I have got to do the audit as well. I have got to incorporate a company as well. It was like an overall exposure which I got in my Articleship firm. Now, I am in full-time GST consultant in my firm and I have already given lectures in GST. Compared to it, if I would have joined a Big 4, I would have stuck to just one field and that is not what Articleship is for. So, joining the excise firm, I got to have an overall exposure in different fields.
How important is preparing your own notes? Did you prepare any notes while studying and what would be your message to those students who just kept on reading and didn't prepare any notes?
Note preparation is very important not for revision but for that one and a half day that you get prior to exam because if you have the notes / flowcharts with you, you can remember the data.
For e.g. in Law, there are different types of punishments and different types of numbers to remember. So, note preparation is very important not for revision, but for preparation during those one and a half days. So, I would suggest to those students who keep on reading and not prepare notes - to start preparing the notes that would be beneficial for them during those one and a half days.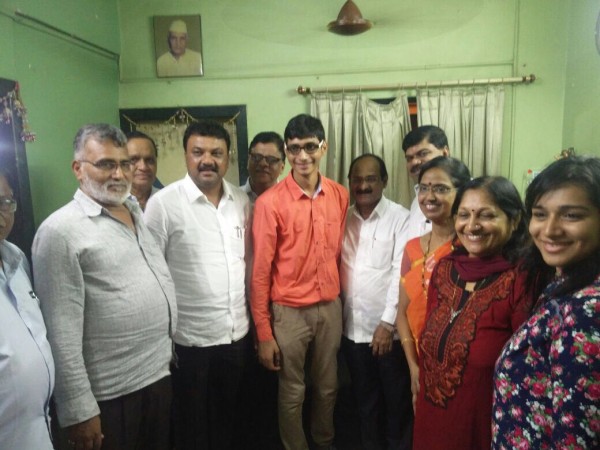 What are your other interests apart from studies and cricket?
I am a huge fan of Bollywood songs so I listen to them. Unfortunately, I am a bathroom singer, so I can't sing. I also like writing poems. I pick up some good lines and write poems on my own. Secondly, I play guitar and thirdly, I like reading books.
Wonderful! So, what are your new thoughts on the new course?
It is an amazing course. First of all, they are eliminating ISCA. It was a difficult subject for everyone. Also, they are introducing some additional subjects which is a very good news for the ones who would like to go into core Finance. I would say that this new course should not be taken by May 18 students because they have to switch to new course instantly. They can take up the new course from November 18. So, I would say that it is a very good initiative that has been taken up by the Institute.
What are your thoughts on GST?
It's like a landmark revolution in indirect taxation. I personally feel India is a bit late in implementing GST because more than 160 out of 195 countries in the world. But we should not get discouraged with this as India is a quasi-federal state and it was very difficult to import GST in India. And it's also a very new concept as is the case of IGST which is something new for the entire world. So, India would be a role model if GST gets successful which I feel that it will definitely get successful.
Are you a member of CAclubindia?
Yes, I am a member.
Great! So, in this whole journey did CAclubindia play any small role?
Yes 100%. In my Articleship days, I had to do some research on certain topics so the first thing which I referred to was CAclubindia. It played an amazing role and really a very great initiative of building such a strong community and platform where we can share and learn.
Thanks for the wonderful words Raj! We are because of members like you who keep inspiring us with their great stories.
On this note, I would like to thank you for taking out your time and talking with us. It was wonderful talking to you and we wish you all the best for your future!!
Thank you so much!
Also read :
Interview with - Ronak Rajendra Jain
(All India 2nd rank holder of CA IPCC May 2017)
Tags
ca rankholder interview
students
ca exams