CA Inter May 2018 exam results have just released and we are once again glad to bring to you the success stories of this year's toppers. It surely motivates everyone!
Meet Sakhshi Airan - All India Rank 1 for CA Inter May 2018 under Revised Schemewho hails from Indore.
Let us find out what was her strategy for the exam was, what suggestions she has for other students and aspirants & how she has achieved this success:
What was your feeling when you get to know that you got AIR 1?
Actually, the website was not responding. I got the news from myparents. Results were declared late at night but the All India Ranks were declared earlier through press release.
So, did you tell your parents about it - what was their reaction?
Yes, infact they gave me the message that I had secured AIR 1.They just cried out of happiness.
Did you expect AIR 1for the results?
I was expecting AIR but not 1st rank. It is a surreal experience for me to get an All India Rank in CA Inter examination.
Can you share some strategies that you followed while studying?
Actually for tackling your studies, you need to be patient and believe in yourself. There are times when you feel that I can' t do it and just leave it. That moment, you need to keep yourself motivated that yes, I can do it. You need not have to strive for achieving a rank, just follow your studies regularly and gradually, you can tackle your studies.
What was your study schedule for your exams?
Actually I joined coaching in July 2017 which went on till February 2018. I got less time for self-studies during the class time and had to make it out at night for around 5 to 6 hours. But after completion of my coaching course, I extended my study schedule for some 12 to 14 hours per day. I didn' t fix anytime for any particular subject but made it a point to study all the subjects in one day.
Which subject you find it difficult to crack?
There was not any specific subject which I found to be difficult except EIS. To learn and study EIS is a different game in itself. You are required to put in a lot of hard work and efforts to learn this subject. Also, you would be required to remember all the technical jargons and keywords to score good marks in the subject.
Whom would you want to give credit for your success?
I would give this credit to my parents and my teachers for the success.
What would be your message to the students who couldn' t clear this time?
Actually, it' s all about patience and hard work. The syllabus is undoubtedly very vast but you need to have the patience and manage it in accordance. Just be patient about the ups and down that you face during the journey and be ready to do the hard work which is required.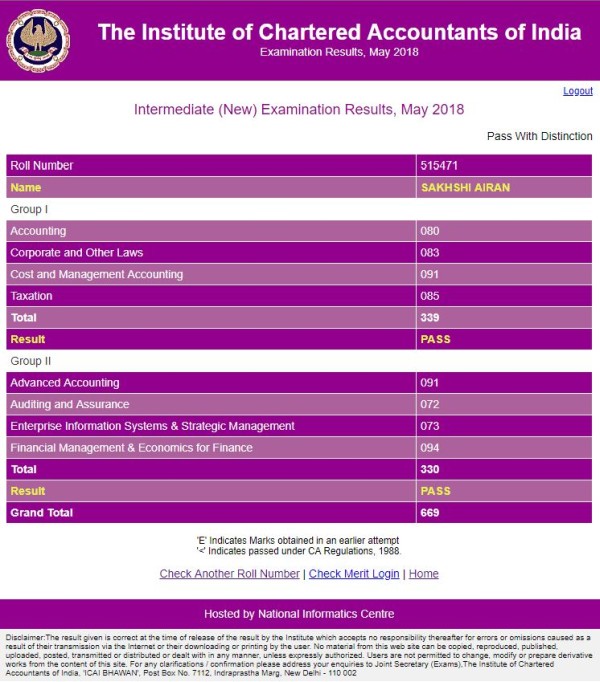 Also, any tip that you want share on time management and being regular in studies?
Time management is very important. You should set a target of what topics you need to cover each day and don' t pile up the same for the last moment. So, be regular in your studies, have patience and you can easily overcome the issue of time management.
Did you appear for any mock test papers before the exams?
Actually, I had been used to the mock test papers which I attended on regular basis and had the idea of the pattern that was followed in the mock test papers. So, it helped me a lot. I followed the same pattern as I was going to be tested for in the real exams. It helped me to be well prepared and handle that exam time stress.
How did you overcome the pressure as you had to appear for two groups with a vast syllabus?
In those situations, hand-written notes helped me a lot. It' s not possible to cover the entire syllabus - one and a half days before the exams. So you should start preparing hand-written notes from the initial stage, mark down all the important topics, questions from theory papers and this gradually will help you in your preparation before the exams.
Also, you need to go through all the RTPs and study material provided by the institute for your last minute revision. Try to do as much as problems from the practical papers, which will definitely help you while writing your exams.
How did you use to distress yourself from the study-pressure?
I used to take a nap of 15 to 20 minutes and then start preparing again for my studies.
There might be times when you had planned for something but couldn' t attain that so how did you manage that?
I strictly made a strategy of completing the portion which I started and didn' t switch to anything else until and unless I completed that portion. If have set a goal for myself of completing a topic on a specific day, I would not go to bed - if I haven' t completed the same. But I think this is the kind of dedication clearing CA exams demands.
Any one myth that you would want to clear about IPCC?
As I mentioned earlier, it' s not that the course is tough but yes it' s a vast course and you need to manage it all the way. You need to believe yourself and plan your studies accordingly. You need not have to study 10 to 12 hours throughout the year but just one-two months before the exams. You would be required to go the extra mile, make the extra efforts and learn from your mistakes.
Any special message that you would like to share with other fellow students and our CA community?
The main mantra is - if you are dedicated to this course, then you can surely achieve it.
Thank you once again Sakhshi for interacting with us and I, on behalf of CAclubindia wish you all the best for your future endeavours!!
Thank you so much.
Tags
students
ca rankholder interview
ca exams