CA IPC Nov 2016 examination results have released and we are once again glad to bring to you the success stories of this year toppers. It surely motivates, guides and inspire everyone!
Meet Aayush Agarwal, All India Rank 2 CA IPC Nov 2016 who hails from Kolkata. Aayush is a confident, diversified and a very balanced student. He likes drawing and sketching, he plays guitar. He gives credit for this success to his teachers, parents and his grandfather specially. Let us find out what her strategy was & how he she achieved this milestone:
First of all, many congratulations to you from the entire team of CAclubindia!!
Thank you Sir!
How are you feeling right now?
I am feeling amazed, Sir!!
What was your parent's reaction on hearing the news that you have secured AIR 2 in CA IPC examination?
We were all amazed. We were expecting for a rank but this was something unexpected.
How important this is for you?
For me, it was the most important exam that I had ever appeared for, in my life as of yet. Actually I had dropped, like, my examination was due in May but I had appeared in November because my college exam was starting with IPCC exams in May. I am from St. Xavier's College so I was having semester exam in the morning and IPC exam in the afternoon. So, in order to perform well in the college exams, I had appeared in Nov for IPC. I had excelled well in my college exams as well with highest score – 88.53% to be very precise. After the college exams were over, I had started working hard for IPC again. So, this period was very crucial to me.
Now as you have secured a rank in IPC, do you think that there would be the same pressure in CA Final as well?
Obviously Sir (Smiles) now everyone is calling me and saying me; how can you come second you. You would need to come First. So, the pressure is there.
Do you regret not coming first?
Obviously, I do feel bad about coming second. But the very fact that I could secure a position is itself a very good thing. Because results are always based on luck, hard work was there but the ultimate call is the God's call. And the fact that my hard work and effort paid off, is the best thing that I could actually feel.
Whom would you like to thank for this achievement who have helped you to attain this success?
If I start naming there are many people who helped and supported me I this journey, but to name a few – my parents obviously. They have supported me throughout the entire 15 months and my grandfather specially. He was always there beside me. He used to sit with me for the entire period 15 days. It was like I am studying and he used to be there sit by my side and see whether I am well or not. He was also going through with a lot of pressure as his health was also a major issue. One more person whom I would like to thank is my guide and mentor and an elder brother – Ranjan baiya; he is the one who always motivates me that I can do it. He always used to push me. He also said to inform him once I receive call from the President. I was not that confident but he was very confident that I would secure either 1st or 2nd rank. Special mention to my grandfather also, who was always there besides me in this entire journey. He used to wake me up early in the morning so that I can concentrate on my studies and prepare well for the exam. He also stayed awake along with me until and unless I finished my studies. So, there has been a constant moral support which I had received from my grandfather. My friends have also supported me who had the firm belief that I could score well in IPC as well.
As you have worked hard for this, so what are your future plans?
The efforts will be twice as the expectations have increased much more now. Of course, I am planning to join a Big-4 Firm but I need to discuss the entire planning with my parents as expectations have increased now. I will see how I can get best out from my articleship along with managing tuitions. Now, after securing a second rank, my mission will be to score 1st rank in CA Finals. So, I am working on it and planning the entire thing.
What was the strategy that you followed while studying and what are the important things that one should take in mind while preparing for exams?
First thing is the attitude. There were times when I couldn't actually study but this is my experience that positive attitude always helps. Like after appearing for my examination, I was like – acha hoga, jo vi hoga acha hoga. So, positive attitude always boosts you up, encourages and teaches you further. That determination that - Yes I can do and the positive attitude is what that took me to this stage. As far as preparation goes we cannot study haphazardly. I have followed a proper plan for study and the best thing that I would like to suggest the other students is that we need to always follow the institute material and the practice manuals provided by the institute and nothing is more important other than that. It is the best study material that I can ever suggest. After studying from those materials, when I sat for my examinations, it was like – the examinations are very easy. So, I have kept in mind – the importance of the study materials.
What was your schedule 6 months before the exams and during the exams?
Actually 6 months before the exams, I used to study as many – one practical subject and two theory subjects. I had Morning College – my classes were from 6 to 10 and after that I was free. So, I used to study 4 subjects a day in a very planned manner. So, this was the schedule which I followed 6 months before the exams and during the exams, the schedule failed out because health issue cropped up. This is also one very important thing that I would like to convey to others that we should take care of our health because if we will not be healthy, we won't be able to perform well for the exams.
Sir, I feel that I wasn't able to score a 1st rank because my health was not good during the examination. So that is a very important thing. We should always look after our health and sufficient sleep should be there to remember thing that you have studied. That is what I have experienced during my theory paper. In my theory papers, I actually had written long answers but I couldn't help it because I was feeling sick. So, we actually do need to take care of our health and keep ourselves calm during the exam day.
How many revisions did you do before the exams for each subject?
The number of revisions that I did was (approx.) 4 to 5.
Did you prepare your own notes for theory papers or did you read through the books?
Notes are very important for your first understanding. I had gone through my own notes which I had prepared after coming from the tuitions. This will help you in - how to answer the questions and appear for exam. This entire perfection came from the practice manual. From the very beginning, I had started preparing from the practice manual. I had ensured that I try to cover the practice manuals as much as possible so that it may help me during the exams. After going through my own notes, tuition notes and the practice manuals, I used to do in-depth research on the subjects so that I can learn something new. I try to make notes with perfection and later I use to try writing with the same perfection in my answer sheet. In long run notes help a lot.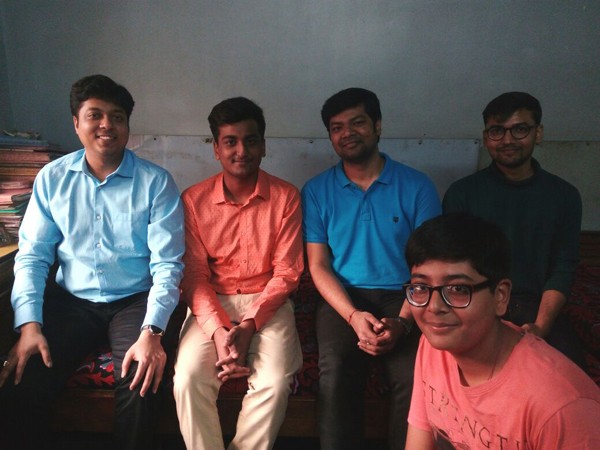 Can you throw some light on how one can prepare for practical papers?
If you ask me, I have seen some of my friends and other students to mug up the things without knowing the conceptual importance of the practical questions. I have seen some of my friends will just read out the practical problems. You need to actually work on it by yourself to check if you can do it or not. I used to practice everything on pen and paper after my every class.
How did you cope up with the health issues and stress?
As far as health issues are concerned, that was not an issue because my mother used to take care of it. I avoided taking junk food during the last 3 months of the examination. When it came to stress or whenever I felt low, I used to talk with my friend. When you talk with someone during such situations, you can actually cope-up with the problem with new solutions. You get to learn a lot of things. It is helpful to have conversation with friends so that you can come up with new solutions, share your emotions related to study and all; and hence feel light and better.
Apart from studies, what are your hobbies and other areas of interest?
I like drawing and sketching. I like to play guitar as well and am also passionate about music.
Are you a member of CAclubindia.com?
No, Sir. But, when I used to browse Google to get some information related to my IPCC studies, I always got the desired results from CAclubindia. Apart from this, the interviews which were posted in the website boosted high level of confidence and inspiration in me. The good thing about CCI interviews are that they don't only focus on person but also how these interviews can help other students. I took a lot of guidance from these tips and suggestions which have been shared by the past toppers. That's really good about CCI.
Once again many congratulations to you from the entire team of CAclubindia and hope we will interact again after CA Finals!!
Thanks a lot, Sir!!
Also read :
Interview with - Rekha Ghevarram Suthar
(All India 1st rank holder of CA IPC Nov 2016)
Interview with - Jyoti Mukeshbhai Maheshwari
(All India 3rd rank holder of CA Final Nov 2016)
Tags
ca rankholder interview
ca exams
students