The 35th GST Council Meeting was held today i.e. 21st June 2019 under the chairmanship of FM Smt. Nirmala Sitharaman. This is the first GST Council meeting being held under her leadership.
Smt. Nirmala Sitharaman started the meeting by complementing the work done by the GST council so far. The meeting in New Delhi today is being attended by the Finance Ministers of States/UTs & the Senior Officers of the Ministry of Finance and & the State Governments among others.
Here are some key decisions that were taken in the meeting-
1. GST Annual Returns filing date extended by 2 months to August 30th 2019
1. Approval of 2 year extension for National Anti profiteering Authority.
2. Penalty for not paying Profiteering charges & If the profiteered amount is not paid up to 30 days of order then there will be 20% penalty.
3. Approval of proposal on barring e-way bill generation if returns for over 2 months are not filed, extended till Aug 21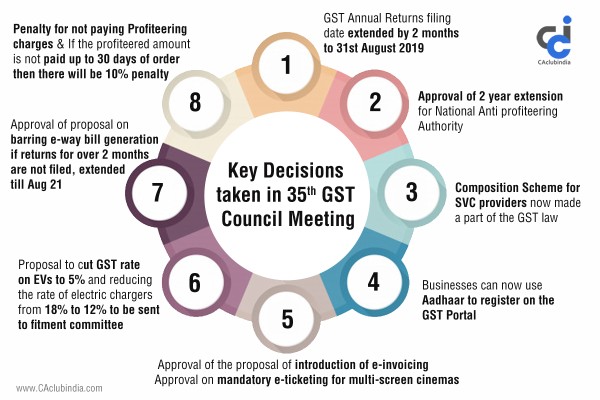 4. Proposal to cut GST rate on EVs to 5 percent and reducing the rate of electric chargers from 18% to 12% to be sent to fitment committee.
5. Approval of the proposal of the introduction of e-invoicing
6. Approval on mandatory e-ticketing for multi-screen cinemas.
7. Businesses can now use Aadhaar to register on the GST Portal
8. Composition Scheme for SVC providers now made a part of the GST Law
Tags
GST