GOD is THE ALCHEMIST
Alchemist means a person who transforms or creates something through a seemingly magical process.
A Quote from novel The Alchemist: 'And, when you want something, all the universe conspires in helping you to achieve it.' Shahrukh Khan's "OM SHANTI OM" film has the same dialogue in the award scene.
The above quote helped me in becoming a CA at the age of 38. If you have determination, patience and believe in the above quote, god will surely help you.
I was very good at studies from childhood and I wanted to study, but God had a different scheme of things for me.
My father was a businessman and he suffered losses when I was in the 7th standard. He did not recover his health after that. We shifted to our maternal grandparent's house who supported my studies till 12th standard. But my grandfather told me to stop studies and get into his small business, but I wanted to study. I topped college in 12th std and my grandfather allowed me to study BCOM as there was the scholarship for studying.
I did not go for BCOM classes as I had to continue my grandfather's business whose health had deteriorated. I cleared BCOM and I wanted to do CA in the year 2000 but my family's financial position, grandfather's and father's health had become bad. So I took my family's responsibility and gave up my studies. My mother and I struggled a lot to make our ends meet to take care of old grandparents and sick father. We got our sisters married and I got married in the year 2004.
My grandfather after a long illness made his heavenly journey in 2007. I had two daughters and in 2010, I decided to pursue my dream of becoming a CA. My Wife encouraged me to do CA. I enrolled for CPT in 2010 February. People laughed at me that you have 2 kids and doing a tough course like CA. But I ignored people and let my heart do what I wanted to do in 2000. I attended CPT exams with my daughter's pencil box, she was in the 1st standard. Even the examiner was amused. But I didn't give up and cleared my CPT on the first attempt. I had met my principal CA Vinay Kulkarni at institute while doing CPT who encouraged me to pursue my dreams.
I completed articleship under CA Vinay Sir, who supported me from CPT, my mother and wife used to manage business while I did my articles. I cleared IPCC groupwise on the first attempt and then came to CA Final.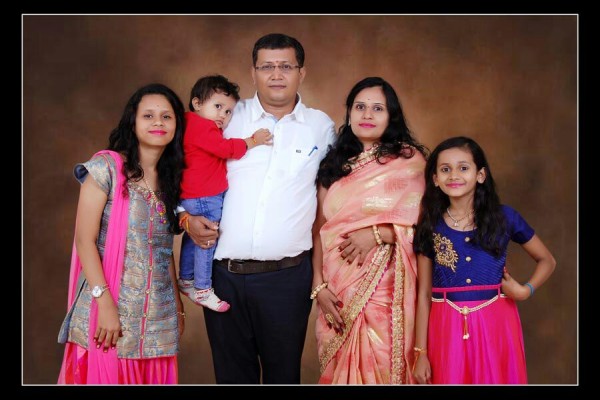 I did not have the finance to go for coaching, so I did self-studies and also got help from friends who studied at their respective coaching centers. I cleared final 1st group in three attempts after completing my articles. I had to manage business, family and kids along with my studies. My mother, wife and even my kids encouraged me to study. I cleared first group and it again took 3 attempts to complete my 2nd group. This group I cleared in November 2017 attempt.
At last, I became a CA at the age of 38. My mother, my wife and my kids were very happy and tears in eyes of my family will be in my memory forever.
I just want to tell all the students - Never give up and have patience, if not today, tomorrow will be ours, just keep going, do good deeds and god will surely reward you.
I am writing this article to motivate students and for no other purpose. Also, I thank CCI for being with me from 2010, for helping me connect with the CA course all throughout this journey.
Now it's a new journey as CA Ravi Kumar Jain.
Tags
Students