Companies Amendment Bill 2014 - A Glance at the changes proposed!
Companies Act, 2013 (Act) which was notified on 29.08.2013 has brought about enormous changes in almost every sphere of Corporate Compliance, Management and Administration.
Out of 470 sections in the Act, 283 sections and 22 sets of Rules corresponding to such sections have so far been brought into force. Barring provisions relating to Chapters XV to XX and certain other provisions relating to setting up of/exercise of powers by National Company Law Tribunal (NCLT)/National Company Law Appellate Tribunal (NCLAT); Investor Education and Protection Fund (IEPF'); National Financial Reporting Authority (NFRA) and Special Court, all provisions of the Act have been brought into force with effect from 1st April, 2014 or wherever applicable from 12.09.2013. This indicates that many provisions of the Act are yet to be enforced.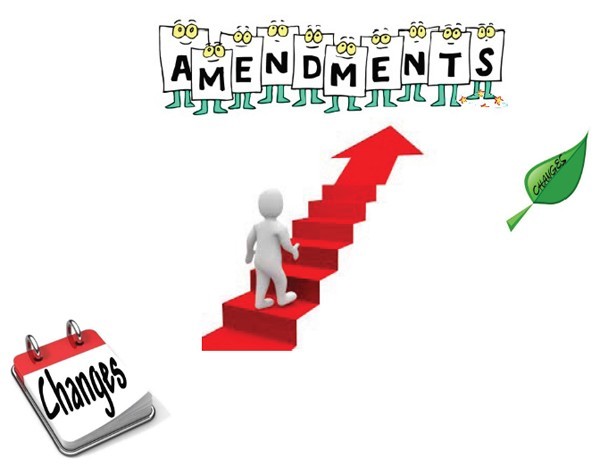 Some of the major concerns raised by the stakeholders regarding the Act are onerous reporting requirements, practical difficulties in complying with requirements laid down in some of the commenced provisions, repeated compliance provisions in some cases and stringent provisions relating to punishment for defaults for complying with procedural laws.
Another concern is withdrawal of almost all the exemptions and privileges, barring a very few, available to private companies under the six decade old Companies Act, 1956.
In order to iron out procedural issues, remove stringent laws, and to improve business sentiment in the country the Cabinet has approved some changes in the provisions of the new Companies Act, 2013.
The Lok Sabha has passed the Companies (Amendment) Bill, 2014 (the Bill) on 17.12.2014. However, the Bill is still to be passed by the Rajya Sabha and thus is still to come into force as on date!
The Bill aims at making it easier for corporates to do business in India. The Bill, sought to remove some "oppressive provisions" in the Companies Act, 2013 which would foster the investment climate by attracting more foreigners to open up businesses in India, Finance Minister Arun Jaitley told the Parliament.
Amendments at a Glance
What's the Change?
• Dispensing with the requirement of minimum paid up share capital for companies and consequential changes
Reason for bringing the change
• For ease of doing business
Effect on Corporates
• The requirement of maintanence of minimum paid up capital of Rs. 1 Lakh by Private Companies and Rs. 5 Lakhs by Public Companies will no longer be applicable. While this may not have a significant impact on the corporates, it will lower cost of registration.
Sections likely to be amended
• Section 2(68), 2(70) and 11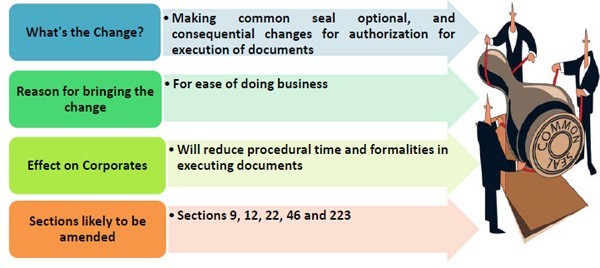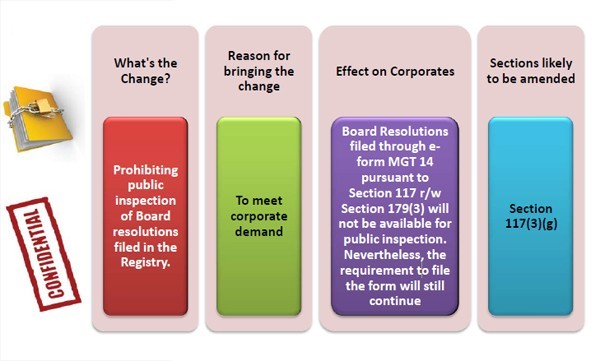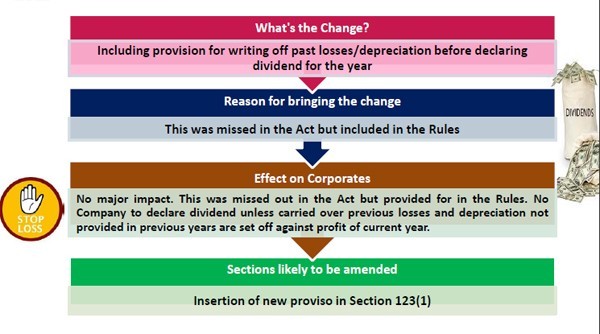 To read the full article: Click Here
Tags
Corporate Law