July and January are the two most important months for aspiring Finance Professionals as the results of the CA Final exams (written in May and November) are generally declared then. Tensed up and grim faces everywhere (take me back to January 1988 when I had cleared my Final), more than normal rush at the temples and other places of worship generally are very common.The release of pressure, that has been pent up for months / years, and the relief one gets when he/she is successful is to be experienced than described. Successful completion does indeed catapult the individual to another league as it definitely does kick start their professional career.
However not everyone is fortunate enough to succeed, considering the structure of the exams and the pass percentage.This year also has not been an exception. With the results declared for the CA Final a couple of days back, the show has begun again. A total of 14,969 individuals have entered the elite club of Chartered Accountants which when looked at in isolation looks attractive. However if you consider the fact that more than 104,000 candidates had written, the scene turns less attractive. On an overall basis (both Old and New Syllabus put together), about 14.34% of the candidates have cleared the Final Exams in November 2018. The following table gives the Group wise / Syllabus wise breakup for better understanding.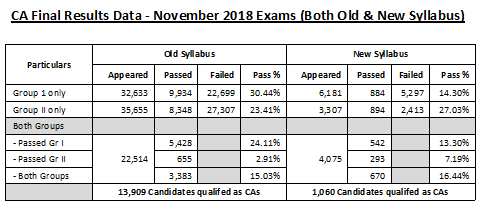 The purpose of this article is to focus the attention on the 85.66% candidates who have not been able to clear the exams this time.Before I venture further let me bring out a caveat to highlight the fact that views expressed herein are purely personal and one has to understand that One Size does not fit All. However can say with a great degree of assurance that the options offered in this article are definitely viable and sound ones which could resurrect or give appropriate boost to a candidate's morale and confidence for a great life ahead.
In this connection one has to very well understand that any professional qualification can at best open a great first door or probably an equally good second door for a person. Subsequently it depends on how the person is able to learn at work, perform, use his interpersonal skills effectively and leverage his work experience to further his professional career. So the earlier a person is able to open a great first door it is better, since delayed opening may work against him/her from a long term career perspective.
While it is very difficult to say which is early and which is late for completion of a Professional Course like the Chartered Accountancy as a rule of thumb, we can say if a person has not completed his / her CA by the time he / she is 25 or about 4-5 attempts (despite methodical preparations) in the Final exams then its probably time to consider Plan B.It is to be clearly understood having a Plan B is not a reflection of a student's incapability but rather an assertion of his understanding the ground reality and taking appropriate corrective action for his success. There are innumerable cases where students have done this and been very successful in their career and life.After all its not for nothing did Sir Winston Churchill stated 'Success is nothing but going from failure to failure without loss of enthusiasm.'
A candidate who falls in this category would have completed his / her B.Com, IPCC and also the Articles by now.Thus the need of the hour is some immediate dose of confidence to ensure that his / her Self Esteem stays put and the solutions here are some short term Certification Courses that does not exceed 12 months duration but at the same time gives him / her the shot in the arm to kick start the career meaningfully. The CMA, CIA and the CPA of the USA are some of the programs that immediately come to my mind. These are short term programs that a candidate can expect to complete each of them in 8 - 12 months if he / she stays committed and enjoy global recognition. With many MNCs setting up shops in India, these courses are picking up in demand and are expected to soon become well sought after.With the focus on Application, Analysis and Evaluation more than mere Remembering and Understanding, these courses precisely meet the needs of the industry today in the global scenario. In addition these exams offer great flexibility by enabling the candidates appear for the exams paper by paper (rather than take all papers together like the CA) which is a real boon for someone wanting to earn a Global Certification in Finance and Accounting to kick start his fledgling career.
The Annexure below gives a summary and comparison of the CMA, CIA & CPA for easier understanding.
Annexure
Salient Features of the CMA, CIA and the CPA of the US
S.No.

Data Points

CMA

CIA

CPA

1

Certification

Certified Management Accountant

Certified Internal Auditor

Certified Public Accountant

2

Governing Body

Institute of Management Accountants, USA

Institute of Internal Auditors, USA

Institute of the Certified Public Accountants of the USA

3

No. of Papers

2

3

4

4

Exam Format

1) Online
2) 75% Objective & 25% Descriptive questions

1) Online
2) 100% objective questions

1) Online
2) Objective, Task Based Simulation & Descriptive

5

Paper Description

1) Financial Planning, Performance & Control
2) Financial Decision Making

1) Internal Audit Basics
2) Internal Audit Practice
3) Internal Audit Knowledge Elements

1) Auditing
2) Financial Accounting & Reporting (FAR)
3) Regulation
4) Business Environment & Concepts (BEC)

6

Questions Type

1) 100 MCQs in 3 hours - 75% weightage
2) 2 Essay Questions in 1 hour - 25% weightage

1) IA Basics - 125 MCQs in 2 hours & 30 mins
2) IA Practice - 100 MCQs in 2 hours
3) IA Knowledge Elements - 100 MCQs in 2 hours

1) Except BEC all Papers - 50% MCQs & 50% TBS
2) BEC - MCQs 50%, TBS 35% and Written Communication - 15%

7

Passing Score

Scaled score of 360 out of 500 with a minimum of 50% score in Objective format.

Scaled score of 600 out of 750. Actual scores of passing students not declared since all are considered equal once passed.

Scaled Score of 75 in each paper.

8

Exam Centers

Multiple Centers in India

Multiple Centers in India

UAE, Kuwait, Bahrain, Lebanon and the US only

9

Frequency of Exams

Almost throughout the year in Pearson Prometric Centers across the globe.

6 months in a year - January, February, May, June, September and October.

Almost 280 days in a year.

10

Eligibility

Can take up the exams before Graduation but for certification the student must be a graduate.

Can take up the exams before Graduation but for certification the student must be a graduate.

Varies from State to State. Pl. consult an Expert for this.
The author can also be reached at ganesh.v@greymatteracademics.com
Tags
Students