As a part of the CA curriculum, every CA student has to undergo 3 years of articleship after clearing one or both groups of CA intermediate. This is an important phase in the CA journey. Many students get confused while choosing the articleship firm. Some may even go for dummy articleship as they have a mammoth task of clearing the CA final exams ahead. But in my opinion, one must go for regular articleship as you get to have a glimpse of the practical work. Articleship is an opportunity for a student to graduate as a professional and is a hunt for specific knowledge. Articleship also involves planning, executing, digging up opportunities, and ultimately achieving the goal.
The question that arises in the mind of students is - Whether to go for a small-medium sized firm or Big 4? Many of the students have a dream to go for articleship from reputed firms like Big 4 while others go for articleship from small firms. The Big Four is a name given to collectively refer to the four largest professional services networks in the world, which include Deloitte, Ernst & Young, KPMG and PwC. In this article, we have discussed the pros and cons of articleship from Big 4.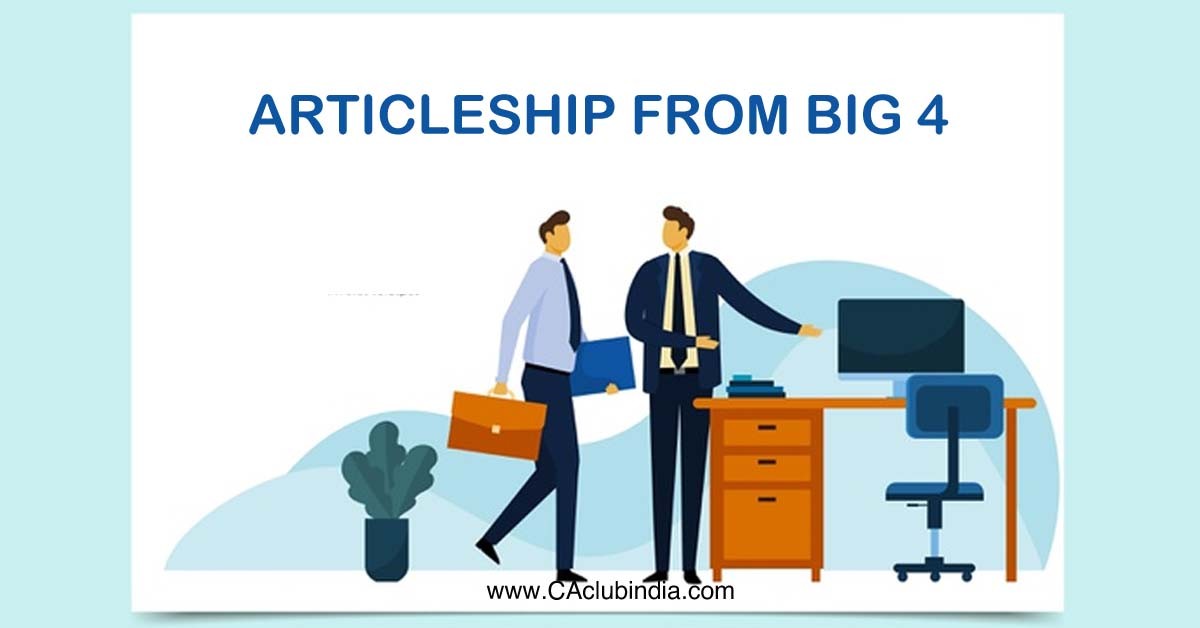 Pros of articleship from Big 4
Helps you grow in your field of Specialization
Nowdays everyone is moving towards Specialization so having the perfect skill for a particular field will give you a fair chance to develop in your career better than anyone else. And if you opt for articleship from Big 4 then you can gain this Specialization in your field.
Big Clients and good exposure
One of the most important reason and Benefits of articleship from Big 4 is the exposure that you get. You get to work in the corporate environment. It opens the doors for more opportunities. You get to work with big clients and get a chance to understand their businesses.
Feeling of self accomplishment
Getting selected in a Big 4 is itself a huge task and if you succeed in it, you will feel a sense of accomplishment. It will help you boost your self confidence.
Get a chance to learn people skills
Many of my friends who completed their articleship from the Big firms have people skills. Unlike a trainee from the small firm, articles of big firms are not restricted to some individuals. They get to work with trainees from around the country and interact with them.
Companies like Big firms for the Job
Students who have cleared the Big Firms interview are quite sharp and definitely each company wants such brilliant student in their team. Therefore, every company gives a priority to those students who completed their practical training from big firms.
Cons of articleship from Big 4
Difficulty in managing studies
When student commence their articleship from medium or small firms, they get enough time to prepare themselves for Final Exams. It which is very hard to expect in big firms that. You will get less time to study due to long working hours.
Long working hours and hectic schedule
Articleship is comparatively less hectic in medium or small firms as compared to Big4 . In Big4 your employer will try to make the most of you and will provide you with a lot of work. You may have to miss a lot of other things just to complete your work assignments.
Lack of direct communication with the Top Management
It is very hard to discuss your queries directly from the employer or the top management. You have to communicate with your seniors and they will communicate (if needed) to the boss. But in small firms, whenever you face any problem whatever the problem may be you can directly communicate it with your boss, one another fascinating advantage of doing articleship in small firms.
Challenging work environment
The work environment is very professional and organized in a Big 4 but at the same time they have high expectations and expect high quality work. Moreover there are high chances of internal competition which may be stressful.
In a nutshell we can say that articleship from Big 4 has its own pros and cons. It is a subjective choice of students. So it is better to be prepared beforehand. For good exposure you need a good firm for articleship. Whether small, medium or a big firm, choose according to your goal and make the most out of your articleship period.
"Loved reading this piece by
Ritik Chopra
?
Join CAclubindia's network for Daily Articles, News Updates, Forum Threads, Judgments, Courses for CA/CS/CMA, Professional Courses and MUCH MORE!"
Tags :
ca students
students