LIMITED LIABILITY PARTNERSHIP (LLP)
INTRODUCTION
LLP is an alternative corporate business form that gives the benefits of limited liability of a company and the flexibility of a partnership. Limited Liability Partnership enterprise, the world wide recognized form of business organization, has now been introduced in India by enacting the Limited Liability Partnership Act, 2008. LLP Act was notified on 31.03.2009.
A limited liability partnership (LLP) is a partnership in which some or all partners (depending on the jurisdiction) have limited liabilities. It therefore can exhibit elements of partnerships and corporations. According to Section 3 of the Limited Liability Partnership Act (LLP Act), 2008, an LLP is a body corporate formed and incorporated under the Act. It is a legal entity separate from its partners
MEANING:

A Limited Liability Partnership, popularly known as LLP combines the advantages of both the Company and Partnership into a single form of organization. Limited Liability Partnership (LLP) is a new corporate form that enables professional knowledge and entrepreneurial skill to combine, organize and operate in an innovative and proficient manner.
It provides an alternative to the traditional partnership firm with unlimited liability. By incorporating an LLP, its members can avail the benefit of limited liability and the flexibility of organizing their internal management on the basis of a mutually-arrived agreement, as is the case in a partnership firm.
Every LLP shall be required to have at least two Designated Partners who shall be individuals and at least one of the Designated Partner shall be a resident of India. In case of a LLP in which all the partners are bodies corporate or in which one or more partners are individuals and bodies corporate, at least two individuals who are partners of such LLP or nominees of such bodies corporate shall act as designated partners.
FEATURES:

1. A BODY CORPORATE: It is a legal entity separate from its partners.
2. PERPETUAL SUCCESSION: Unlike a partnership firm, a limited liability partnership can continue its existence even after the retirement, insanity, insolvency or even death of one or more partners. Further, it can enter into contracts and hold property in its name.
3. SEPARATE LEGAL ENTITY: It is a separate legal entity. Further, it is completely liable for its assets. Also, the liability of the partners is limited to their contribution in the LLP. Hence, the creditors of the limited liability partnership are not the creditors of individual partners.
4. MUTUAL AGENCY: Another difference between an LLP and a partnership firm is that independent or unauthorized actions of one partner do not make the other partners liable. All partners are agents of the LLP and the actions of one partner do not bind the others.
5. ARTIFICIAL LEGAL PERSON: For all legal purposes, an LLP is an artificial legal person. It is created by a legal process and has all the rights of an individual. It is invisible, intangible and immortal but not fictitious since it exists.
6. LIMITED LIABILITY: According to Section 26 of the Act, every partner is an agent of the LLP for the purpose of the business of the entity. However, he is not an agent of other partners. Further, the liability of each partner is limited to his agreed contribution in the Limited Liability Partnership
7. MINIMUM AND MAXIMUM NUMBER OF PARTNERS: Every Limited Liability Partnership must have at least two partners and at least two individuals as designated partners. At any time, at least one designated partner should be resident in India. There is no maximum limit on the number of maximum partners in the entity.
8. BUSINESS FOR PROFIT ONLY: A Limited Liability Partnership cannot be formed for charitable or non-profit purposes. It is essential that the entity is formed to carry on a lawful business with a view to earning a profit.
Need for incorporation of limited liability partnership
The LLP form of business organization would enable entrepreneurs, professionals and enterprises providing services of any kind or engaged in scientific and technical disciplines, to form commercially efficient vehicles suited to their requirements. Owing to flexibility in its structure and operations, the LLP would also be a suitable vehicle for small enterprises and for investment by venture capital. Accordingly, the LLP form of Organization is available to Professionals, Service Providers, Traders and Manufacturers. The existing organization structures in India, which are most commonly used - like proprietary concerns, partnerships and companies are subject to varying regulatory and tax requirements and are not suitable for some businesses and professions. In India, several professionals are barred from forming companies with limited liability.
In general Partnerships, the unlimited liability of the partners is an increasing cause of concern in light of general increase in the incidence of litigation for professional negligence; and the size of claims and the risk to a partners personal assets when a claim exceeds the sum of the assets of the partnership. The unlimited liability of the partners has been the chief reason why partnership firms have not grown in size to meet the challenges posed by international competition
The adverse consequences faced by such firms on account of unlimited liability are:
1. They are not able to increase in size to expand
2. They are unable to compete with international firms in the lucrative consultancy/advisory and non-statutory work markets.
3. They are not financially strong enough to spend on training and top class professional development.
4. There has been a general increase in the incidence of litigation on professional firms on grounds of professional negligence. The size of claims and consequently risk to partner's personal assets are severely restricting the growth of firms.
5. Newly qualified or less experienced persons are hesitant to join as partners for fear of having to bear liability of multiple partners.
BENEFITS:
The following are advantages of incorporating a LLP in India:
I. No requirement of minimum contribution
As against company there is no minimum capital requirement in LLP. An LLP can be formed with least possible capital. Moreover, the contribution of a partner can consist of tangible, movable or immovable or intangible property or other benefit to the LLP. On the other hand, the minimum capital contribution required for a private limited company is Rs.1 lakh and a limited company requires a capital of Rs.5 lakhs.
II. No limit on owners of business
An LLP requires a minimum 2 partners while there is no limit on the maximum number of partners. This is in contrast to a private limited company wherein there is a restriction of not having more than 200 members.
III. Registration cost
The cost of registering LLP is low as compared to cost of incorporating a private limited or a public limited company. However, the difference in cost of registering a LLP as compared to Private Limited Company has come down in the recent days.
IV. No requirement of compulsory Audit
All companies, whether private or public, irrespective of their share capital, are required to get their accounts audited. But in case of LLP, there is no such mandatory requirement. This is perceived to be a significant compliance benefit. A Limited Liability Partnership is required to get the tax audit done only in the case that:-
The contributions of the LLP exceeds Rs. 25 Lakhs, or

The annual turnover of the LLP exceeds Rs. 40 Lakhs
V. Taxation Aspect on LLP
For income tax purpose, LLP is treated on a par with partnership firms. Thus, LLP is liable for payment of income tax and share of its partners in LLP is not liable to tax. Thus no dividend distribution tax is payable. Provision of 'deemed dividend' under income tax law, is not applicable to LLP. Section 40(b): Interest to partners, any payment of salary, bonus, commission or remuneration allowed as deduction.
VI. Dividend Distribution Tax (DDT) not applicable
In the case of a company, if the owners to withdraw profits from company, an additional tax liability in the form of DDT @ 15% (plus surcharge & education cess) is payable by company. However, no such tax is payable in the case of LLP and profits of a LLP can be easily withdrawn by the partners.
Limited liability protects the member's personal assets from the liabilities of the business. LLP's are a separate legal entity to the members.
VII. Flexibility.
The operation of the partnership and distribution of profits is determined by written agreement between the members. This may allow for greater flexibility in the management of the business.The LLP is deemed to be a legal person. It can buy, rent, lease, own property, employ staff, enter into contracts, and be held accountable if necessary.
VIII. Corporate ownership.
LLP's can appoint two companies as members of the LLP. In an LTD company at least one director must be a real person.
IX. Designate and non-designate members.
A person can operate the LLP with different levels of membership.
X. Protecting the partnership name.
By registering the LLP at Companies House you prevent another partnership or company form registering the same name.
DISADVANTAGES
A LLP also has various disadvantages when compared to a private limited company as under:
I. Higher Penalty for Non-Compliance
Even if a LLP does not have any activity, it is required to file income tax return and MCA annual return each year. In case a LLP fails to file Form 8 or Form 11 (LLP Annual Filing), a penalty of Rs.100 per day per form is applicable. There is no cap on the penalty and it could run into lakhs, if an LLP has not filed its annual return for a few years.
In case of a company, a penalty of upto Rs.4800 is applicable for not filing annual return for upto 270 days. However, the penalty for not filing annual return for company is set to be increased and matched with that of LLP.
In case of a proprietorship or partnership firm, there is no requirement for filing annual return. Hence, only penalty under the Income Tax Act would be applicable.
II. Inability to Have Equity Investment
A LLP does not have the concept of equity or shareholding like a company. Hence, angel investors, HNIs, venture capital and private equity funds cannot invest in a LLP as shareholders. Thus, most LLPs would have to rely on funding from promoters and debt funding.
III. Higher Income Tax Rate
Income tax rate for a company with a turnover of upto Rs.250 crores is 25%. However, LLPs are taxed at a 30% rate irrespective of the turnover.
FORMATION AND INCORPORATION:
Process of Formulation of LLP: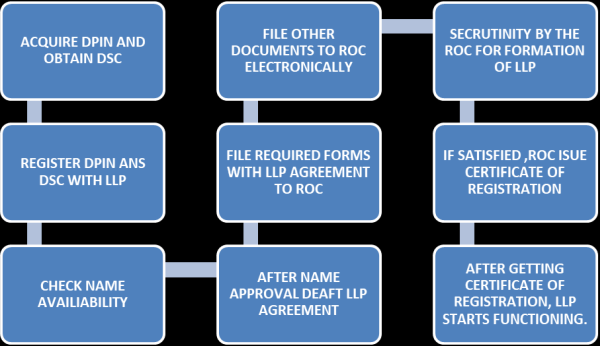 I. Capital Contribution:
In case of LLP, there is no concept of any share capital, but every partner is required to contribute towards the LLP in some manner as specified in LLP agreement. The said contribution can be tangible, movable or immovable or intangible property or other benefit to the limited liability partnership, including money, promissory notes, and other agreements to contribute cash or property, and contracts for services performed or to be performed.
In case the contribution is in intangible form, the value of the same shall be certified by a practising Chartered Accountant or by a practising Cost Accountant or by approved value from the panel maintained by the Central Government. The monetary value of contribution of each partner shall be accounted for and disclosed in the accounts of the limited liability partnership in the manner as may be prescribed.
II. Designated Partners:
Every limited liability partnership shall have at least two designated partners to do all acts under the law who are individuals and at least one of them shall be a resident in India. 'Designated Partner' means a partner who is designated as such in the incorporation documents or who becomes a designated partner by and in accordance with the LLP Agreement.
In case of a limited liability partnership in which all the partners are bodies corporate or in which one or more partners are individuals and bodies corporate, at least two individuals who are partners of such limited liability partnership or nominees of such bodies corporate shall act as designated partners.
III. Designated Partner Identification Number (DPIN):
Every Designated Partner is required to obtain a DPIN from the Central Government. DPIN is an eight digit numeric number allotted by the Central Government in order to identify a particular partner and can be obtained by making an online application in Form 7 to Central Government and submitting the physical application along with necessary identity and Address proof of the person applying with prescribed fees.
However, if an individual already holds a DIN (Director Identification Number), the same number could be allotted as your DPIN also. For that the users while submitting Form 7 needs to fill their existing DIN No. in the application.
It is not necessary to apply Designated Partner Identification Number every time you are appointed partner in a LLP, once this number is allotted it would be used in all the
LLP's in which you will be appointed as partner.
IV. Digital Signature Certificate:
All the forms like e Form 1, e Form 2, e Form 3 etc. which are required for the purpose of incorporating the LLP are filed electronically through the medium of Internet. Since all these forms are required to be signed by the partner of the proposed LLP and as all these forms are to be filed electronically, it is not possible to sign them manually. Therefore, for the purpose of signing these forms, at least one of the Designated Partner of the proposed LLP needs to have a Digital Signature Certificate (DSC).
The Digital Signature Certificate once obtained will be useful in filing various forms which are required to be filed during the course of existence of the LLP with the Registrar of LLP.
V. LLP Name:
Ideally the name of the LLP should be such which represents the business or activity intended to be carried on by the LLP. LLP should not select similar name or prohibited words.
LLP Agreement:
For forming an LLP, there should be agreement between/among the partners. The said Agreement contains name of LLP, Name of Partners and Designated Partners, Form of Contribution, Profit Sharing Ratio, and Rights and Duties of Partners. In case no agreement is entered into, the rights and duties as prescribed under Schedule I to the LLP Act shall be applicable. It is possible to amend the LLP Agreement but every change made in the said agreement must be intimated to the Registrar of Companies.
VI. Registered Office:
The Registered office of the LLP is the place where all correspondence related with the LLP would take place, though the LLP can also prescribe any other for the same. A registered office is required for maintaining the statutory records and books of Account of LLP. At the time of incorporation, it is necessary to submit proof of ownership or right to use the office as its registered office with the Registrar of LLP.
Tags :
students